Top Things to do in Guatape Colombia
Guatape is no doubt the most popular destination outside of Medellin. Located in the Eastern Highlands of Antioquia, Guatape is close to Medellin, which makes it a usual day trip for visitors. However, once you arrive, you will quickly realize there is far too much to do and see in this colorful town and adventure playground. We have returned for a visit time and time again and always discover something new.
Every town in Colombia seems to have a theme and a reputation for something like the towns of Jardin, Jerico, and Barichara. Guatape Colombia (or Guatapé) has the mysterious rock of Guatape and It's Zocalos, which take on a theme of their own.Read on, and we'll explain these two things and why you should consider spending some time for a few days in Guatape. However a Guatape day trip will definitely give you a good reason to come back for more.
The top things to do in Guatape Colombia
First, see the town for yourself with this drone video.
1. Discover the Guatape Zocalos by wandering the colorful streets.
Once you leave Medellin, the view transforms from high green mountains to hundreds of lakes sprawling around the verdant rolling hills. Nestled around the lake is the lively town of Guatape where every home is carefully painted with themed placard borders called Zocalos. Each house and business has a theme to their zocalo – some themes are about what they do (like the hardware store, or the milk farmer). Other themes showcase the family dog of the home, or odes to Pink Panther, Minnie Mouse, or a tribute to the famous Colombian artist Fernando Botero. You may see peace doves or renditions of the La Piedra del Peñol. If you like to wander, you can spend hours discovering the zocalos by sauntering through the cobblestone streets through the town. I admire Guatapeans for creating a name for their town through creativity. Back during the more difficult times in the 80's and 90's, this area was not safe for tourism at all, and this town invented an industry for themselves with help from travelers stopping nearby to see the big rock (el peñol guatape).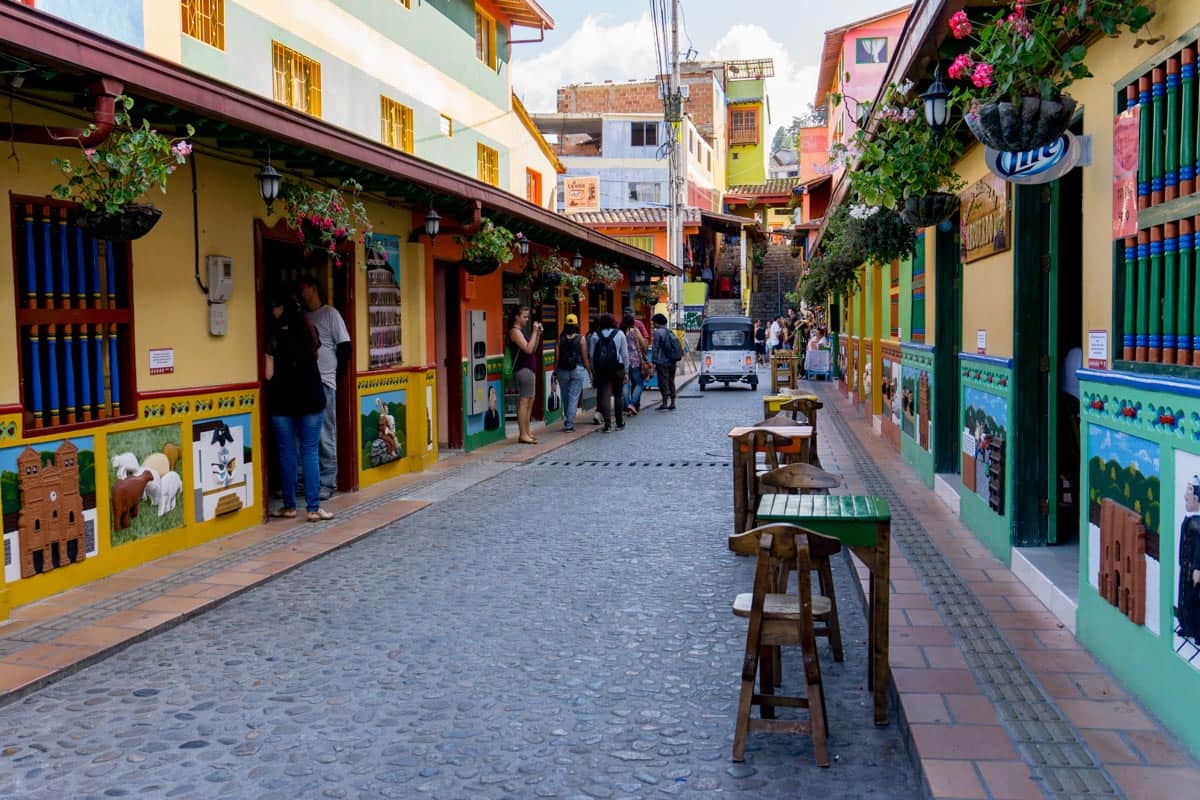 The Plazoleta de los Zocalos – shop, dine, sip coffee here.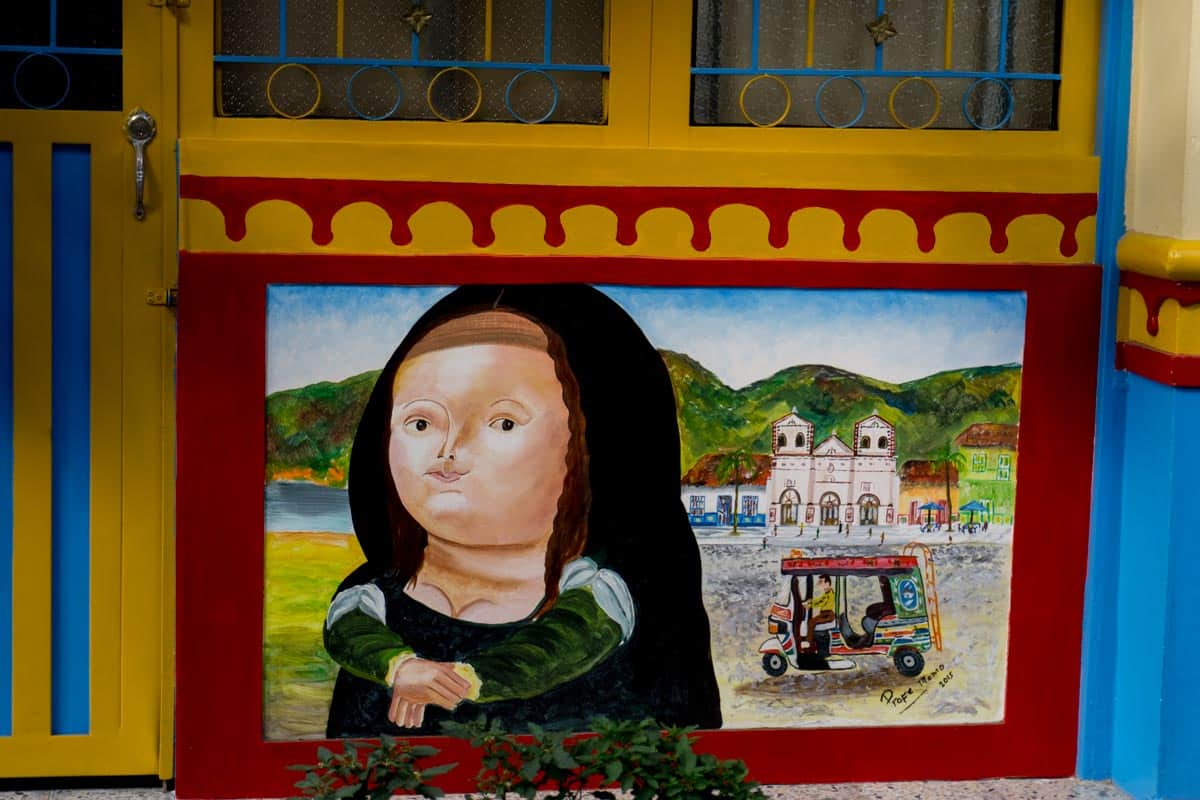 One of the many interesting themed Zocalos this one a tribute to Fernando Botero and Mona Lisa – very original!
2. The Star Attraction – La Piedra or "The Rock"
Click on the video below to see more of this amazing wonder.
Of course, who doesn't want to see the most spectacular views of mountains, lakes, and countryside? La Piedra del Peñol is a strange attraction in itself. This rock is an enormous granite structure towering 200 meters high beside the lake. The 740-step brick staircase takes you to the top where you can discover magnificent views of the area and hang up there for several hours of daydreaming time to view all the quaint lakeside homes from above. If you are parched or hungry after all those steps, no worries, you can get your fix of fresh cut fruits, juices, icecream or beer at the top. There is an entrance fee to climb and it costs around 18,000 Colombian pesos (or $6.60 USD).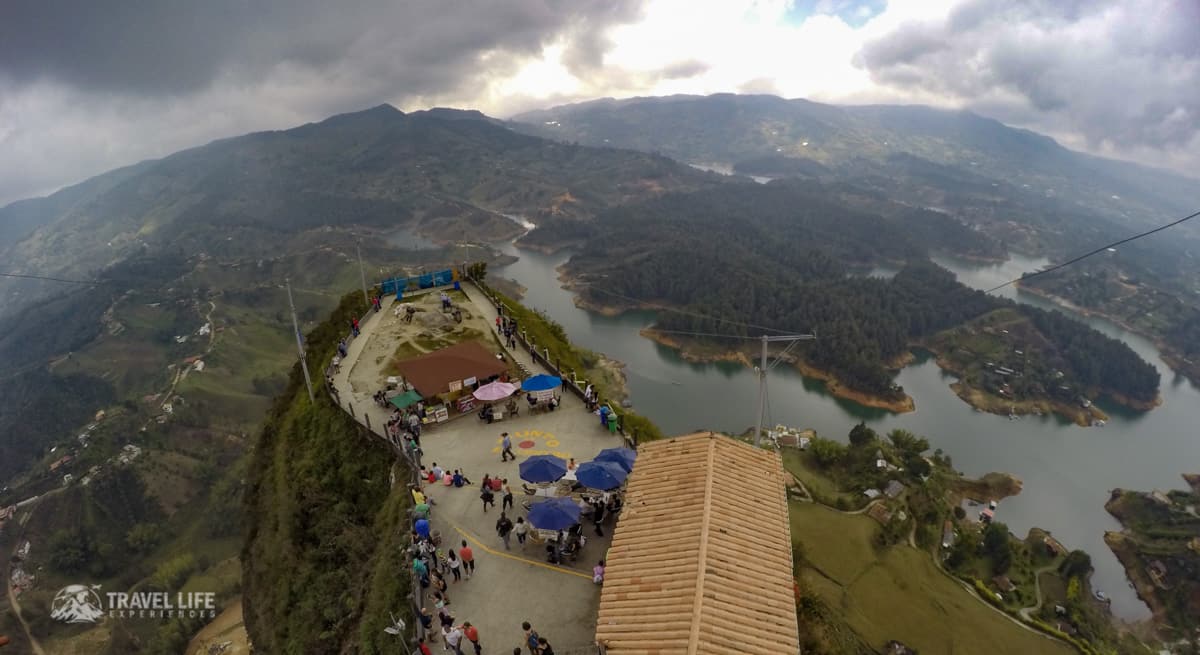 View at the top of the rock – piedra del peñol
There is a rather exciting rivalry between the two towns of El Peñol and Guatapé for territorial rights and ownership of the rock. Who wouldn't want to claim ownership to one of the most prominent tourist spots in Antioquia? Which is why there is such confusion over which name to use. La Piedra or La peñon is a rock in Spanish, but you will often hear it called The rock of Guatape, el peñón de guatapé, el Peñol Guatape, or la Piedra de Peñol. Heck, some even call it the Guatape mountain. If you stick with calling it just the rock in Spanish – La Piedra or el peñon, then you won't offend anyone from either town.
This rivalry led to Guatape staking claim to El Peñon and going to extremes by painting their town name on the rock. Which is why you see a "G- I" painted which is an incomplete "U," since the town of El Peñol found out about this project and the grafitti paint job was ceased and never completed.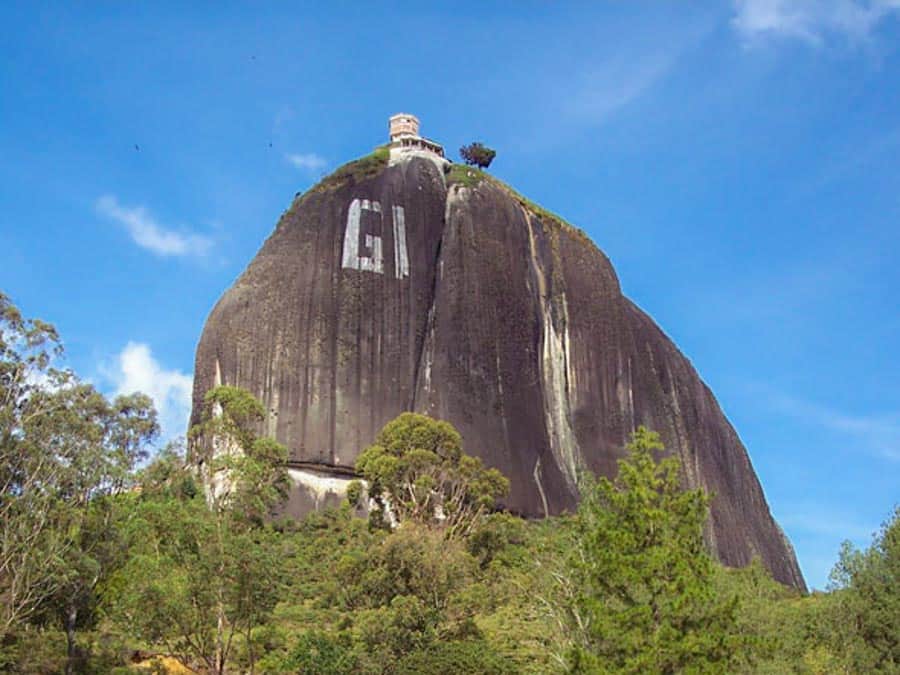 There is a reason why there is this peculiar 'G' 'I' painted on the rock
Interested in booking a day trip? Here is a tour we've done from Get Your Guide that organizes a day tour to Guatape from Medellin – no line ups, easy credit card booking. Book the best selling tour here
3. Fantastic Hiking Trails
There are plenty of great guided Guatape tours just for hiking. This is a vastly overlooked attraction in blogs and guide books and is not to be missed. The trails are incredibly scenic as you can walk through villages, valleys, narrow rock caverns, coffee farms, riverbeds, and waterfalls. guatape hike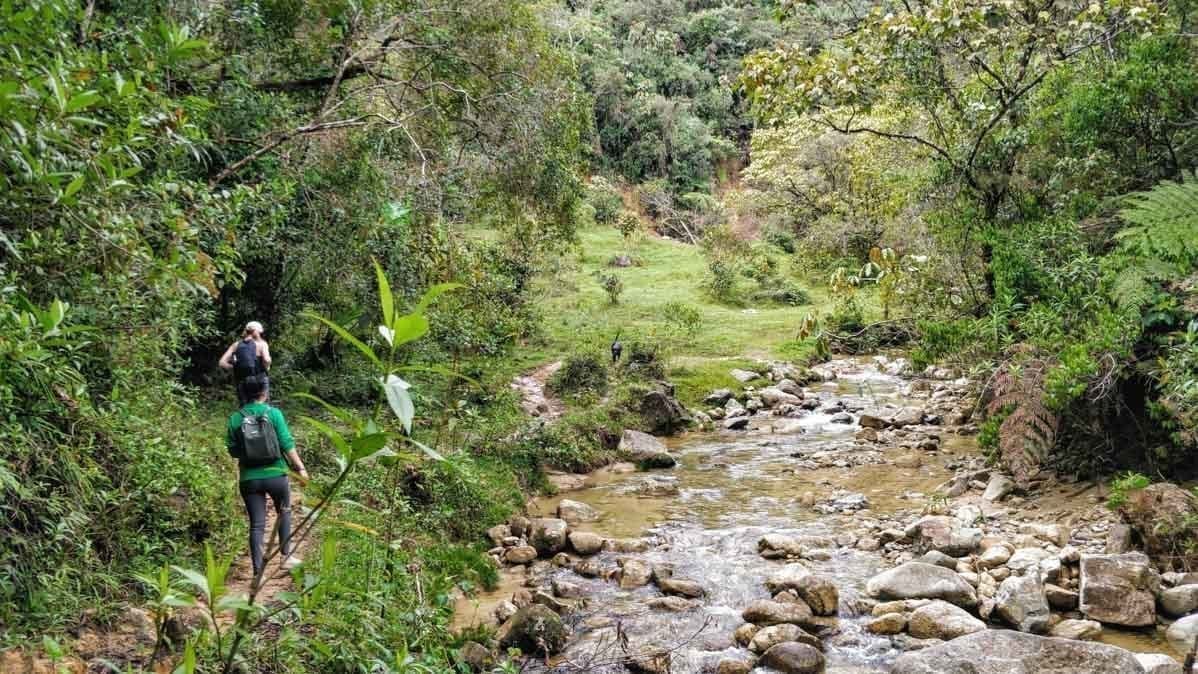 What you will expect on the Colombia Getway waterfall hike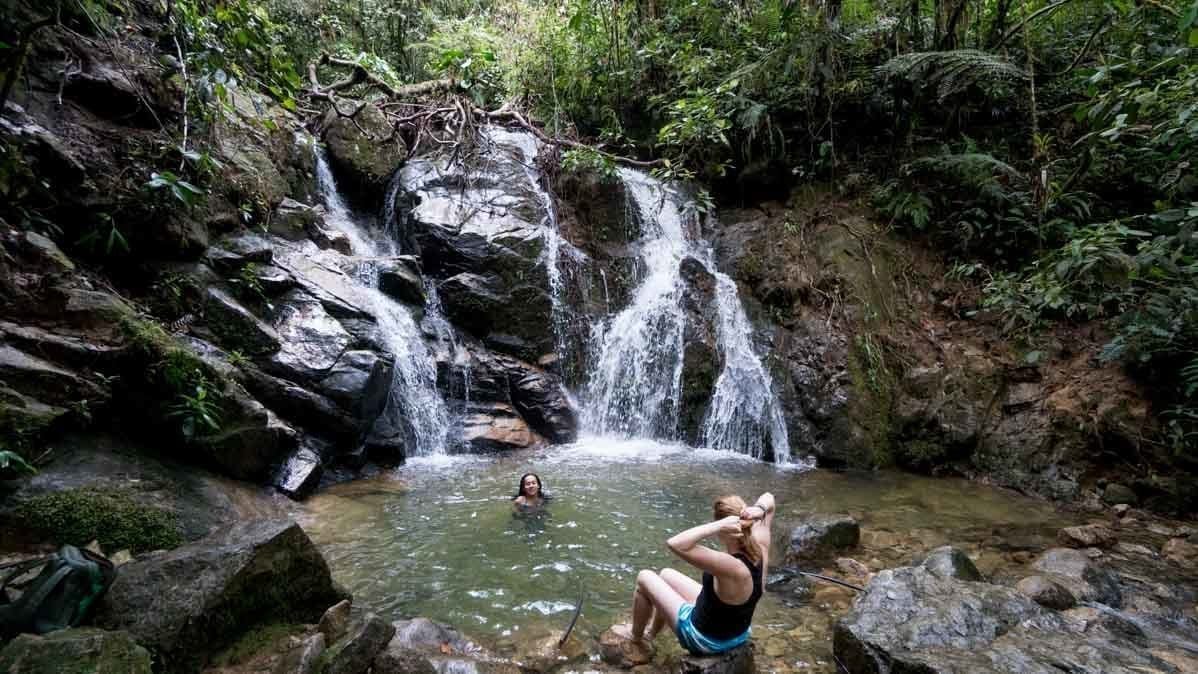 One of the many Guatape waterfall hikes
4. Biking Tours and Trails
If hiking isn't your thing you can see the town by renting a bike, take in jaw-dropping views of the rock by following the ring road around town, or take in a more extended bike tour with a guide for a full or half day or a combo trip = bike-hiking-waterfall tour. We recommend you Tour Guatape for all these adventures with the guys at Colombia Getaway. They can organize hiking, biking, paragliding, boat tours, you name it. These guys are friendly, professional, they use good quality equipment and not to worry, they have an English speaking staff. You can find them right on the main street across from the Malecon (the Riverwalk) at calle 32 #25-45 or you can book their tours at the Lakeview hostel.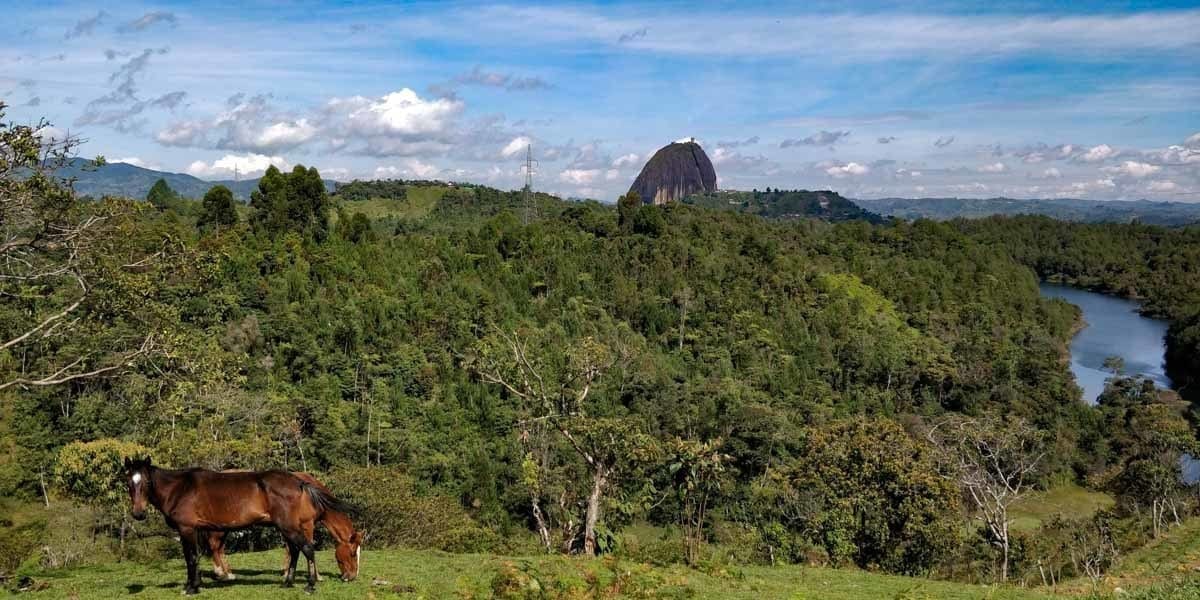 Just one of the many great views biking around the Guatape Lake surrounding the town and La Piedra.
5. Paragliding, Rappelling, Kayaking
And if hiking and biking are not enough for you, you can enjoy more awesome water and air activities. We plan to come back and do these kinds of tours, and we've heard nothing but great things about these activities. The team at Colombia Getaway can hook you up with all these options as well as boat tours around lake Guatape. (its actually a reservoir- but it created the lovely lakes we now enjoy). There used to be a Guatape zipline, but that business is out of service since the extensive work on the malecon (board walk) along the town. It wasn't a good business anyway so its not on our recommend list for those that ask us about it!
6. Great Souvenir and Artisanal Shopping
Guatape has a step above all other small towns we've been in Colombia for finding good quality souvenirs, artifacts and artisanal jewelry and home décor. You can see the best stores on the most colorful street near the center of town – called the Plazoleta de los zocalos – you won't miss finding it, as it clearly has the most number of colors in town.
7. The Best Ice Cream In Antioquia
I still dream about the ice cream in Guatape. Two years later, I returned, and still this is the only place I can find it. The helados of Antioquia are fantastic artisanal ice cream popsicles, in all the favorite Colombia flavors like Coco (coconut) with fresh shavings, Queso Arequipa (cheese-caramel flavor), Maracuyá (passion fruit), Chocolate peanut butter and many more. Seriously, it is so good and if anyone finds this incream somewhere other than Guatape, please let us know!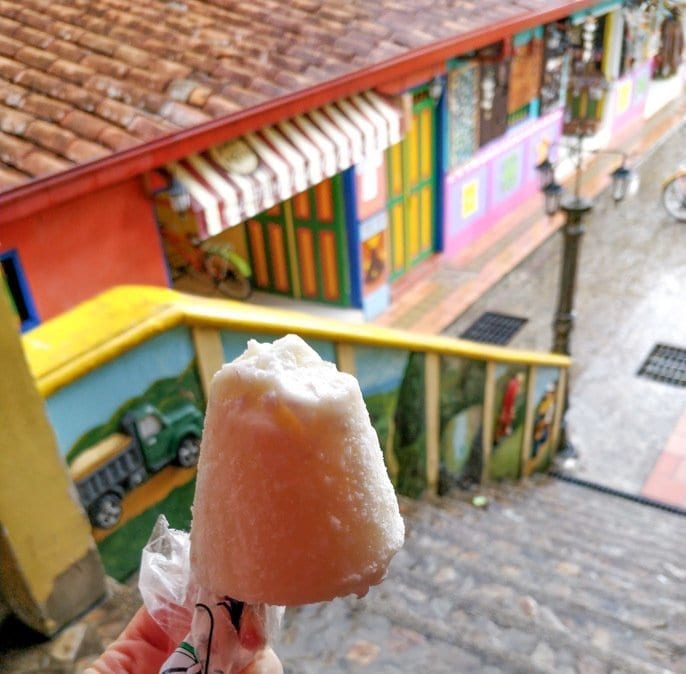 The Helados of Antioquia – Coconut Icecream – It's better than it looks!
8. Great Food and Coffee
During our first visit two years ago, we found only typical Colombian food and over-brewed tinto coffee. Now, there are all kinds of international cuisines, vegetarian options and excellent espresso style cafes. Not sure where to eat in Guatape? We have some ideas for you.
Where to Eat in Guatape
Some of our favorites:
Thai Terrace ––YES! Thai food is available outside a big city in Colombia! Outstanding Thai food,located on the top floor of the Lakeview Hostel in a casual and fun setting (pictured above). We loved it so much we ate there every night during our second visit. Our favorites were the Pad Thai, Red Curry, and the Malaysian Pork Masala. Get there for happy hour at 5:30pm and stay for dinner. It's a great gathering place to meet all kinds of travelers and swap travel stories. It Open for dinner.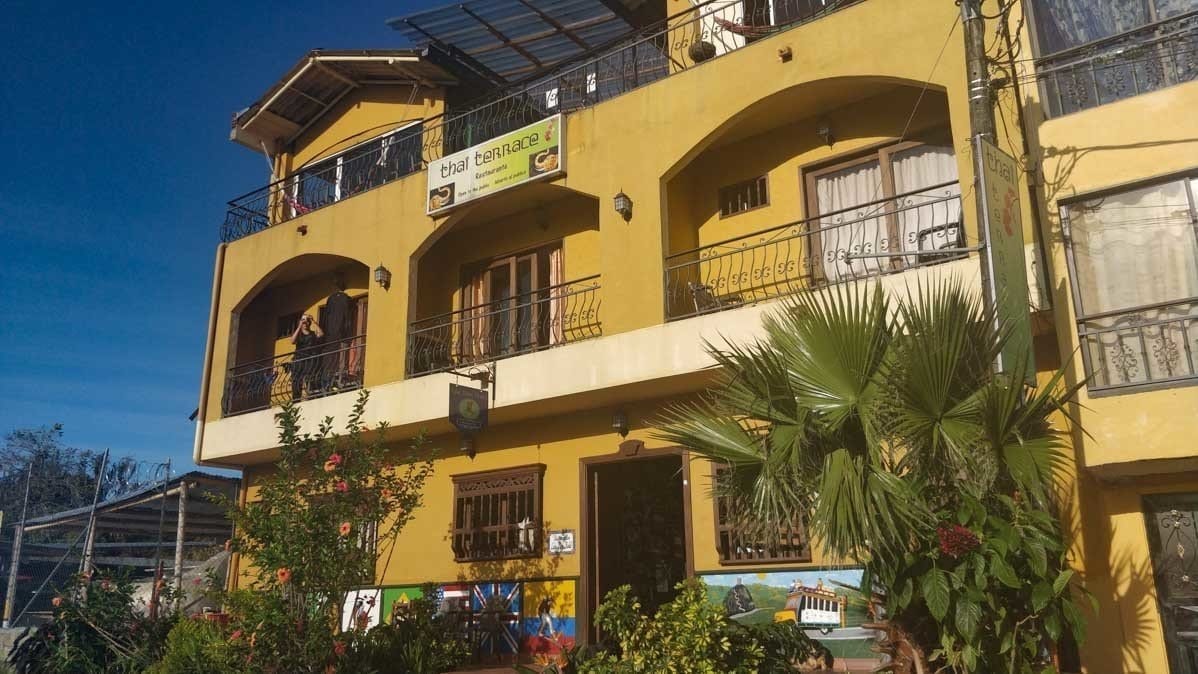 Lakeview Hostel Guatape- Head on the top floor for Thai Terrace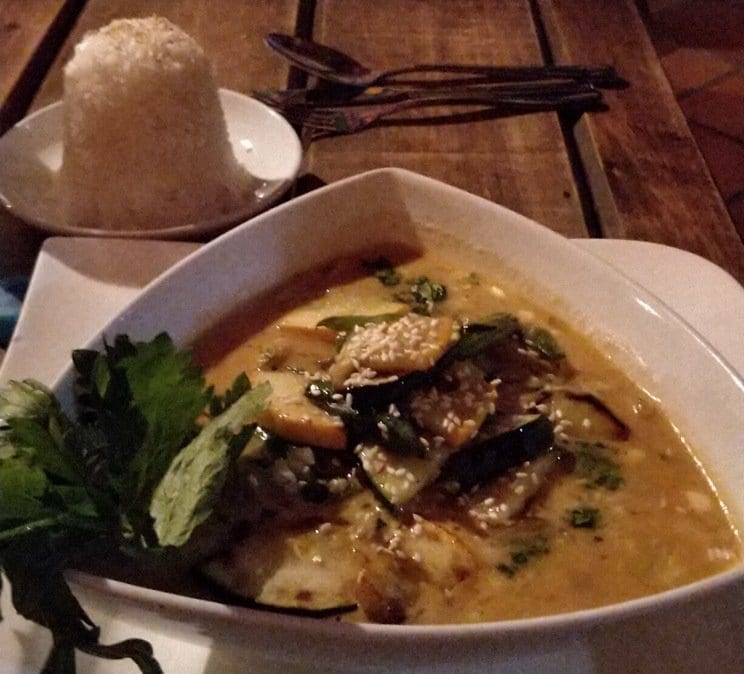 ​Red Thai Curry from Thai Terrace
Café La Vina -Two locations run by parents and son and his wife – These guys know their coffee and can guide you to find your ideal choice and serve great juices too. One location is near the Malecon – the lake front (located on Google maps), and the other is at the top of the stairs on the Plazoleta de los zocalos.
Namaste – Great quality vegetarian and vegan option located off the Malecon. Great sandwiches, pizzas. Check them out on TripAdvisor, and you'll know why they get good ratings.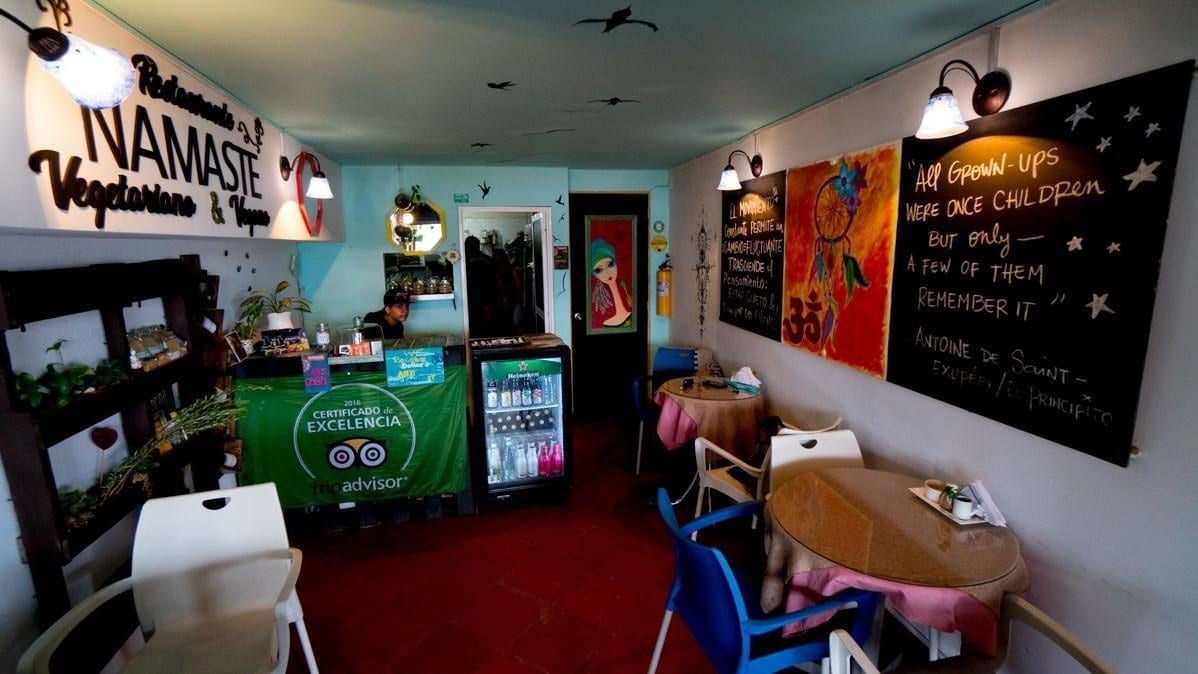 Where to stay in Guatapé:
There are some great option in Guatape, here are some of our favorites. Lakeview hostel has great service and comfort. As soon as we walked through the door the staff had us fully briefed on activities, meal times, bus schedules, you name it. We booked the private room at Lakeview hostel. The rooms are super clean, comfortable with outstanding views and hot showers. There are also dorm rooms available for singles or larger groups. The breakfast is exceptional and well priced. (try the chefs omelet or the burrito) and you can take in the view too. Check out the latest prices and details.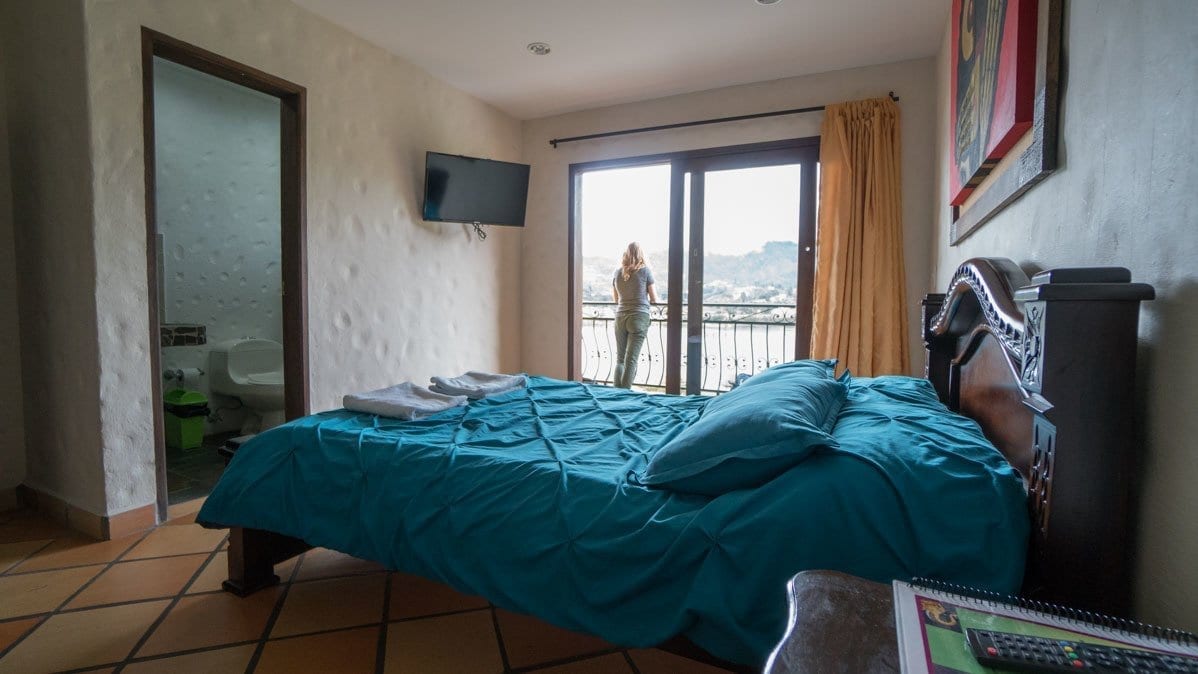 Lakeview Hostel Double private room looking over the lake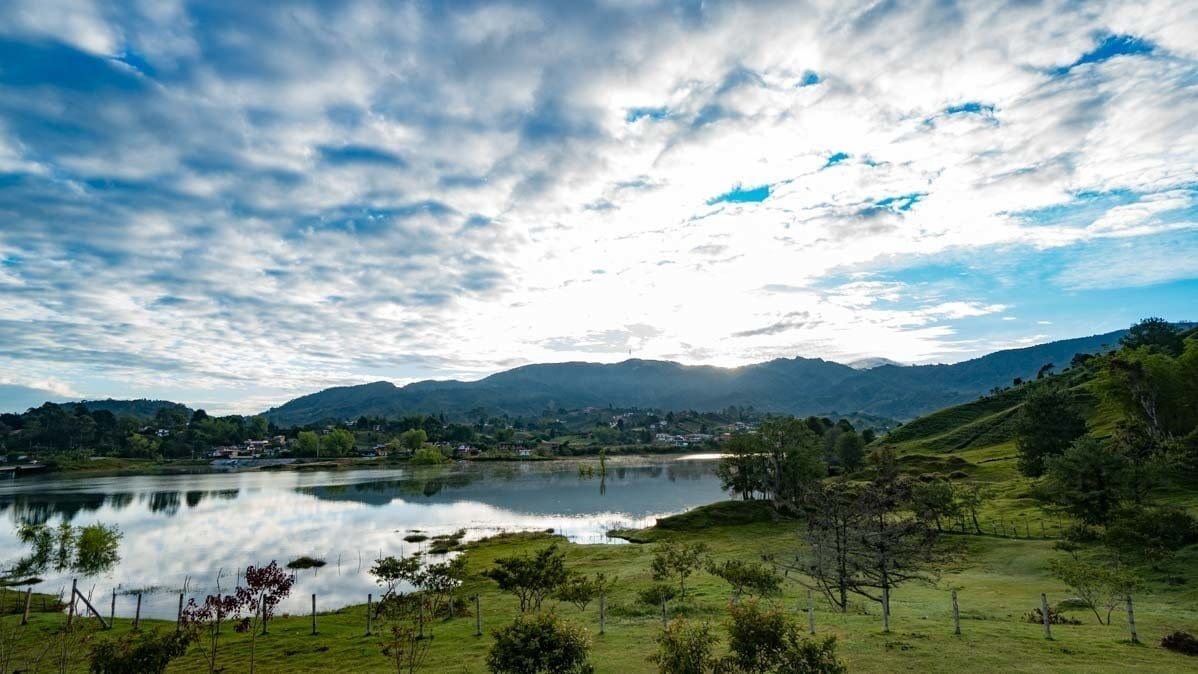 Scenic view of the Laguna de Guatape- from Lakeview hostel private room
Hotel Santa Maria de las Aguas Peñol – Great views of the big rock, lovely pool and restaurant and comfortable rooms. Check room rates and availability
Hotel Zocalo Campestre– Do you want to stay right beside the big rock? These little cabanas are super cool and cozy with breakfast included in the room rate too. Check here for room rates and availability.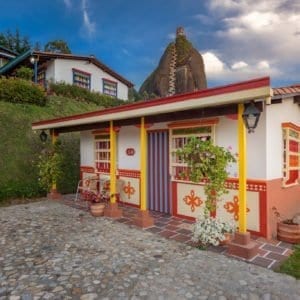 Credit: Hotel Zocalo Campestre
How to make your travel more meaningful:
A lot of travelers are intrigued by the Pablo Escobar era, and there are tours here to see his mansion. This option that is up to you. We prefer not to visit or promote these kinds of trips as it is not our thing. Colombians want you to experience other things about their beautiful country instead of remnants of the haunting and challenging past. This is something to keep in mind to be sensitive to their point of view.
If you aren't for crowds, come during the week, weekends are jam-packed with Colombian families and foreign tourists, and buses fill quickly. Also, say hello and talk to the locals – they are warm and friendly and appreciate anyone who practices their Spanish and visits their town.
If you have the time, stay at least a night. Take your time and enjoy being out of the big city of Medellin. A day trip is possible but you will need to pack in a big day. It's best to book a tour from Medellin in this case so you'll have the day organized to do more. Our friends recently took this day trip from Medellin with Get your guide and loved it. It will save you time and effort and you will see alot.
Best time of year to visit Guatape:
The bonus about being close to the city of eternal spring is that the temperature here is usually warm. Although you will likely experiences some clouds in the afternoons so climbing up the rock in the morning is generally recommended. This area usually encounters strong rain showers, but they last for a short period of time. Expect to have some rain in March, April, May, June, July, August, September, October, and November. Super busy season is in December until January 15th with Colombia Christmas holidays. If you want to avoid crowds come during the week.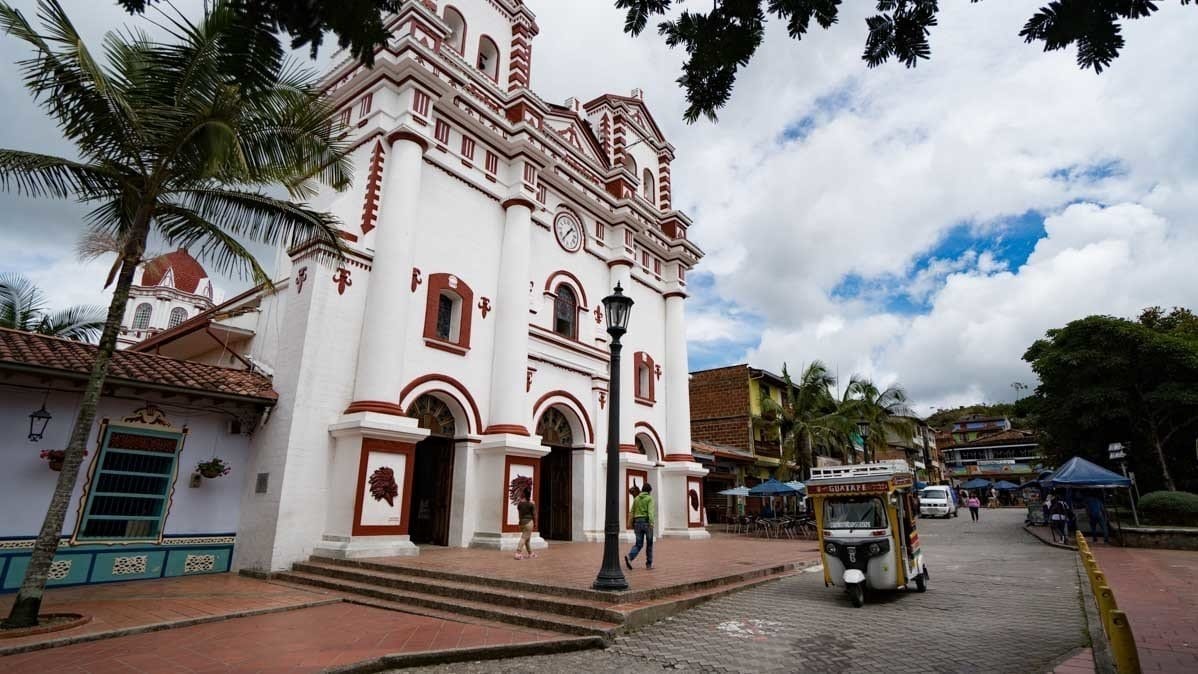 Guatape town – The Main Church of Nuestra Señora del Carmen
How to get to Guatapé on your own:
The town is very easy to reach on your own, if you have the time to head here on your own.
From Medellín to Guatape, take the metro to the north of the city at Caribe station and walk to the connecting North Bus terminal.
On the main floor of the station, buy your ticket from any window that advertises Guatapé, El Peñol or La Piedra. – At Gate 16.
A one-way ticket costs 14,000 COP ($4.85 USD) at the time of our booking; all bus companies are competitively priced. Sit back and relax in a very comfortable bus for an enjoyable and scenic tour once you get out of the city. Fantastic views and green, green mountainous landscapes.
You can take a Tuk tuk easily from the Rock to the Town of Guatape with ease so the bus can either drop you off there first, or into town.
Book your Guatape Medellin ticket back when you arrive at Guatapé, buses tend to book up quickly. (more so during the weekend than the week)
Do you have more tips for Guatape- things to do, where to eat and stay that we missed? We would love to hear from you.
We spend alot of time in Colombia so if you need help with your travel planning we have plenty of more posts including:
Guide to Colombia and Itineraries
Planning your trip to Colombia? Find out more about our Colombia posts for planning your visit here.
And click here for more destinations for our travel stories. ​https://www.travellifex.com/destinations/​​​
Share on Pinterest: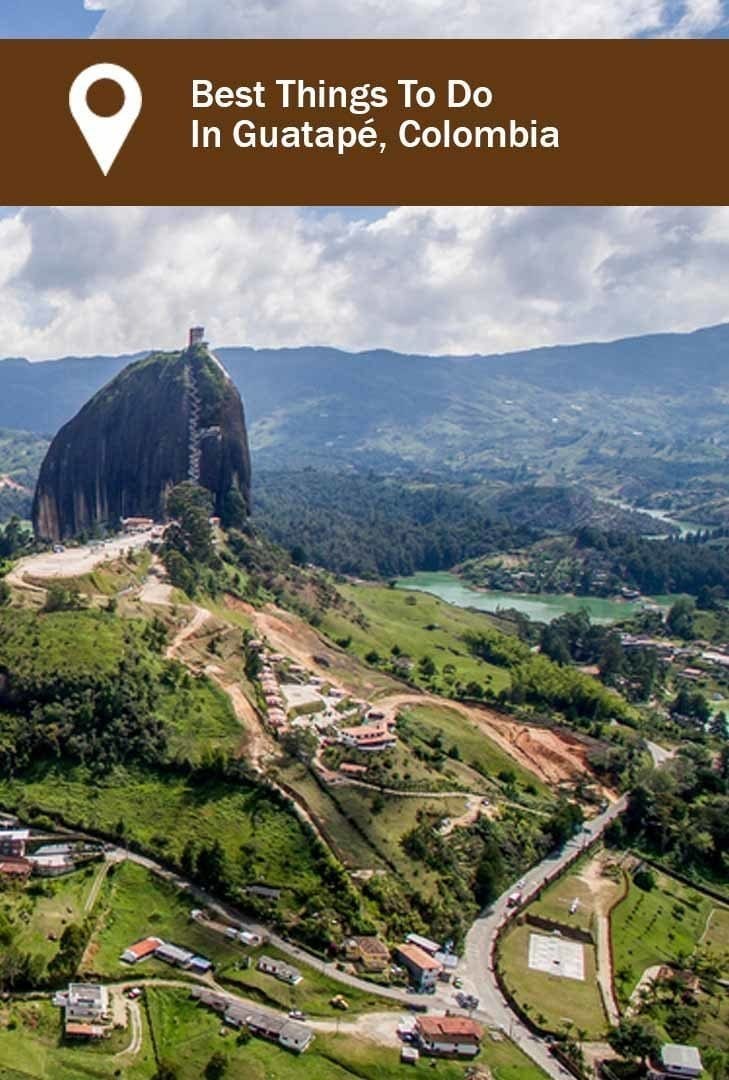 Thanks for reading, it is a ton of work to create detailed blog posts like this to help you travel better. We would love you to help us out. By booking or buying something from these links, we earn a small fee, and it is at no extra cost to you. This helps us keep providing quality content and tips for you. As always we will never recommend anything that we don't 100% believe in. Thanks for your support. In this particular post we a complimentary stay with Lakeview hostel in exchange only for an honest review. All views are our own.