Jardin Colombia: Your Travel Escape Guide
Mountains, cowboys, horses, hiking, trout and coffee – are you intrigued yet?
Updated 2020, Jardin is open for visitors, and handling the pandemic well. It is the perfect escape from Medellin for a few days to enjoy tradition, while in lovely colonial Spanish architectural setting. Couple that with super friendly and proud Paisa hospitality (even more so than in Medellin), and a burst of fresh air and green mountain views. Now, you've got Garden (to English speakers) or in Spanish, welcome to Jardín. (pronounced: Hardeen)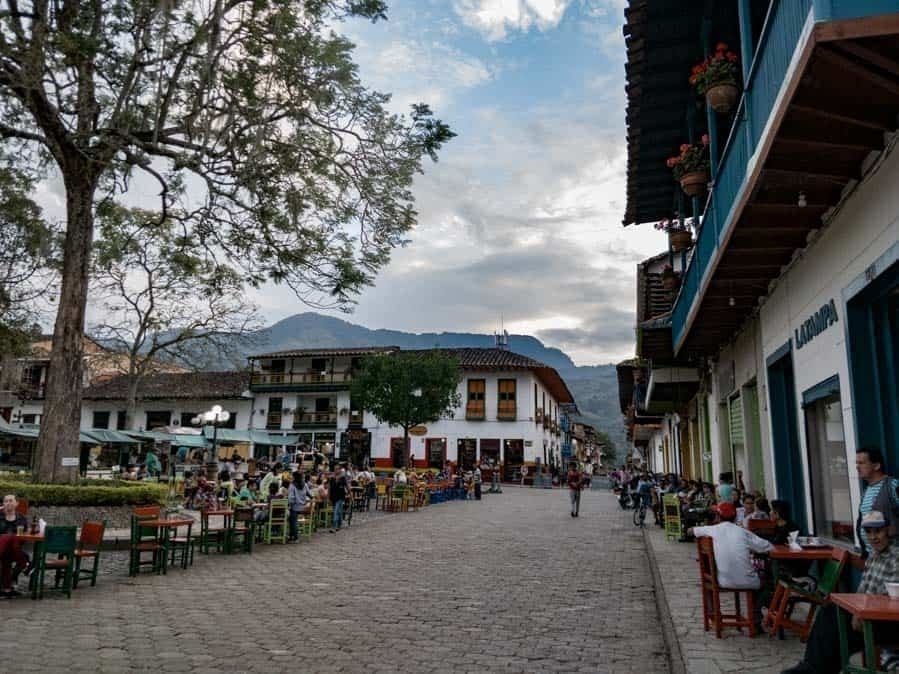 Restaurants and shops along the main square in Jardin.
Colombian towns are the best places to get your front row seat to culture, preserved traditions and nature all around. Jardin Colombia is one of the 17 historical Colonial towns in Colombia, called the Pueblos Patrimonios, led by the prettiest town in Colombia, in the department of Santander.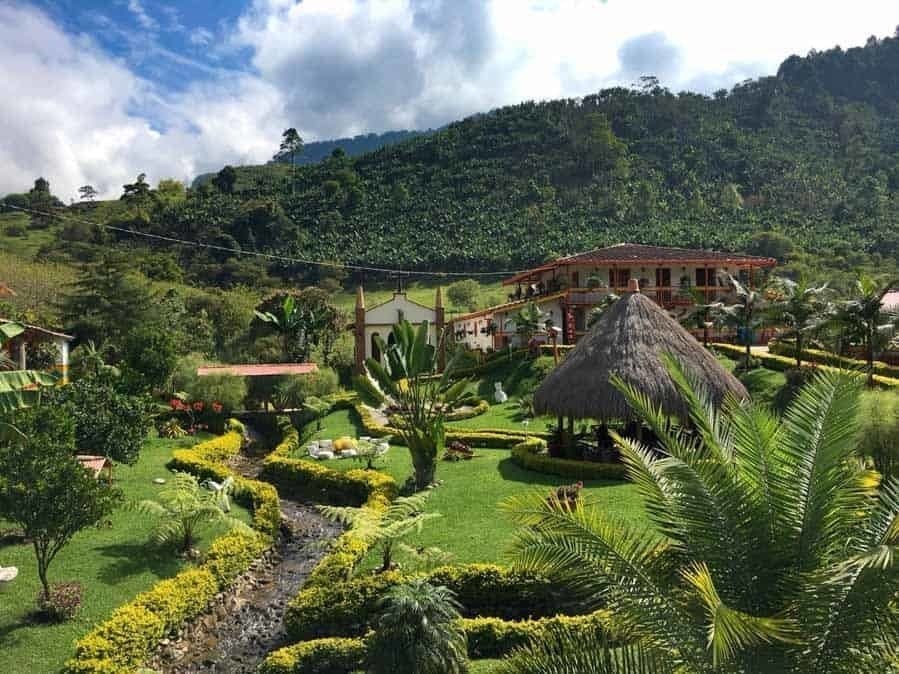 Interesting gardens in the town.
Jardin is changing rapidly. Since the quarantine, and pandemic few businesses have closed, and our favorite spots have survived. Jardin is the no-longer-hidden destination for hiking, birdwatching, paragliding, and coffee. (YES! There are more coffee regions in Colombia than the Zona Cafetera (coffee zone) in southern Colombia.) There are exceptional, world-class, well-known coffees and coffee farms here.
Where is Jardin Colombia?
Located in the department of Antioquia, it's 131 kilometers south of Medellin – Of course, that is a deceiving short distance, since it takes 3.5 to 4 hours from Medellin due to the winding roads around the mountains and coffee farms and two-lane highway sections. So, we recommend that your stay should be more than a day trip from Medellin, unlike Guatapé , you will need more than half a day to explore it.
Best things to do in Jardin
Hiking, Waterfalls and Cave Rappelling
Jardin Antioquia is a hiking paradise, and Check out the video below or click on our link below why it earns that credit!
There are numerous hikes to choose from, including:
El Salto de Angel – A waterfall in a dense jungle with a 50-meter drop
La Cueva de los Guácharos – a spectacular cave, perfectly carved by the flowing river waters (this is the same tour to the El Salto de Angel)
La Cueva del Esplendor – a hike on private land through caves that cuts into the rock, revealing waterfalls. Depending on the season, it's possible to rappel down this cave.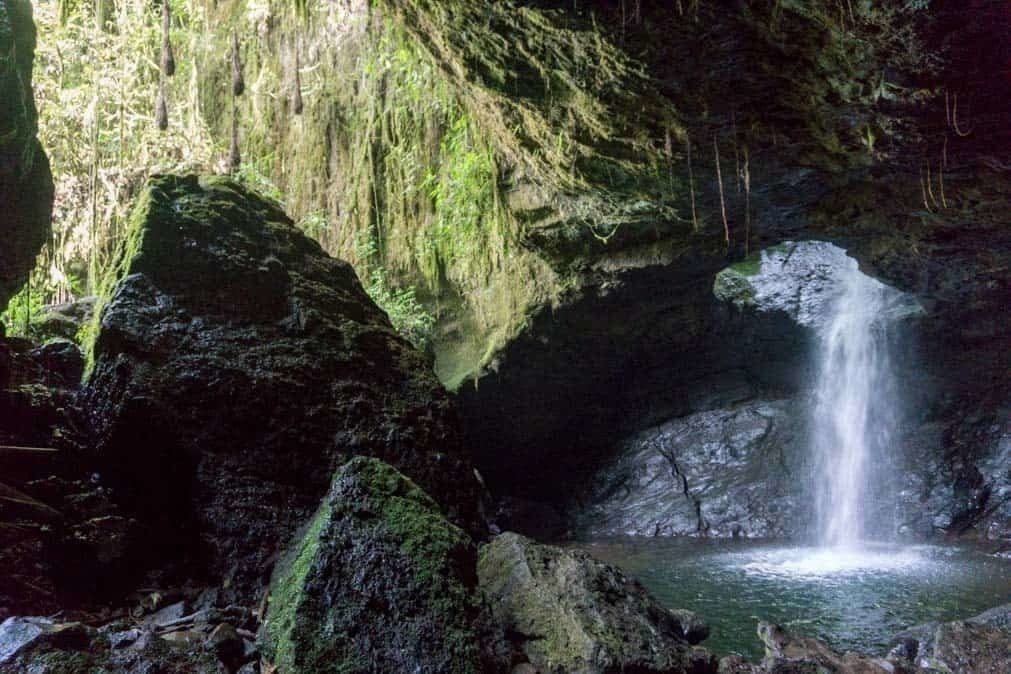 La Cueva del Esplendor – Cave of Splendor around Jardin.
La Camino de la Herrera – Part of this hike you can do without a guide, with a hike up the La Garrucha (the old wooden cable car). You can do a more in-depth tour with Jardín Ecotours that include touring the nature reserve and waterfalls. The extensive hike is about 3-4 hours. We didn't ride the cable car but the locals assure us its safe. (Others have tried it with no issues)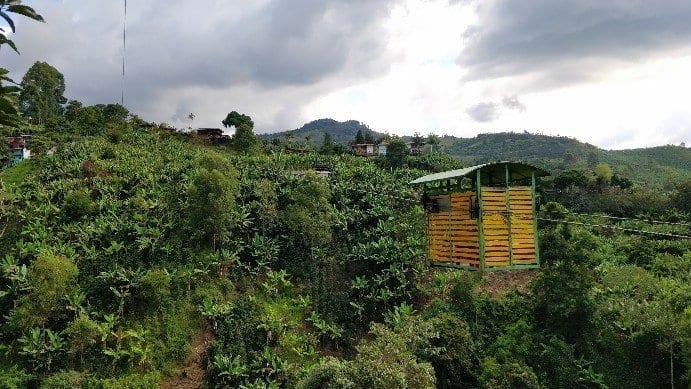 Old school cable car La Garrucha – worth checking out, views of the town are unreal!
Cristo Rey Hill – This is a hike up to the big Christ statue to see spectacular views of the town.(see details further in this post)
This video shows the insane views from the Cristo Rey Hill:
For More Laid Back Adventures: Tours beyond hiking, include horseback riding, and coffee tours to learn the process in micro-producers from picking, drying, processing and roasting. (See below where to book). Birdwatching is quickly becoming a top adventure in Jardin. Some species of bird are only native to this area.
For More Adventurous: There are a paragliding and canopy options here, which is no surprise given the views and forests are spectacular here.
Check current pricing for hiking, paragliding, canopy, and rappelling
Where and how to book tours in Jardin Colombia
1. Prebook online – this gives you mobile payment, easy cancellation, english speaking, AND you still tour with local operators.
A. Day trip from Medellin to a coffee farm with transport – check prices, details and availability here
B. Day trip from Medellin with transport –Horseback riding with coffee villa and waterfall tour – check details, prices and availability here.
2. Book when you arrive is another option withJardin Eco tours have fantastic hiking, and they also run birdwatching tours, coffee tours.
Enjoy the Panoramic Views of the Town
The best view is the hike up the Cristo Rey Hill. The Cable Car system that operates up this mountain is out of service until further notice. Unfortunately these systems have hefty maintenance costs, and the town is unable to keep up with the costs. The better option? Put on your hiking boots and take the lovely hike up the hill starting at the edge of town at the end of Calle 11, at the north end of town.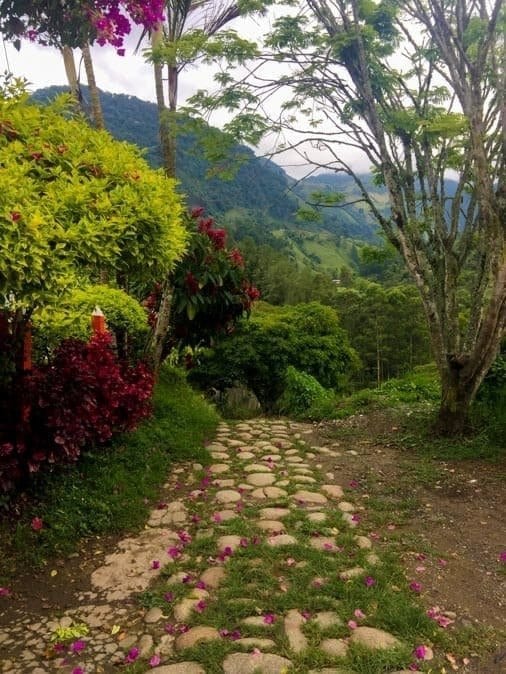 Path to walk up to the Cristo Rey Hill hike.
The hike is uphill, but it takes no more than 40 minutes across the river, up through the plantain farms. You will be rewarded with spectacular views at the top.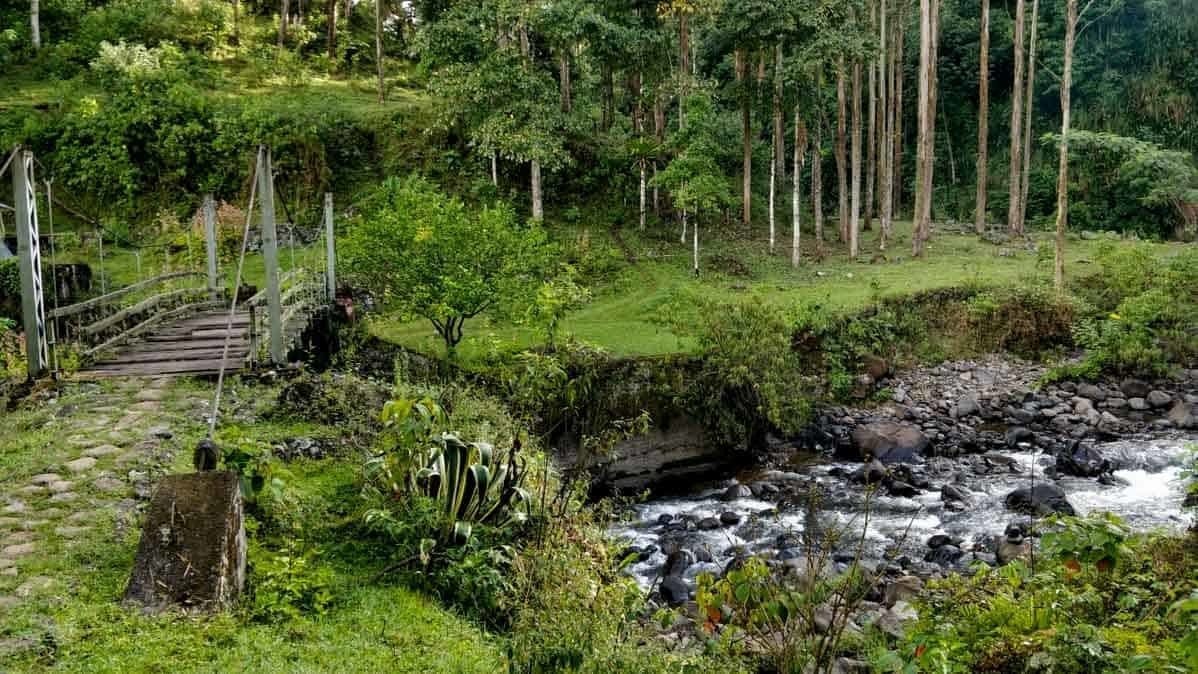 Super tranquil views along the river via the Cristo Rey Hike
Serious people-watching in the coolest town central square in Colombia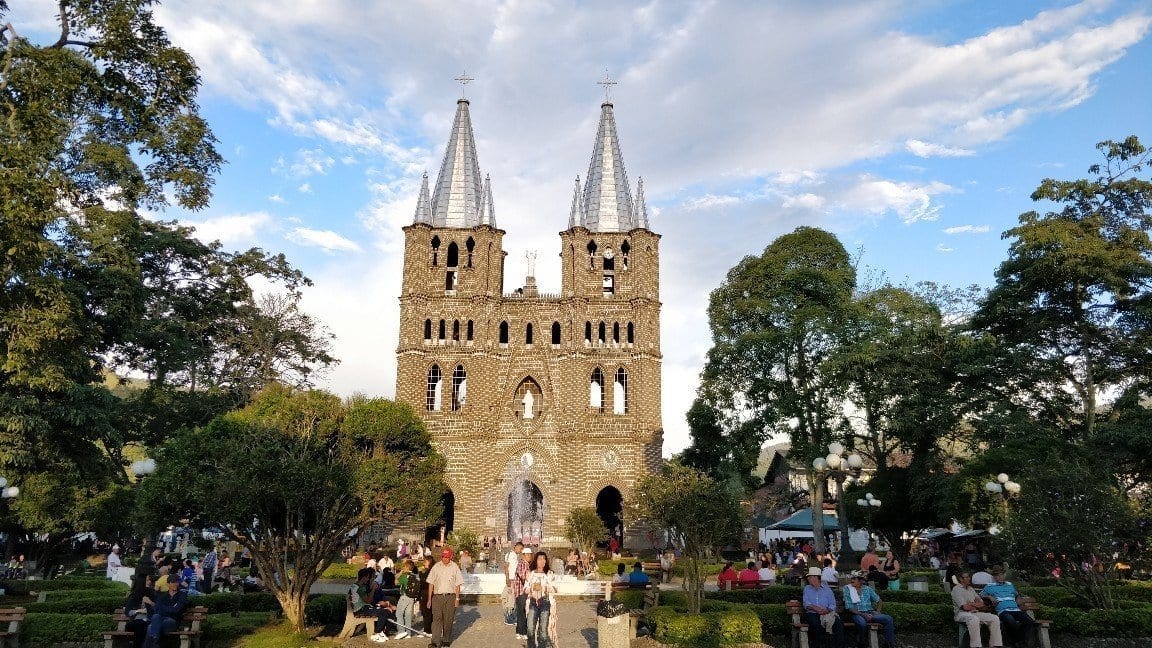 El Libertador square is the best seat in town. We have visited a lot of central town squares in Colombia, and Jardín has one of the coolest gathering areas in the country. You can spend hours sipping coffee, fresh juices or cold beers. You will never get bored of watching children playing, families gathering, or the local cowboy entertainment of horse trotting and prancing around the town square.
The Basilica of the Immaculate Conception really stands out in Jardin, with it's Neo-Gothic design. The cathedral just celebrated its 150th anniversary of the start of it's construction which only finished in 1940. All the stones used to build the church are all found around Jardin.
Coffee – It's the thing here
-Every small town has an industry, coffee is their thing in this area of Antioquia. Although, only in the last few years when it has developed into a formidable coffee culture that we are accustomed to in Western countries. The mainstay coffee is a "tinto" a small cup of usually overboiled coffee. Just over a year ago there was only one artisanal spot for coffee in Jardín. Now, at least three new cafés have opened up in Jardin, with espresso style specialties. Did you know that main drink in the morning in Colombia isn't coffee? It's hot chocolate.
The best places for coffee (and to buy coffee for gifts) We get to Jardín regularly and every time, there is a new, and great cafe opening. We just updated our list with our favorites:
Cafe Macanas – Just 2 doors down to the left of the church is our favorite café. Great coffee, incredible desserts, lovely restored building. They even have non-milk choices like Almond Milk . (not easy to find in Colombia)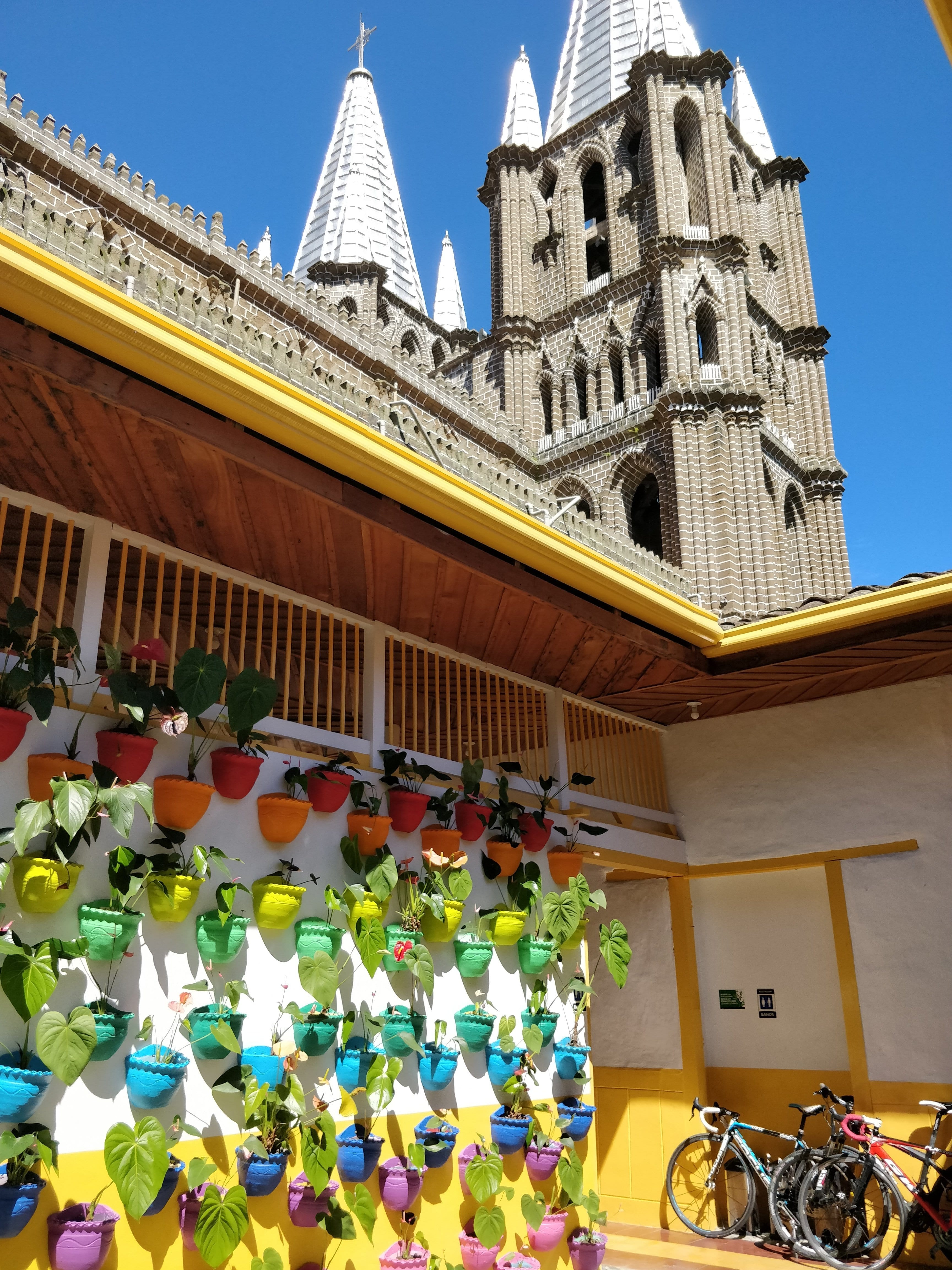 Cafe Macanas: How about this sunny and bright place for a coffee.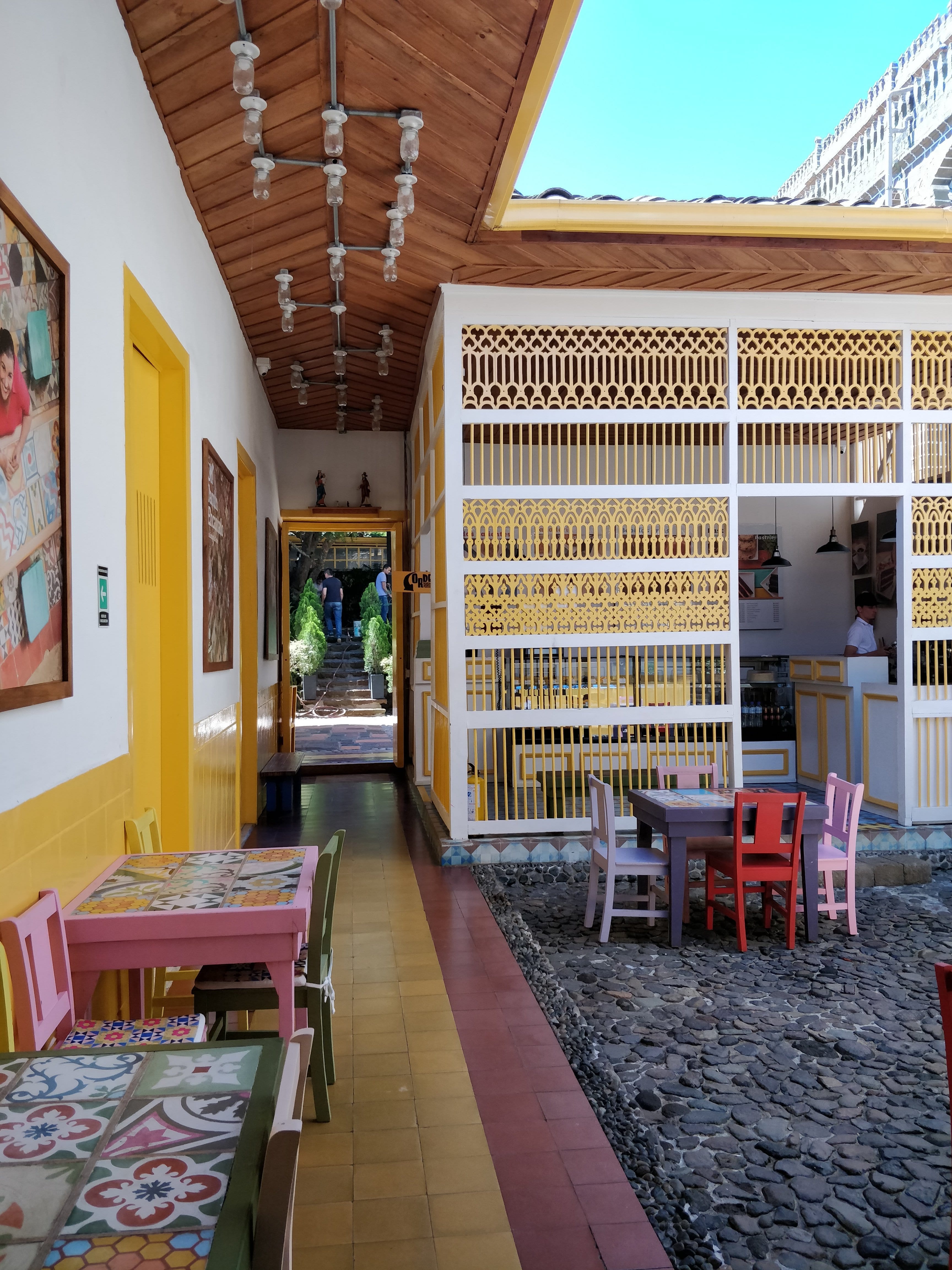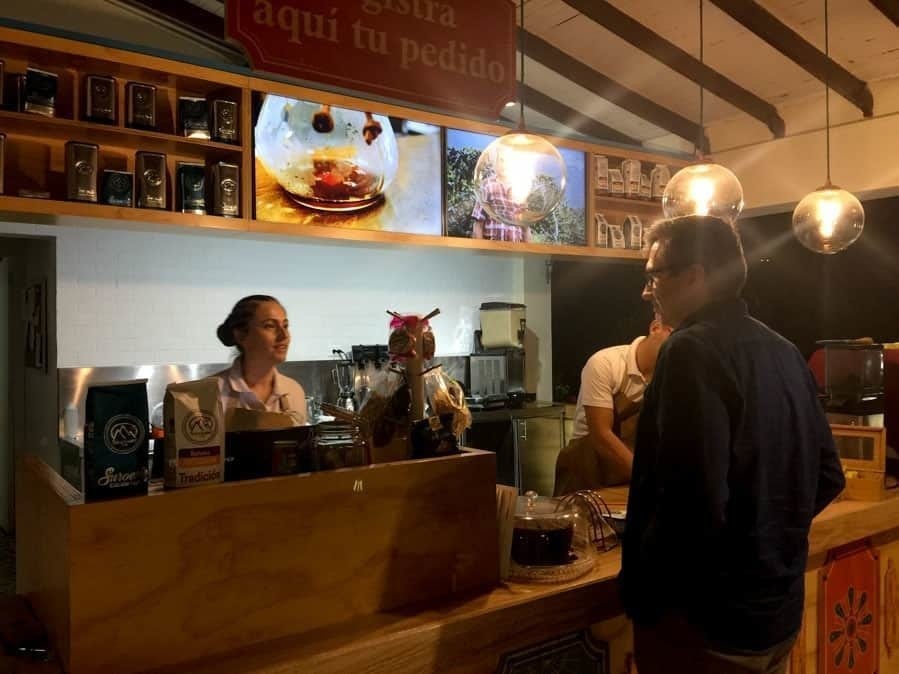 Cafe de Los Andes shop above the main square
Café de Los Andes: In the main square across from the church. Upstairs and lower levels.hese guys have a wonderful café, and they also process and roast their own coffee. Upstairs in the café, you can check out their production facility and buy your own bags of coffee to treat your friends and family back home. You get fresh coffee. A pound of coffee here is ½ the price of quality coffees in Medellin.
Café Cuchillas – This is a newly renovated café, before it was a more local, traditional place. But now, it has upgraded to a brewed and espresso-style coffee shop that you may be used to back home. It is located in the main square on the corner at the same side as the cathedral. The coffee is great here, and they also serve breakfast. It is best to sit outside to watch the interesting life of the town go by.
Every time we come back to Jardin there is a new café. Your biggest concern in Jardin will be deciding which one to go to each day.
Ave Café is a new cafe just west of the main square. It's a small cozy spot and the cold and hot espresso drinks are fantastic. A lovely family runs the cafe and the coffee farms in the area.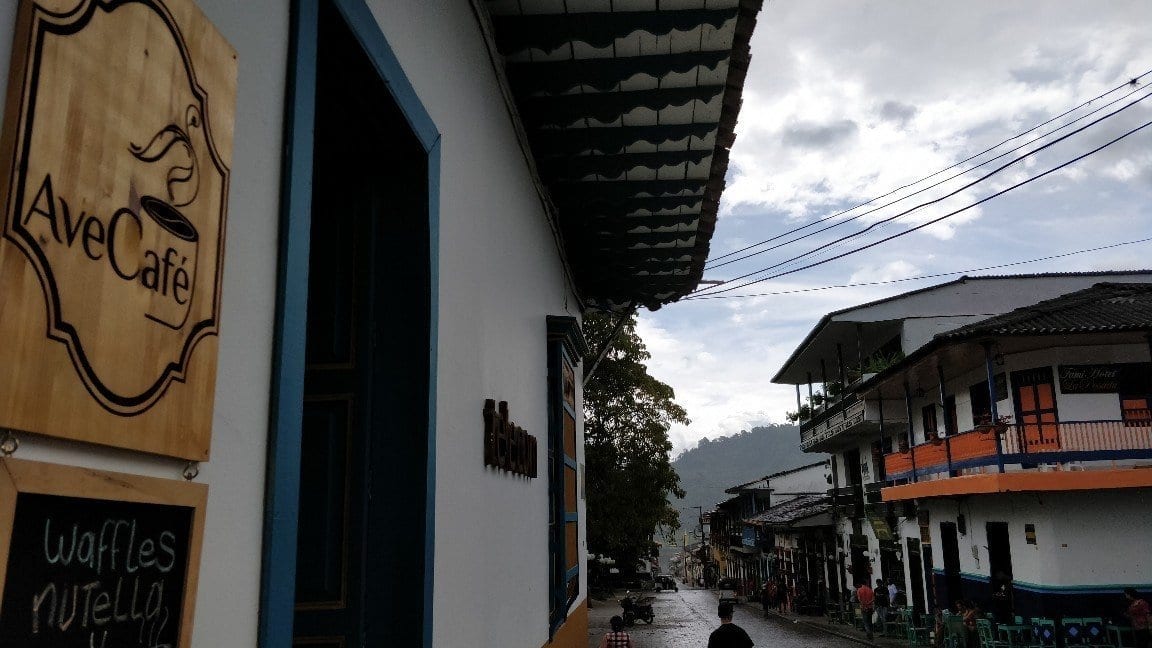 Ave Café one of many new additions to the café culture in this coffee growing town.
Where to Eat in Jardín
Café Europa– Fabulous Italian food – thin crust pizzas, pastas (try the pesto), with ingredients you don't normally find in typical Colombian food (like goat cheese). It's no wonder it's the favorite restaurant spot in town. The location has now moved beside the church in the main square.
Bon Appetit – Asian in a small town in Colombia!? Heck, yes! This place is a cross between Italian, Asian and Mediterranean. The rice bowls, ramen and noodle dishes are fabulous. Ask the staff for their favorites and they will gladly tell you.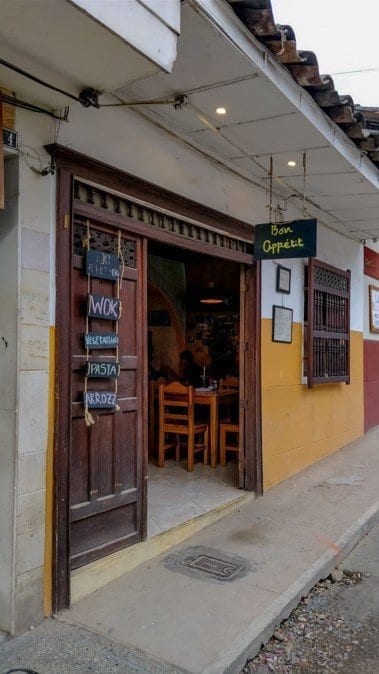 Bon Appetit Restaurant
La Parrilla De Mi Pueblo– This is a modernized little BBQ place that serves great grilled dishes and traditional Colombian dishes. Their Ajiaco is fantastic (traditional Colombian chicken stew), which is more popular in Bogotá, and it's a regular item on the menu. Also their plate of the day (Almuerzo) is great value at 11.000 COP (approx. $3.80 USD)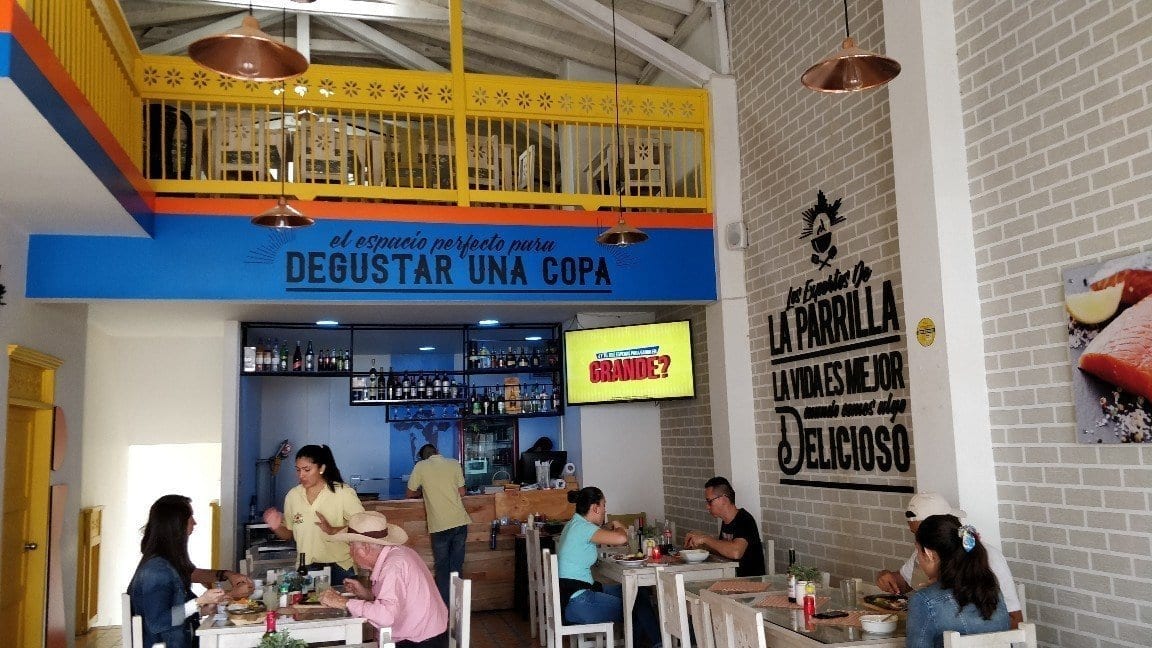 Best Local Food Options:
Restaurante El Zodiaco – Local food choice: It's a great local Paisa food and very economical, with super value plate of the day or the massive breakfast plates. Take your pick of meat, and you get all the fixings of a Colombian plate, and you won't leave hungry. It's easy to find on the south end of the plaza on Carrera 4 #7a.
Restaurante Los Colores– Aside from the excellent plata del día options, there is an incredible Paisa plate (their version of Bandeja Paisa) is more than enough to share for two people.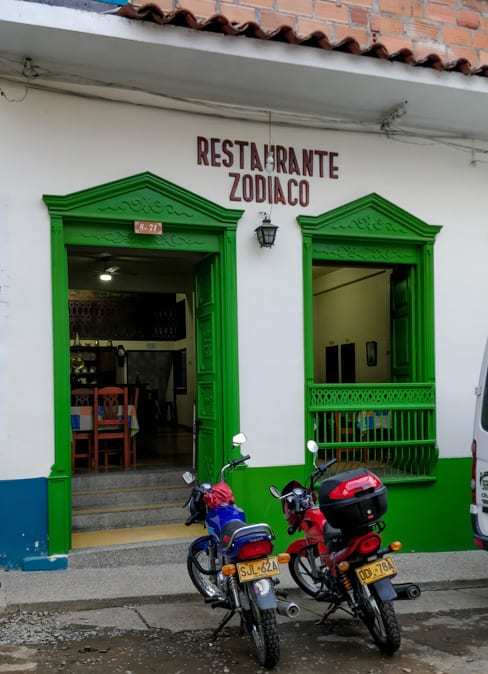 Best value breakfast and .almuerzo (plate of the day) in Jardin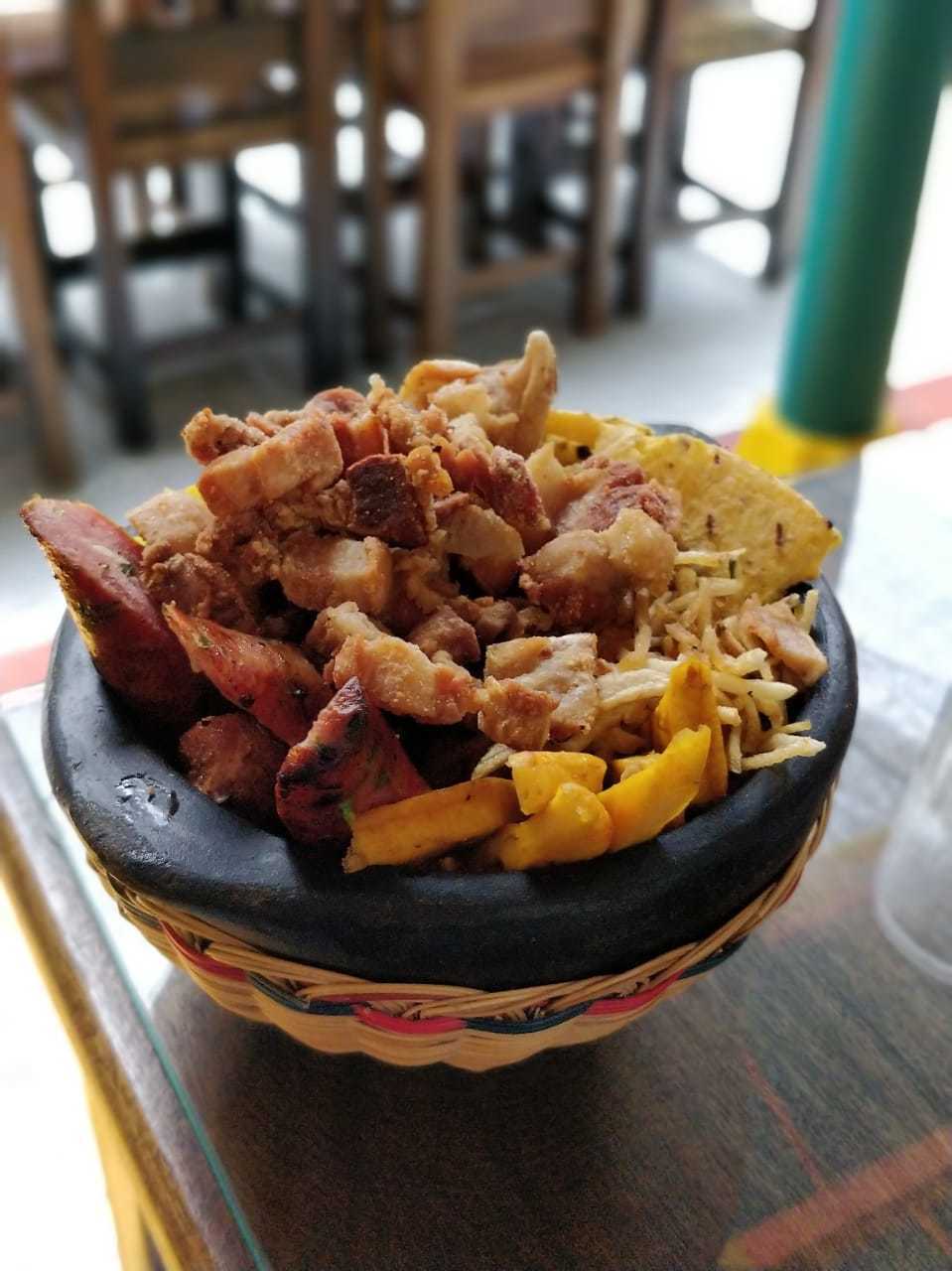 Restaurant Los Colores – Bandeja Paisa bowl there is a vegetarian version too without Chicharron and chorizo.
How Much Time Should You Spend in Jardin?
If you are tight on time, try a minimum of 2 nights in Jardín, arrive early, enjoy an afternoon and a full day of activities. If you are interested in just kicking back and relaxing for a few days and doing activities as part of your stay, we recommend a 3 to 4-night stay. The more nature you can soak up, the better.
Best Time to Visit Jardin
For weather, Jardin typically is warm in the day, cooler at night and often there are rainshowers in the afternoon and evening in March-November. Typically in Antioquia it doesn't rain all day so it usually doesn't affect your travel plans. October is the wettest month and not ideal for hiking. For crowds, its definitely best to travel during the week. Jardin is a popular weekend destination for Colombians so prices and availability are more limited. The busiest times are during December and January (till mid January which is typical Colombian holidays) as well as during Easter. Low season starts after Easter up until July.
Where to Stay in Jardin Colombia
There are a number of great places to stay in Colombia- as tourism is growing here, expect to pay a little more than the competitive prices in Medellin, even though it's a small town. Here are some of our favorites:
Finca Mariposa Jardin – Working coffee farm stay
Now this is a treat. Stay at a working coffee farm, in a traditional home, with all the modern conveniences (even surprisingly fast WIFI). Relax, hang out on a hammock or book a hike, birdwatching tour, or coffee farm tour to complement your stay. Click here for best prices and availability.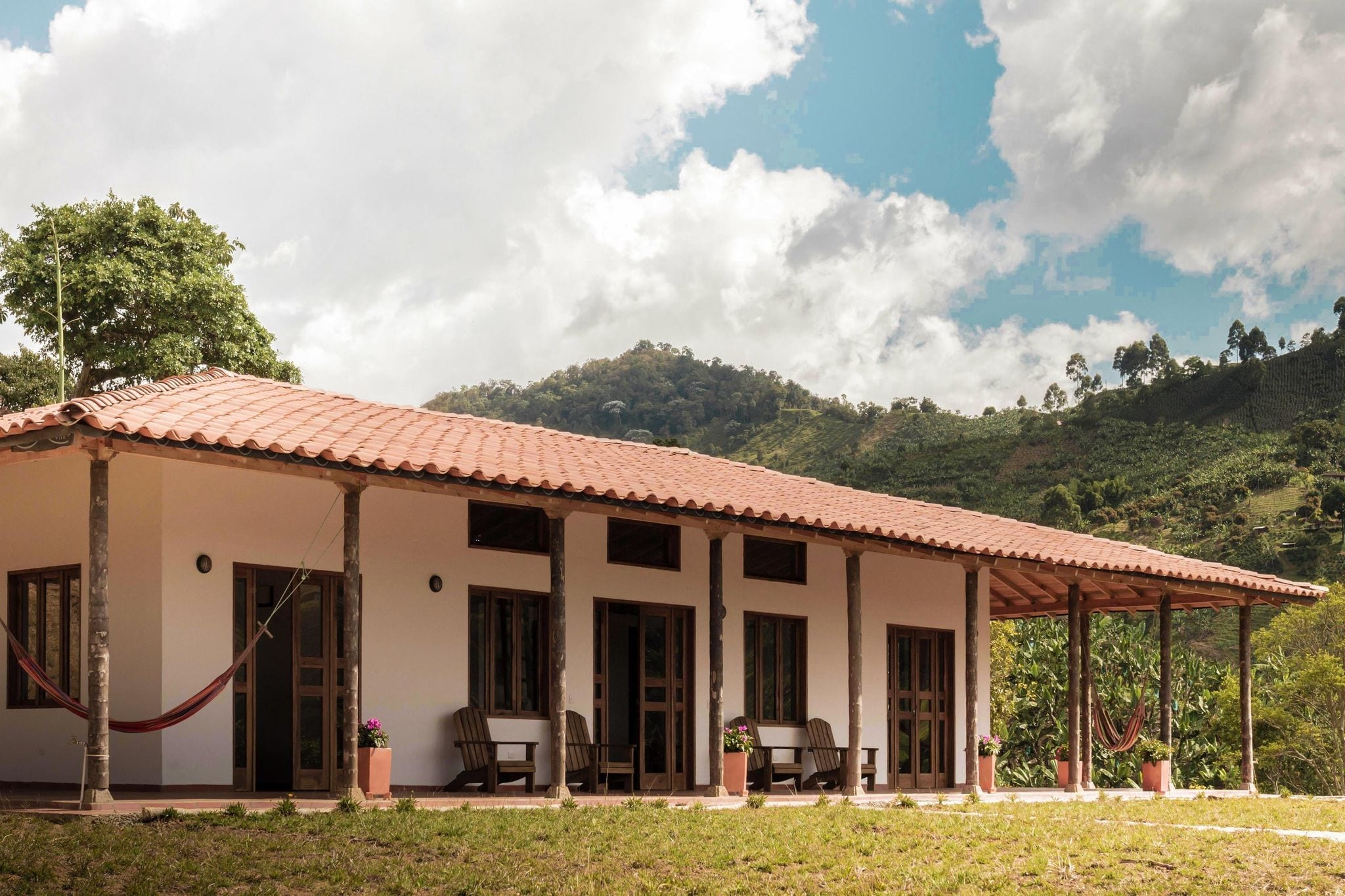 Front of Finca Mariposa Jardin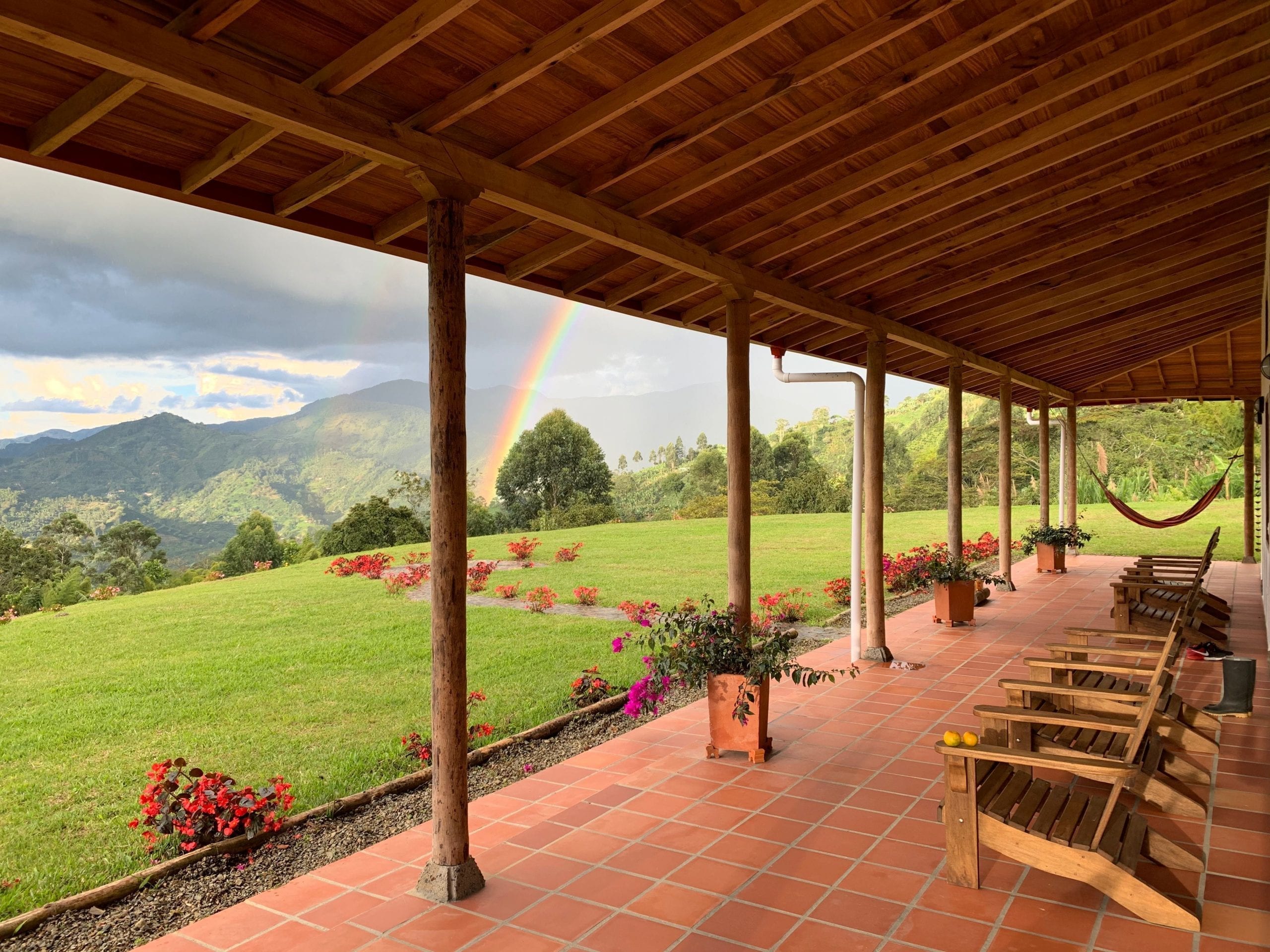 The views from the main deck at Finca Mariposa
Apartamentos Primavera – Jardin has apartments and western style accomodations! These are perfect if you want to stay for a longer period. They are super spacious, with all the comforts of home and kitchen (even a microwave). We recommend staying in the upper level apartments instead of lower street level. Click here for the best prices at Apartamentos Primavera, details and more reviews.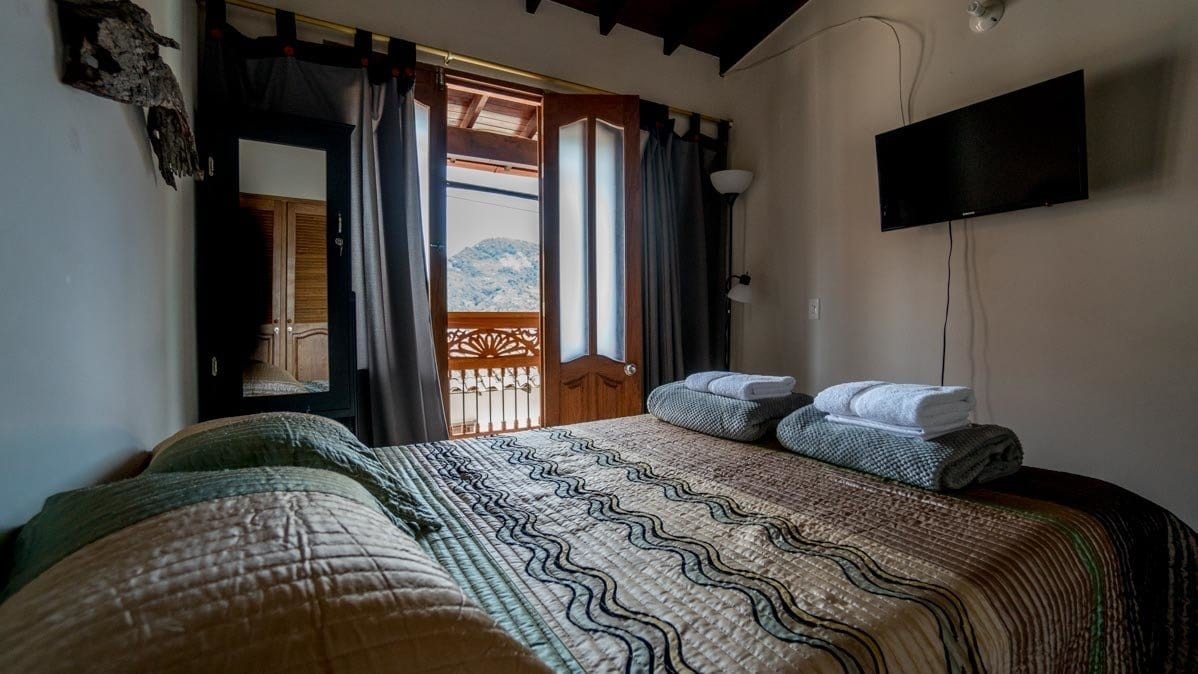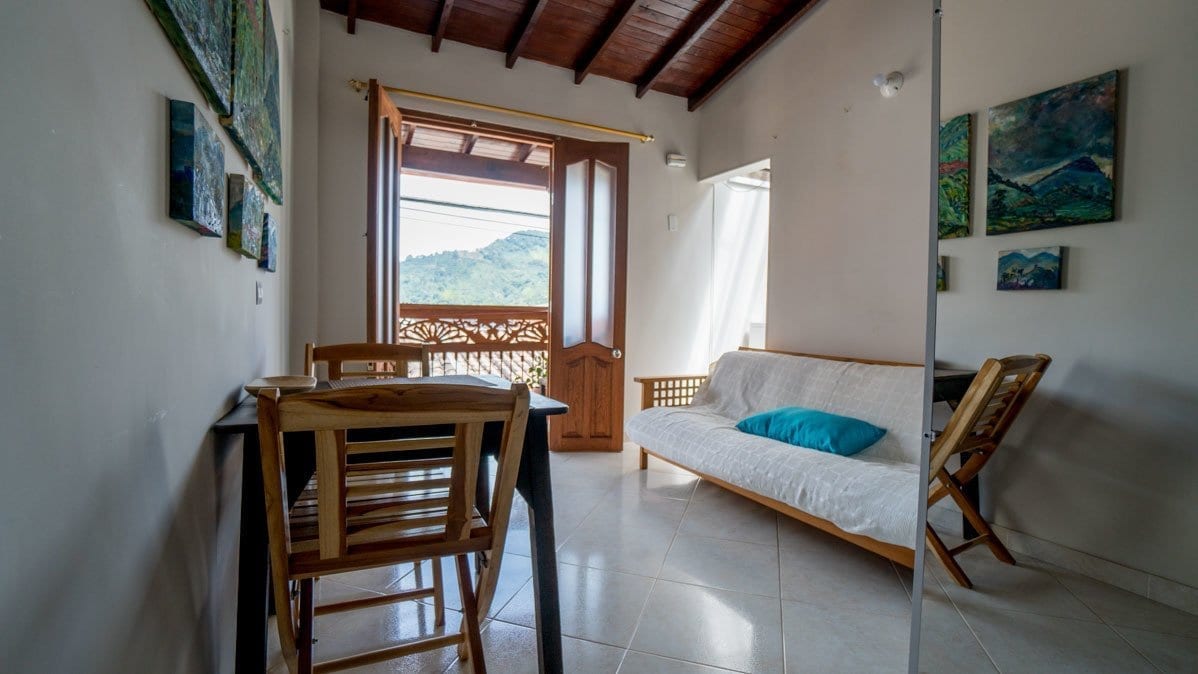 Hotel Kantarrana Urbana Jardin – This place has a lot of character. Cozy rooms, and breakfast included. It's perfect for a couple night's stay max (the standard rooms are a little small otherwise). But there are places to sit and enjoy their gardens, and it's just a couple blocks from the main square. Check here for the best prices of Hotel Kantarrana Urbana details here.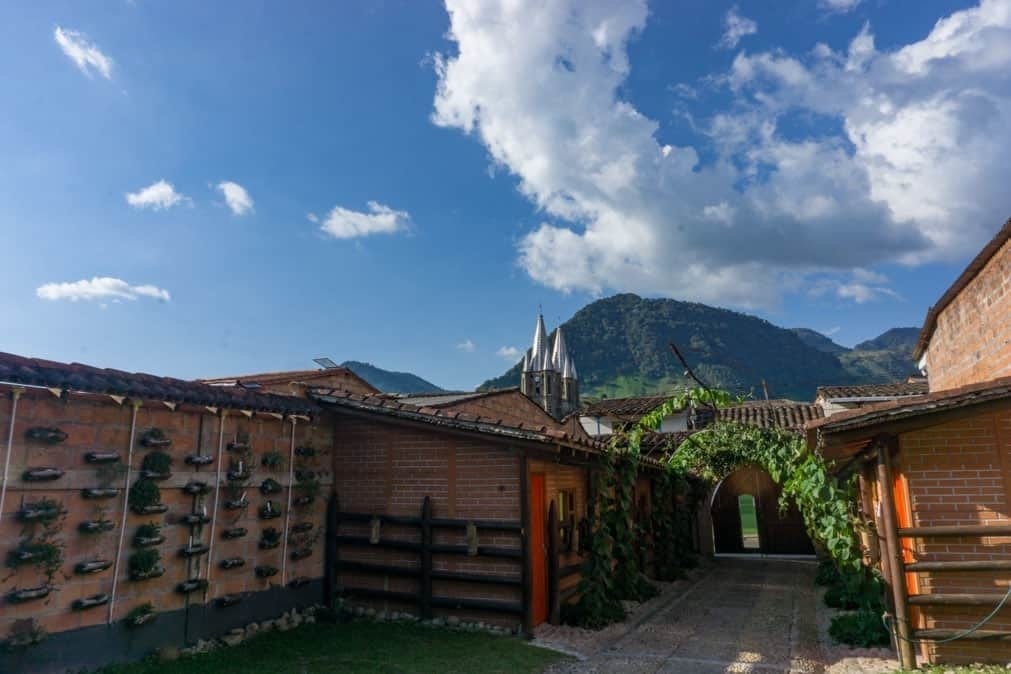 View from Hotel Kantarrana of the cathedral in the main square.
Hotel La Casona – Another good option for accommodation is the well-priced guest house with comfortable rooms. The courtyard is lovely with lots of places to relax. It's a great location since it's only a few blocks from the main square. Click here for the best prices at Hotel La Casona
When You Should Visit Jardín:
Jardín has become a popular place for Colombian families on weekends. So, if you plan to go there, make sure you book ahead. During low season, some of the restaurants are closed, although now there are many options to dine (with new ones opening all the time), so this should be less of an issue. We recommend going during the weekdays but stay at least a Friday night to check out the nightlife around the main square and drink a beer in El Liberator square.
How to Get There:
If you are in Medellin and pressed for time, here is an option for easy to book on-line, private transport. Check here for prices and availability.
Taking a bus to Jardín on your own is affordable and comfortable, although you will need to get used to the winding roads. But the views along the coffee farms and farmlands are sensational and worth the price.
There are at least 5 buses per day to Jardín from Medellín, leaving from the south terminal station, from multiple bus service lines. Two good services are Transporte Suroeste Antioqueño or Rapido Ochoa busline. There are also vans with a max of 9 seats available which tend to be faster than the bus service. Check current prices. Although prices will vary depending on the type of vehicle. * Important tip: Make sure you get on a direct bus from Medellín to Jardin Colombia – some buses will go to Santa Fe de Antioquia first (which is the opposite direction) adding another 3 hours to your journey. Ask first!
Taking a bus from the south of Colombia to Jardín – It's possible to take the bus from the coffee region (Manizales) up to Jardín. You will need to take a bus to Rio Sucio and transfer to Jardín, which will be a small van. Times will vary as they will wait to fill the van before they leave. Check prices online.
For an adventure, you can visit Jardín and Jericó, two of the nicest historical colonial towns in Colombia. However, you will need to take a Chiva (traditional Colombian transport) around the mountains and coffee farms.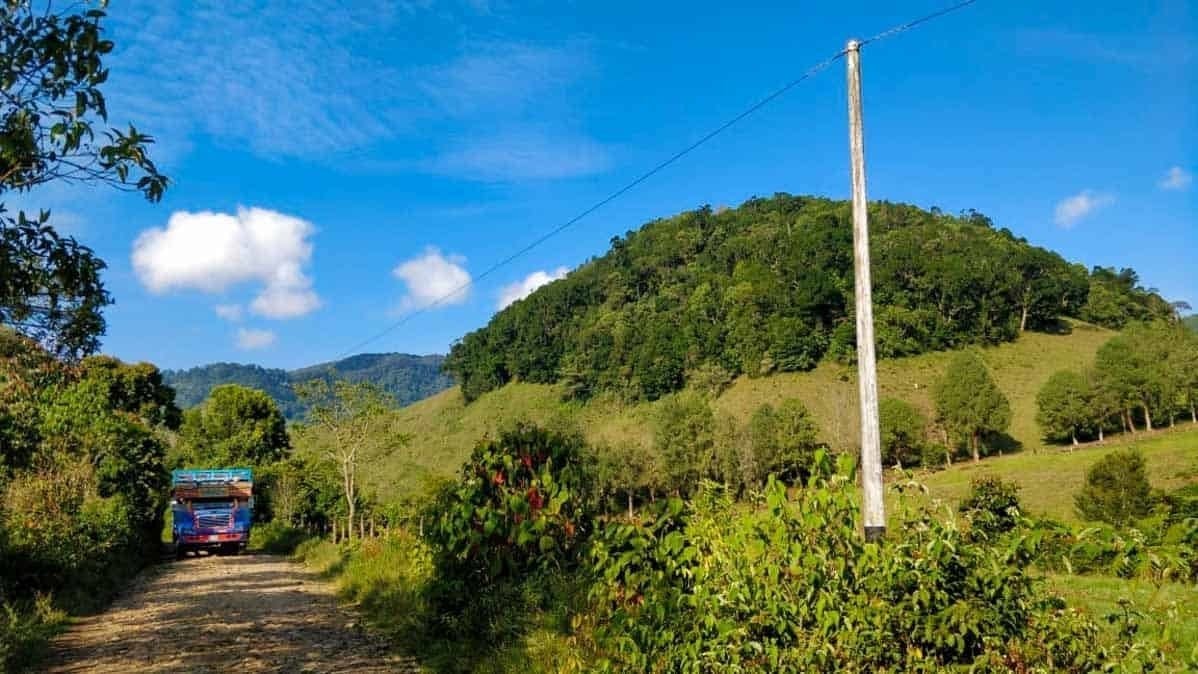 A traditional Chiva ride from Jardin to Jerico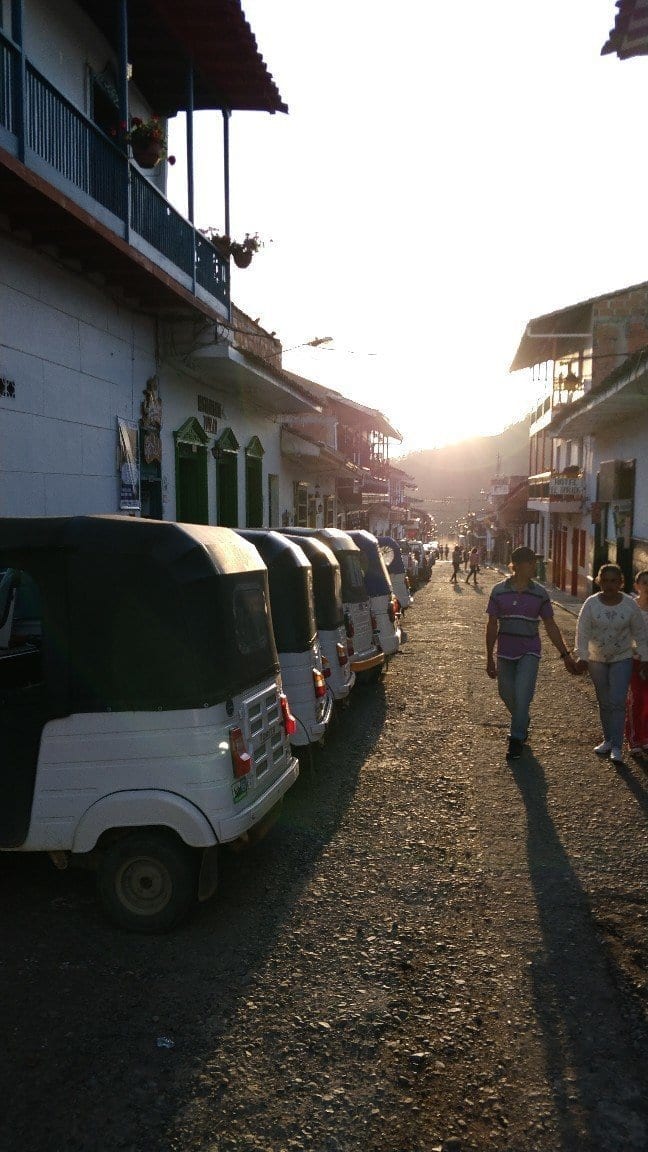 Local transport is easy by Tuk Tuk in Jardin Colombia
How to Travel Consciously and Make Your Stay More Meaningful
Paisas from Jardin are friendly people, and are still getting used to the influx of tourism to their town. Show them how friendly and warm foreigners can be. Be respectful of their home. Say hello and good day to the people of Jardin when you pass by on the street (in Spanish!) Tipping is customary in Colombia, at least 10% in restaurants and bars, but not required for public transport and taxis. For more about traveling to small towns beyond Jardin Colombia you can find our posts below.
Have you traveled to Jardin Colombia? What did you enjoy doing and what did we miss? Please let us know. We appreciate the comments and we answer every one. Traveling around Colombia? check out what you need to know about Colombia to plan your visit.
On Pinterest? Share this post with a traveler!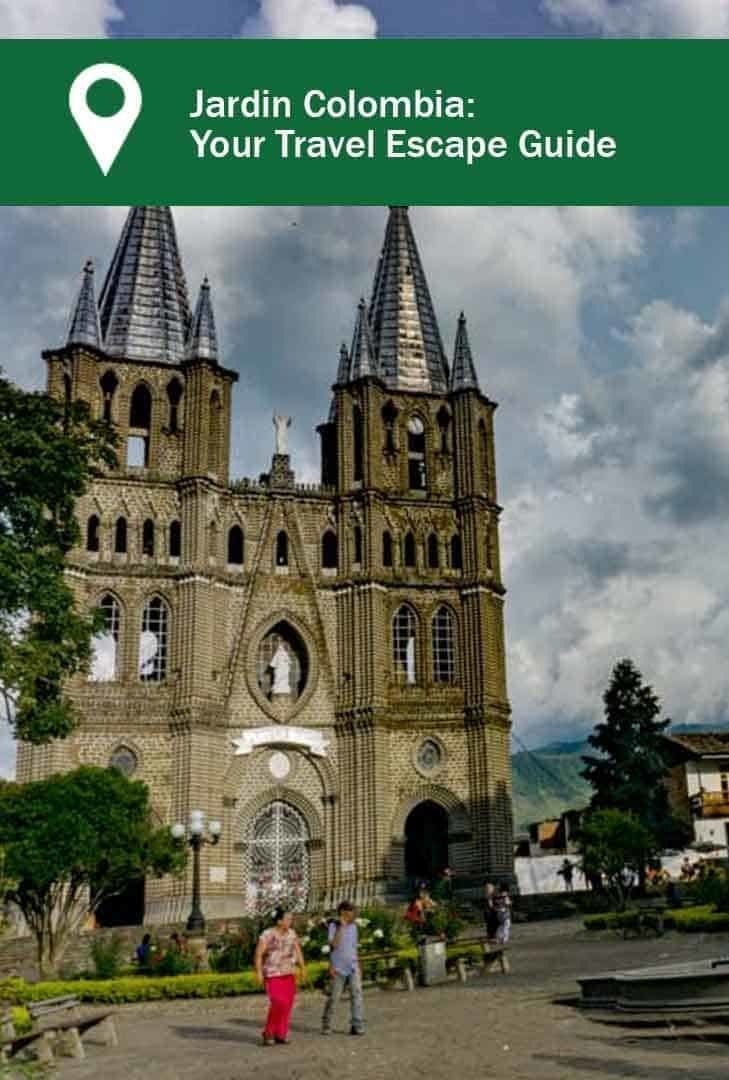 This page includes affiliate links. By using the links on this page (at no extra cost to you) it will generate a small commission from any sales. This helps us keep providing quality content, tips for you. Thanks for your support and we hope you enjoy these recommendations.