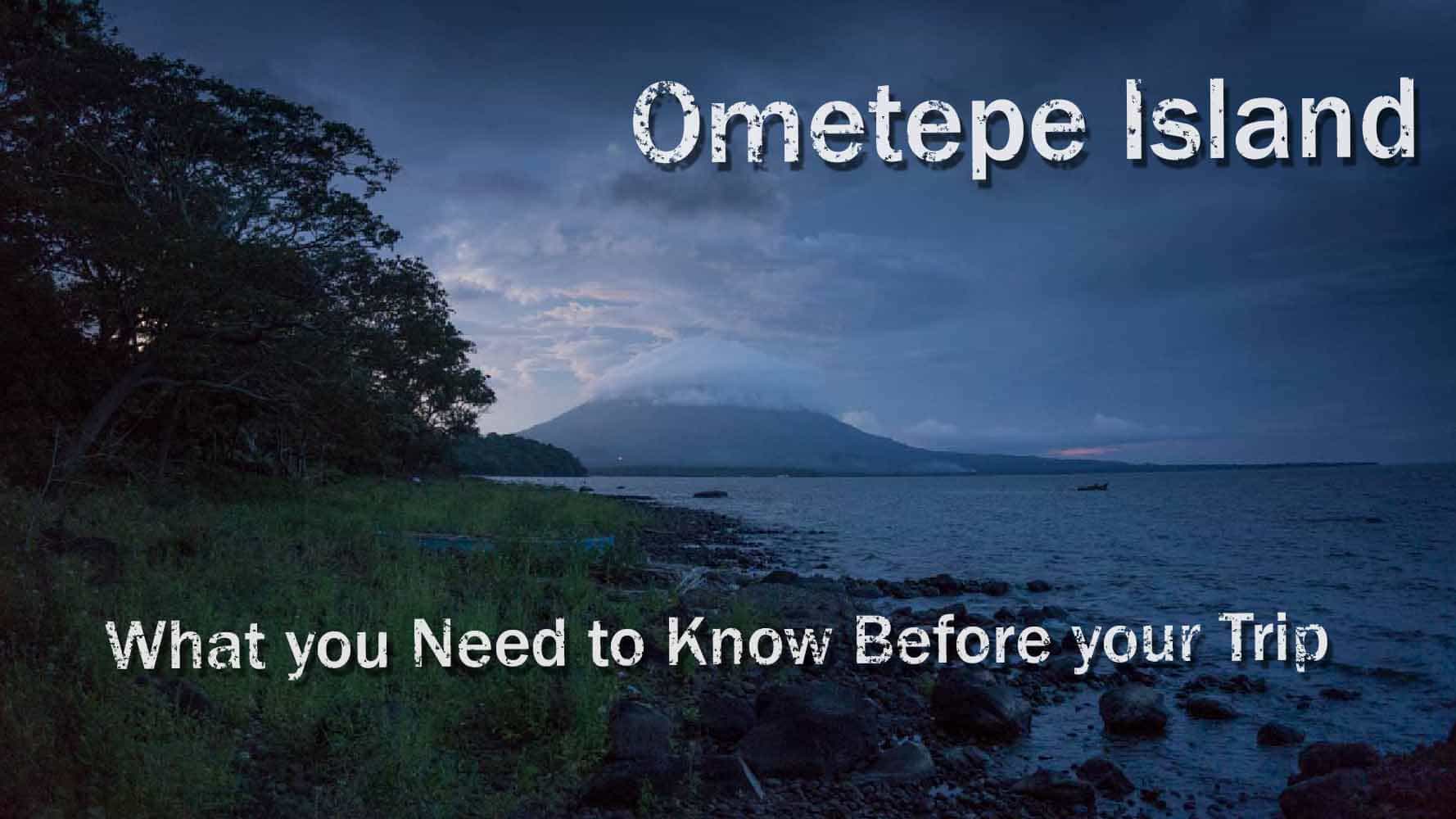 What you Need to Know Before your Trip to Ometepe Island, Nicaragua
Isla Ometepe or Ometepe Island is our favorite place in Nicaragua.We felt like we were in a different country than mainland Nicaragua, and its no wonder we, and many of the expats and travelers find it difficult to leave. Our love affair with Ometepe resulted in our stay starting at 3 days and became 5 weeks in August and September 2015. There is so much to do on the island, including the most memorable hikes up the volcanoes.
We had lots of unanswered questions before our trip and discovered some valuable details that we wanted to  improve your visit to the island.
With a few travel planning tips, perhaps you can make it an unforgettable visit.
Why you should travel to Ometepe Island
Ometepe Island is a lush tropical island formed from two towering volcanoes (Concepción and Maderas) jutting out from the massive Lake Nicaragua. It offers tropical forests, waterfalls, hiking, swimming, motorbiking, and kayaking in a peaceful, tranquil setting. Ometepe encompasses a number of villages with a local, community feel and maintains an incredibly friendly vibe. It's not a surprise to walk on the main highway and get waves and hellos wherever you go. Friendly people, understated beauty, and lots of natural activities; the perfect reasons to go to Ometepe in our view.
Tips we cover are: How to make your travels more meaningful, How to get there, What are the travel costs, How to avoid getting ripped off and Where to stay.
Looking for Meaningful Travel Experiences?
To fully appreciate a meaningful travel experience we recommend you try local, public transportation. It's the best way to see and connect with the people that live on the island. In return, you witness how friendly Nicaraguans are, and how willing they are to help visitors. As a bonus, you get the opportunity to pat yourself on the back for navigating yourself effectively to your destination!
 1) How To Get There
All roads lead via Rivas. A city and main hub and bus station to get around in South Western Nicaragua to all the Pacific surfing beaches like San Juan Del Sur, to Ometepe Island and Rio San Carlos.
Rivas is busy, confusing, and sadly, there are taxis there that take advantage of tourists. Here are a few important tips will ensure you don't get scammed.
A) Options to arriving at the Ferry Port to Ometepe Island:
Take a mini-bus (tourist bus direct to the ferry port)

Some the travel agencies on the Calle La Cazada(main plaza of restaurants) in Grenada organize mini buses to go directly to the ferry launch. You will have to pay full price (Avg.$20-30USD), and there is only one bus or 2 buses per day. This option is a shorter and costly option to get to Ometepe. We feel you are missing out on the people watching, interactions, and it's more than 10x the price! However, we share this here as an option if you are not up for trying the local public bus experience. You can bypass #2 by taking this option.
Take the local (Chicken) bus to Rivas

This is the most economical, flexible and cultural way. The local bus system is a decent form of transport; it's classic school bus "Chicken bus" often decorated and modified to carry people and goods in Latin America. It's a fun trip to people watch and discover interesting snacks to try from the food hawkers that enter the bus throughout the journey.
  Schedule: There isn't a posted schedule– ask a local for the "scheduled times." There are many buses, usually leaving every half hour. The bus will leave once it's full, it doesn't mean it leaves on time!
Costs: Rates are posted in the bus, so it's the same for everyone! HOWEVER: you may be charged an extra seat for your bag, whether you are a local or visitor.Why fight about this? One of the bus attendants take on and off the bags and often your bag takes up another seat. The cost is also so minimal for the bus, why bother arguing about it.  At the time, it was 37Cordobas ($1.34USD)
Duration: 45-60minutes depending on number of stops to drop off passengers
B) Rivas Bus Station to the Port of San Jorge (Ferry to Ometepe)
You have two options:
Take the bus to the Port of San Jorge
– Rivas is ONLY a short 10-minute drive to the dock at San Jorge.
– There is a bus that goes from Rivas to San Jorge, but it's not obvious where to get off, and where you get off.
-Ask the bus driver, for accurate details. Cab drivers may come on the bus, and tell you the bus to the ferry already left! We missed the stop here, so we didn't take it. Instead, we negotiated to take a taxi. (Option 2 below)
Taxi to the Ferry launch
Taxis often take advantage of tourists in Rivas. Beware of the scams by:
– Avoiding the men that ask you to get a taxi, they come on the bus and start their sales pitch. The best option is to get off the bus and start walking. You have a better chance of negotiating with the numerous cabs looking for passengers.
-Pay no more than $1USD/person for this ride
– Again, the drive is 10minutes so get the taxi driver to stop right BEFORE the entrance to the dock.
–  There will be other taxis there and a barricade. Otherwise, they will drive you into the dock area right near the boats and give you this story you need to pay another $2USD for the entrance fee.
 C) The Ferry to Ometepe
The ferry takes you to Moyogalpa the main town on the island
The ferry is a frequent service (hourly) with multiple options including small Lancha local boats or ferries(including cars). The Lancha is more of a local style boat; it's not as well maintained as the ferries, and usually crowded, a bit slower but cheaper than the ferry. We took one of these onto the island and also ferries. Either will get you there.
Schedule: The schedule for the ferries is available here. If you are time strapped, plan ahead as sometimes the boats are down for maintenance so make extra time to get onto the next ferry.
Duration: 17km boat trip. Approximately 1-1.20hours depending on weather and winds
Cost: Rates are posted in the boat and they are the same for locals and travelers.
Lancha boat:  30.5 Cordobas ($1.11 USD)
Ferry boat:     50 Cordobas ($1.80 USD)
Note: There is also a ferry from San Carlos directly to Ometepe. It leaves every Tuesday and Friday. Duration is 10hours Cost: 248 Cordoba ($9USD)
 2) Transportation on Ometepe Island:
The island is much bigger than you think, and distances are too far to walk! It's 276km2 and 31km across the island. Once you get onto Ometepe, taxi transportation turns into a VERY COSTLY venture. There are limited vehicles (taxis, vans, owned vehicles in general), and gas is more expensive than the mainland. Cordoba's from the mainland now turn into USD that vastly increases the price.
Road conditions: The roads have very little traffic, and most of the island road is interlocking brick, with the exception of the southeast end of Balgüe and Merida, which is rocky dirt roads.
*Tip: Download a currency converter app on your phone or have the rates handy. Conversion rates from Cordoba to USD are complicated, and rarely accurate when receiving rates or change from taxi drivers.
A) How to save on travel to your hotel/guesthouse from the ferry:
Pre-book a "Collectivo"- A shared taxi on the mainland side of the ferry.
Before you leave the San Jorge dock, there will be some official tourist guys, pre-booking transportation to your hotel/guesthouse on the island. This ride on the island is your cheaper option for transportation, as they attempt to combine rides for travelers to spread out the cost.
However, you need to negotiate a lower price. It may seem like a scam, but we traveled to and from the island, and this option was our best rates.   Prices will depend on what part of the island you are staying.
– We've negotiated rates (shared rate) to the far part of the island (from Moyogalpa to Merida) for $7 USD each while others paid $15-30USD each
By getting a taxi direct yourself from Moyogalpa on your own, you can expect to pay close to double the price. Make sure you negotiate! Start with a rate that is half than their proposed rate, then see how close you can get to that rate. Often your guesthouse can arrange to get you transportation at standard rates.
B) Options to travel around the Island during your stay: (approximate costs)
Distances to excursions, restaurants, and hotels are often very far; you need transportation, and you will be challenged to minimize the cost.
Local Bus – This is a very comfortable, cheap and local option. There is a regular bus schedule in more populated areas of Moyogalpa/Altagracia and Santa Domingo and a less frequent bus to the southeast areas of Santa Cruz, Merida, and Balgüe.
Local "Chicken" Bus
  Cost: our trips cost 17 Cordoba(.85USD) to 30 Cordoba    ($1.10USD)
  Schedule: Local Ometepe bus schedule
Bike rentals: Cost is $10-15USD for the day Good option, but a lot more challenging if you are biking between Merida and Balgüe.
Motorbike rentals: Cost is between $25-35USD return by 5 pm. If you plan to travel the island we recommend a 150cc to handle the rough roads on the South part of the island (125cc scooters also available)
Horseback Riding – Great way to see the island between $7-12/hour
Taxi tour of the island – to do a full day trip around parts of the island it could cost around $60 (for up to 6 people) for the day
3) Accommodations
We stayed in multiple different locations and spoke to many travelers on recommendations during our time on the island. The challenge with the island is the number of limited, good,well-priced accommodation options. Most of the great places have few rooms making it difficult to find a stay if it is busy on the island.
You need to book in advance. If you decide to stay longer, you may run into problems with finding rooms (depending on the time of year).  We recommend you spend at least 3-4 days here.
Expect to pay approximately $15-$80 double room depending on the location. Accommodation costs on Ometepe, are higher than the mainland due to the supply of fewer good rooms.
A) Start with where you are interested in staying on the island
We were looking for a place to stay where we could relax, enjoy  some local flavor and stay away from traffic/tourist areas.  Based on this, we stayed away from Moyogalpa and Altagracia-the main towns. There are several restaurants and hotels in Moyogalpa, but we were looking for more of a natural/quiet setting. Moyogalpa and Altagracia are closest to the summit Concepción volcano although these treks can be booked anywhere on the island. Playa Santo Domingo is another option, which is where the biggest beach lies, although we found our favorite areas to be around Santa Cruz, Balgüe, and Merida.
B) Our Recommended Options – Where we stayed, visited or heard  good traveler reviews
Santa Domingo Area
Guesthouses here are closest to the largest beach area and more options for hotels and guesthouses.
Xalli's – Caters to families, vacationers. This place is right on the beach in Santa Domingo. Modern, western style rooms. Great reviews from patrons. $50-80/night, great coffee and restaurant, views and access to the lake.
Santa Cruz/Balgüe Area
Area of the island near Maderas volcano, far from the big towns, but a balance between nature and amenities of restaurants, B&B's and hostels.
La Via Verde Organic Farm/B&B: Rated the highest on the island on Trip advisor, this is an organic farm owned by the lovely couple Eileen and Darrin. Bed and Breakfast overlooking Concepción volcano nestled within an Organic Farm. Delicious, hearty and healthy breakfasts with organic ingredients and freshly roasted coffee. It has two stylish, modern double guest rooms. We  rented the cabin on this property for three weeks from the couple while staying on the island and spoke to many of the guests on how much they enjoyed their visits there. This place is close to restaurants and a quiet, sandy swimming cove on the lake.
Lazy Crab Hostel: Caters to younger, low budget travelers. Friendly and responsible owner local named Ryder, offers clean private rooms or dorms. It's a safe, non-party hostel as they don't allow drinks and quiet time starts after 10 pm. One of the best hostels we have ever stayed even though the clientele is more catered to 20's age group.  Rates for a private room: $15/night, dorm rooms also available.
Other notable locations worth checking out

:
These are spots we either visited, ate at, but all received good reviews by other friends.
 Finca del Sol B&B – Caters to vacationing couples also in the area, we checked out this location, but there were no rooms available. They are quaint cabins and breakfast. It receives great ratings by visitors prices range $45-75/cabin
Finca Zopilote – We didn't stay here, although many friends have, it's a lower budget dorm/private room, on the hill top. It doesn't allow reservations, so timing is everything. They have an incredible Pizzeria night with an outdoor wood-fired oven on Tuesdays and Saturdays at 6:30 pm. Great night for beer and pizza under the stars. Rooms are approximately: $6USD for dorm, $15/cabin
Finca Magdelena – Local cooperative organic farm with several local families – Includes dorm and cabins. We enjoyed their breakfast and freshly roasted coffee, didn't see the rooms,but worth a look.
Café Campestre– Restaurant has delicious international dishes, our favorite on the island. They also rent out a few rooms to guests. They sell fresh bread, honey, peanut butter all made by the restaurant weekly.
Merida Area
The most remote part of the island with the most local village feel. On the opposite side of Maderas volcano versus Santa Cruz-Balgüe. If you want to kick back and relax, this is the place. You will feel away from it all, however, it is relatively close to the San Ramón Waterfall and kayaking the Rio Istiam.
Finca Mystica – Caters to a clientele of people looking for quality and value, often longer-term travelers, couples, and families (This is best suited for our kind of travel). We loved it here from the friendly staff and owners, quaint, comfortable, and traditionally made cabins and yoga pavilion. The restaurant serves delicious well-priced meals. We met some of the most interesting, like-minded people staying there. Price during our stay around Cabins $35USD/night Dorm room: $25USD.
La Omaja – Offers a step above guesthouse/cabin in Merida. A good choice for business/short term vacation traveler looking for A/C, western style cabins, amenities, pool and comfortable with paying  a little more. High on a hill offers great views of Costa Rica across the lake. $55/night.
4) Other key planning tips:
A) Water – The island is blessed with a natural spring, so it's the only place in the country where the water is safe to drink. We drank it most of the time we were there. However, it's best to ask if the water is direct from the spring (drinkable) or a reserve tank (not drinkable)
B) ATM's – There are very few ATMs on the island. There is only one on the south side in front of Xalli's hotel in Santa Domingo, otherwise, it's a long trip (and expensive cab) to Altagracia or Moyogalpa to the ATM. ATM's are not always reliable, so plan to bring extra cash onto the island. Few businesses take credit card, it is usually only cash. Note:  we had problems with the ATM at Xalli's, our account showed we got cash out, but the cash machine said it was out of service. Use this machine at your own risk.
5) This island on the brink of major change
Not only is the island growing and evolving with tourism, but at the time, digging had started on the controversial new canal connecting the Pacific to the Atlantic and cutting across Lake Nicaragua. This is a massive 5 year venture at a massive scale and planned to be  longer and deeper than the Panama Canal. It's unclear what is happening now with this project, as setbacks, financing, and environmental concerns have delayed it.
You can find more information and posts on Ometepe and Nicaragua here.  Including our very memorable Spanish school experience and living with a Nicaraguan family. 
Thinking of climbing the volcanoes on Ometepe – Troy climbed both!, check out our video
For more information about Ometepe or if you have information to contribute from your visit we would love to include it in this post. Let us know here.
Like it? Pin It!