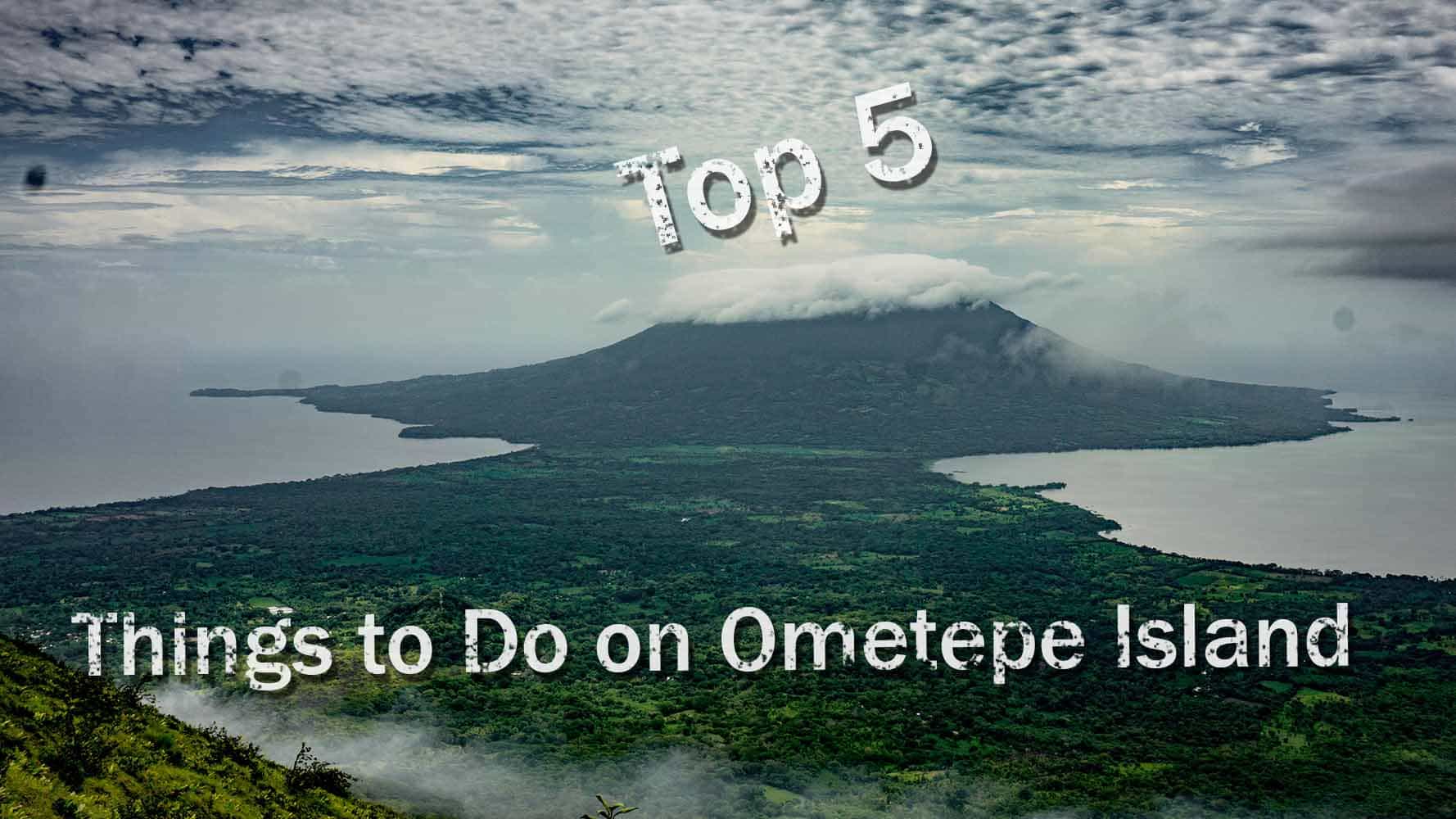 Our Top 5 Things To Do On Ometepe Island, Nicaragua
The sun filled the top of the ferryboat and clouds parted casting an awe-inspiring view. In front of us, two towering volcanoes, one on the left the other on the right, and in between, rich emerald green forests. All around, the lake waves sparkled around the enormous Ometepe Island.
We got off the boat, ushered by a friendly Collectivo driver waving a sign with our name and made our way with other travelers across the island by Jeep. Along the way, children played in colorful school yards, horses trotted down the road alongside our ride, as our driver proudly pointed to the volcanoes and activities of interest along the way.
It didn't take long for us feel rejuvenated and excited by this adventure playground. It felt like a completely new country from the mainland. We knew right away we would make Ometepe our home for more than a few days.
Spending 5 weeks here, we took in some the activities and spoke to other travelers about their experiences.
Our top 5 picks for things to do on Ometepe Island:
 1) Climb the Volcanoes
Should I climb Concepción or Maderas?
The volcanoes taunted us for weeks! We tried to find the perfect day to climb and filmed this video of our treks up both. Both climbs are difficult and require any traveler to be in decent physical condition. There is an option to hike to lower level look out points if you aren't up for the whole adventure.
Concepción vs. Maderas?    

 
They are both very different hikes, and their level of difficulty will be dependent on the weather conditions. Both climbs require you to book with a guide
Concepción is an active volcano with more rocky terrain, where any hiker will be more exposed to the sun and wind. It is steeper than Maderas, where you get the opportunity to crawl up to peek into the crater. (Warning: Possible cloud cover restricting your view). Sometimes your guide will recommend an opportunity to slide down the volcanic scree, to shorten the distance back down to the bottom.
Duration: 6-8 hrs.Cost: Approx. $20-30USD(1-3 people)
Maderas is a non-active volcano, and it is usually a muddy hike up with less elevation, yet the trail is completely engulfed by green tropical forest, then changes to cloud forest. Once reaching the top, we criss-crossed down a steep makeshift path to walk down into the crater. It's possible to swim in the crater lakes too.  Duration: 6-8hrs Cost: Approx. $20-25USD(1-3 people)
 2) Hike up to the San Ramón Waterfalls  
This hike requires a ride to Merida side of the island. The falls are a 170feet high with a small pool at the bottom. It is a moderate hike and results in a pay-off view at the end, every time. It's possible to ride a motorbike, car or horse up to the parking lot, and then hike the rest of the way in (approx. 30-45minutes). Wear good hiking shoes and expect to pay entrance fee and $3USD for a parked vehicle. Hire a horse and guide to tour the waterfalls (or anywhere on the island) for approx.       $7-10/hr. per person.
3) Tour by motorbike around the Island
The freedom we felt motorbiking this island was phenomenal. The roads aren't busy and you can take the open road without feeling your life is at risk like other congested, questionable motorway rules in other countries. We recommend renting a 150cc motorbike if you can, as the roads around Maderas are very rocky and bumpy.
4) Find a quiet, soft sand swimming area to dip into Lake Nicaragua
During our entire time on Ometepe Island we saw few people on Santa Domingo Beach. It is certainly worth taking a dip on the east side of the island, don't be deterred by the grey soft sandy beach, after all, it's a volcanic island.
We found two perfect, beaches completely to ourselves. One in Merida just south of Finca Mystica and one in Santa Cruz directly across Via Verde Organic Farm. It's an entrance of a closed restaurant, however, it's a perfect spot for a dip. 
5) Watch the sunset behind Concepción Volcano
There are quiet nights on the island and finding a spot on the water in Santa Cruz or Santa Domingo, you can see a beautiful sunset shot illuminating behind Concepción.
Other Notable Activities Worth Checking Out:
Other activities on Ometepe island that were well received from other travelers and are worth checking out the details include:
 Zip lining: More than a dozen cable lines, and high views of the island, this looks like an activity worth learning more. Excellent reviews on trip advisor even for the more experienced zip liner who love Costa Rican Zip lining.
Kayaking to the Rio Istiam  – A scenic waterway through the wetlands of the island, where you will find all kinds of water and land creatures to admire. Unfortunately, we spent most of our trip with unusually dry conditions, creating low water levels on the river. However, we heard this is a 3-4 hour moderate kayak trip, dependent on currents and winds. Worth finding out more details about it.
We hope you make a trip to Ometepe, it's our shining star of Nicaragua. Find more trip details for Ometepe here.We'd be happy to help out with any other information or comments. Please let us know.
Like it? Pin It!