Comuna 13: How Colombia's Most Notorious Neighbourhood Reinvented Itself
Accessibility, Creativity, and Community
keys to massive change Comuna 13 Medellin
Updated post 2019: Our second time to Comuna 13 Medellin. Ever since we arrived in Colombia, and especially Medellín, we've been profoundly affected by the stories of the city's past and the heartbreaking accounts of violence and strife, especially in Comuna 13 Medellin. However, in the last few years, it has transformed into a place of optimism becoming a livable, vibrant, and growing cityand a place we have fallen in love with. Medellin even received global recognition when it was named the most innovative city. Despite this, we see the change very much about transformation more than innovation.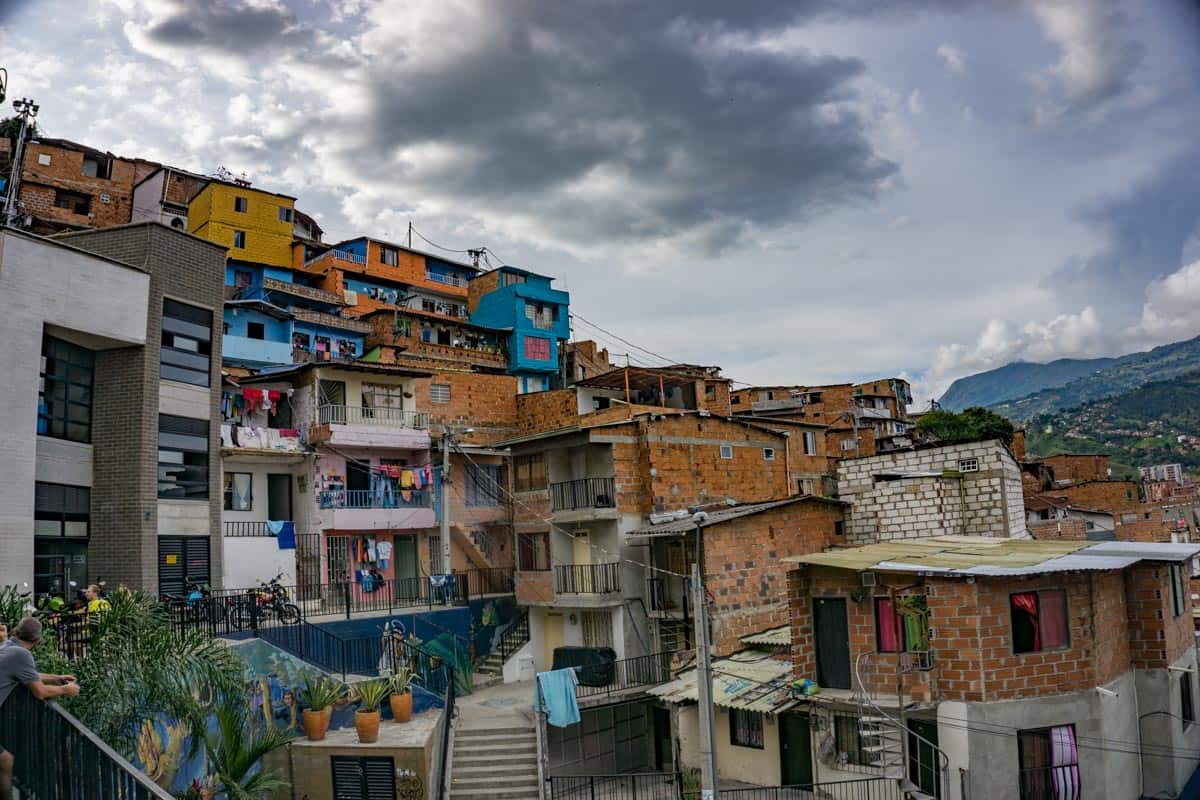 Homes in central are of Comuna 13
One particular area of Medellín, an neighborhood called Comuna 13, also known as San Javier, has the most tumultuous history of the city, once labeled the most dangerous community due to its astronomical homicide rates and it's forced displacement of thousands of residents.
Comuna 13 Medellin is an over-populated and low socio-economic zone that crawls up along the west hills of the city with thousands of brick and cement homes stacked close to one another. It was a pivotal center for paramilitary, guerrilla, and gang activity. Its location is ideal for crime, as it leads directly to the main highway (San Juan Highway), providing easy transportation of guns, drugs, and money.
Discover Comuna 13 with this safe, highly recommended tour. Book online Check prices and availability.
How could a place like Comuna 13 experience such horrors actually transform into a liveable neighborhood?
We joined a walking tour of Comuna 13 to understand what the heck happened here and how could it possibly change. After a trip on the metro to San Javier station, we met our tour guide accompanied by a local Comuna 13 Medellin resident, a hip-hop artist who helps kids how to express themselves through music. They both shared their stories as we walked through the city streets. Book a tour to Comuna 13 – safe, reliable and online payment and booking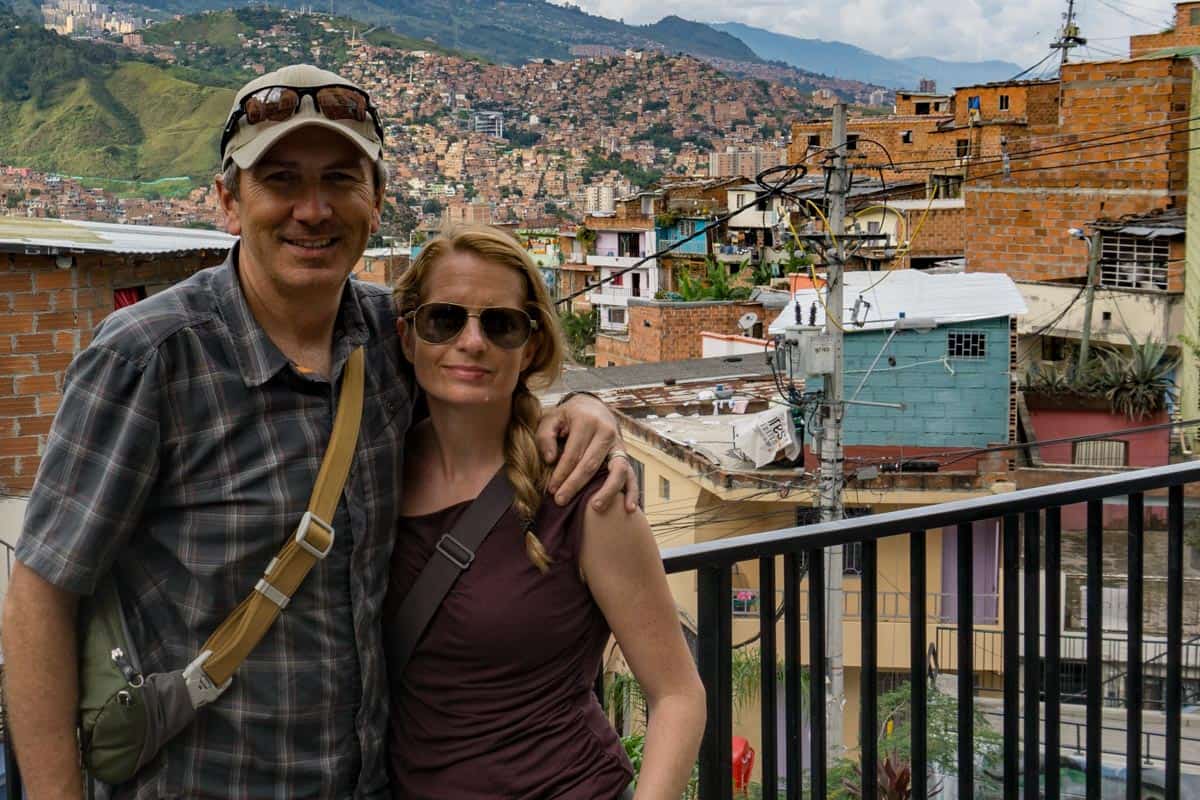 That's us, on the tour, this neighborhood was a lot quieter back in 2016.
A brief timeline of Comuna 13's recent history
The 1980s-'90s:
The neighborhood was controlled by groups loyal to Pablo Escobar, the notorious drug lord who lived in Medellín. Illegal activities remained rampant after his death in 1993, as drug cartels sought control of the area.
2002:
One of the most pivotal events was on Oct. 16, 2002, when the Colombian military carried out the controversial Operation Orión, a strike to overthrow all rebel groups in Comuna 13. Over 1,000 policemen, soldiers, and aircrew in helicopters attacked the area (comprising of roughly 100,000 inhabitants). Nine people were killed (three children), and hundreds were wounded. The siege made it impossible to seek medical attention for the wounded, and the community took to the streets in solidarity flying white rags. With that action, the fighting stopped.
Post-2002:
Residents voiced their discontent and anger with the violence that occurred in 2002 through art and community events. Striking street art around the neighborhood depicts scenes with the white rags raised for peace and solidarity.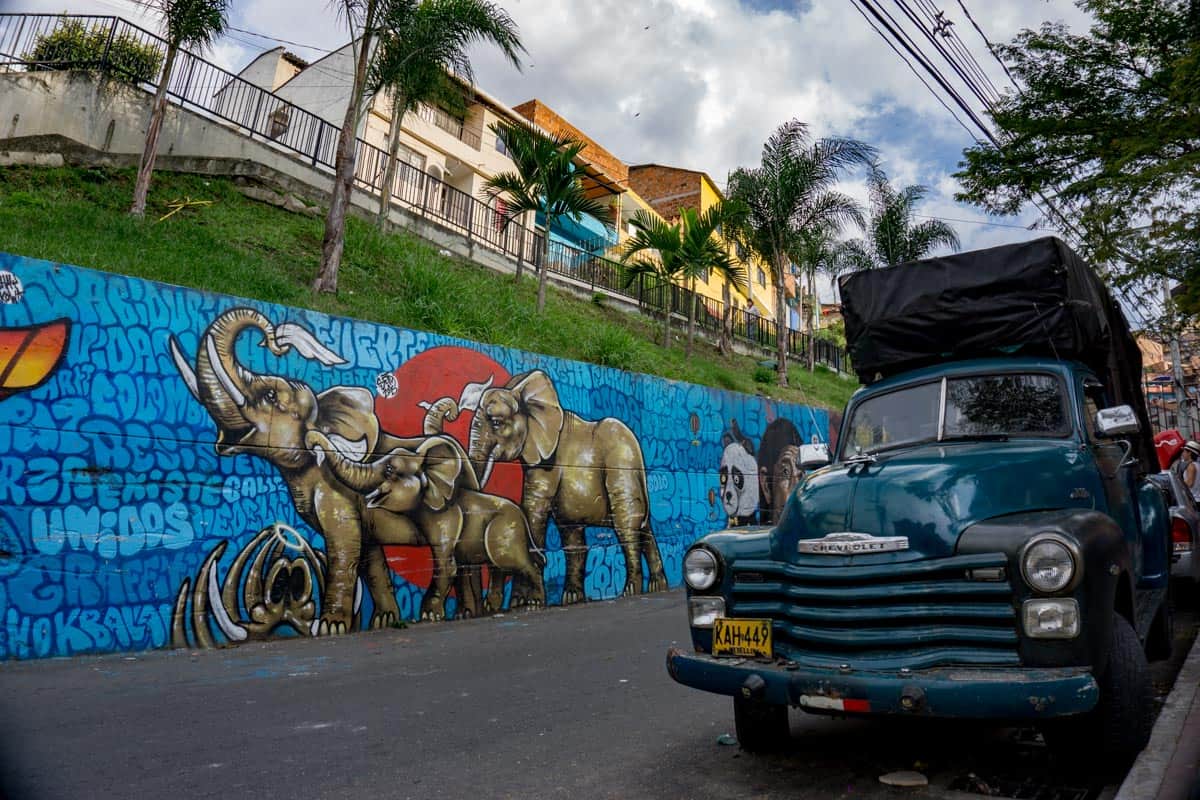 Graffiti signifying the white rags raised during Operation Orión
Hip-hop music became a way to further express peaceful views. Dreadfully, this violence has continued and since 2009, 10 young hip-hop artists have been murdered.
Our first visit 2016 – Today our visit in 2019
We listened intently to our tour guides. Residents are no longer afraid to leave their homes and their quality of life has changed positively. As we walked through the narrow roadways, kids were playing soccer in the streets, vendors were selling fruit and empanadas, and we laughed with friendly shopkeepers who let us sample their signature green mango ice cream topped with lime and salt. We felt comfortable visiting the area.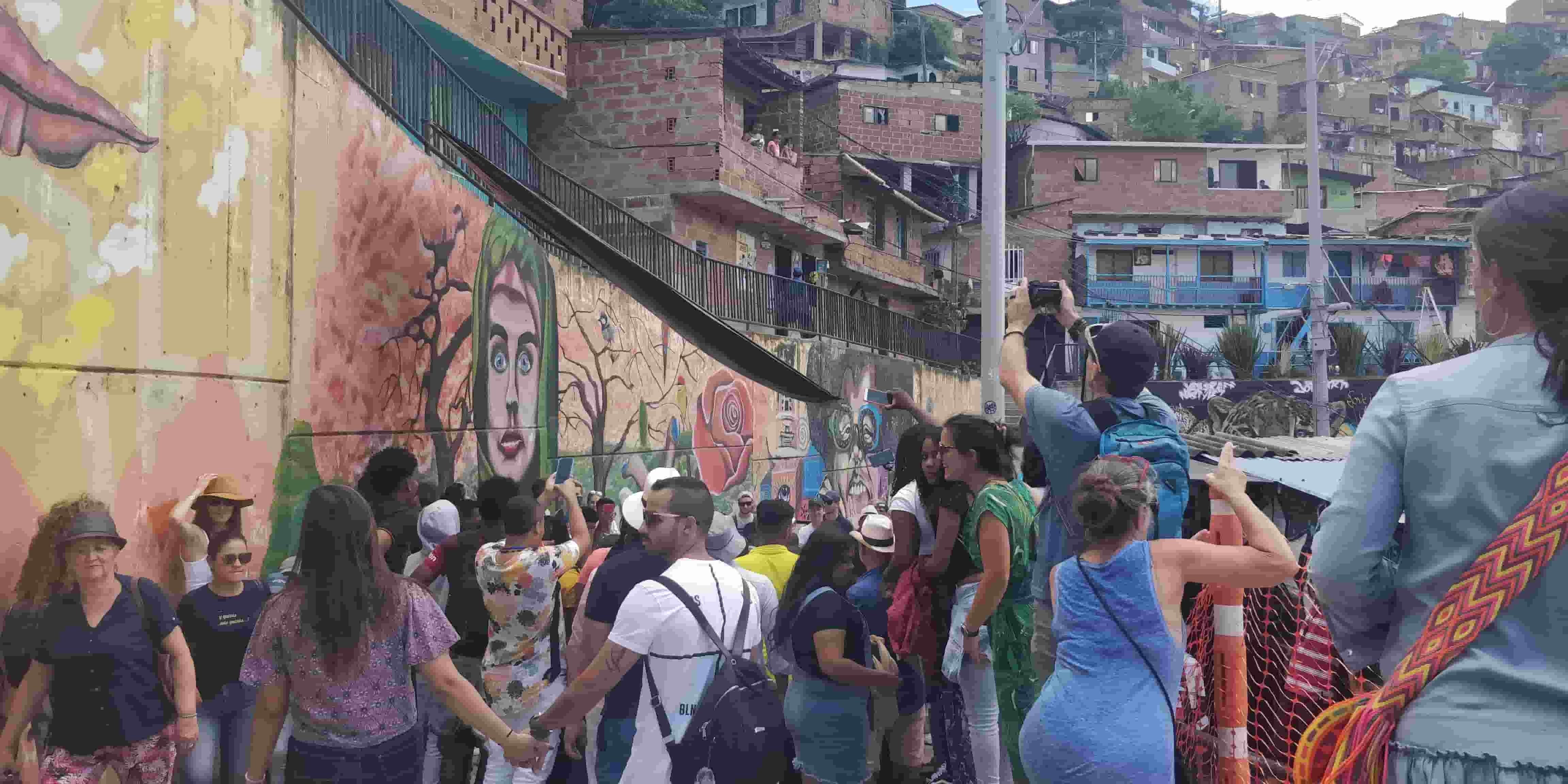 Just 3 years later – Be prepared for crowds in Comuna 13 Medellin tour now!
2019 – whoah! Things have changed here this transforming neighborhood has become the biggest attraction in Medellin! 25,000 visitors a week, and you do have to fight through crowds to just walk across the main streets. Back in 2016 there was just a handful of visitors. Sadly it's become like an amusement park with musicians, dancers and food and merchandise stalls, but its a story that still needs to be told and your level of experience will depend on the guide you choose.
That's why we recommend this tour to get a better guide. Check out prices and availability here.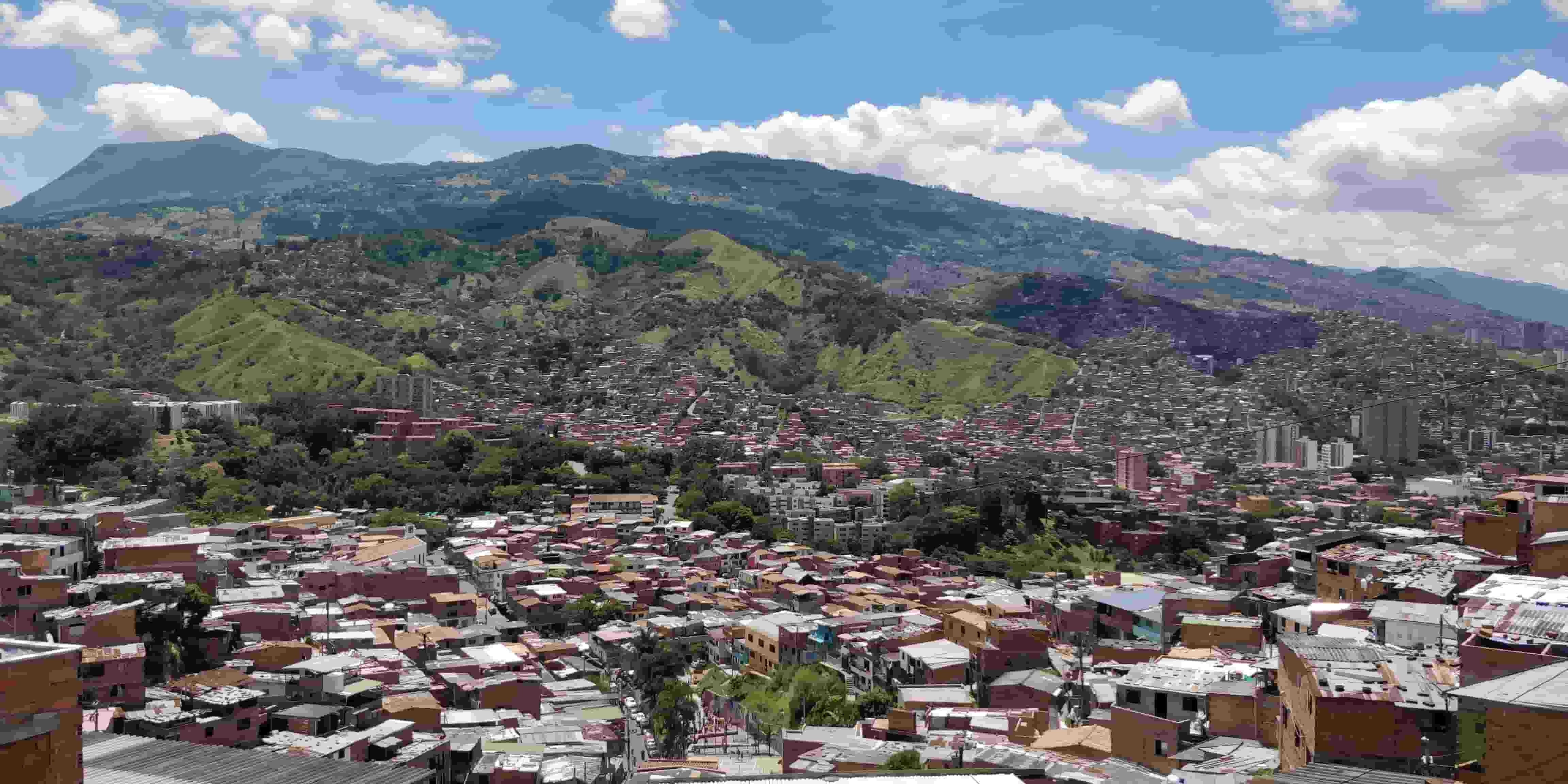 View from the top of Comuna 13 area on a clear day!
How did Medellín begin its transformation?
What happened in Medellín can best be explained by the idiom: Necessity is the mother of all invention. In Medellín accessibility, creativity, and community were the mothers of its reinvention.
Creativity
Art saved the city as a vehicle for creative and political expression. The walls became a canvas to tell its history, beautifying the area and bringing optimism and peace of the residents, children, and visitors.
Here are selections from some of the most stunning graffiti art and photography in the area.
P.S. Hearing about the story of this place and how it's transforming is as important as the wonderful art.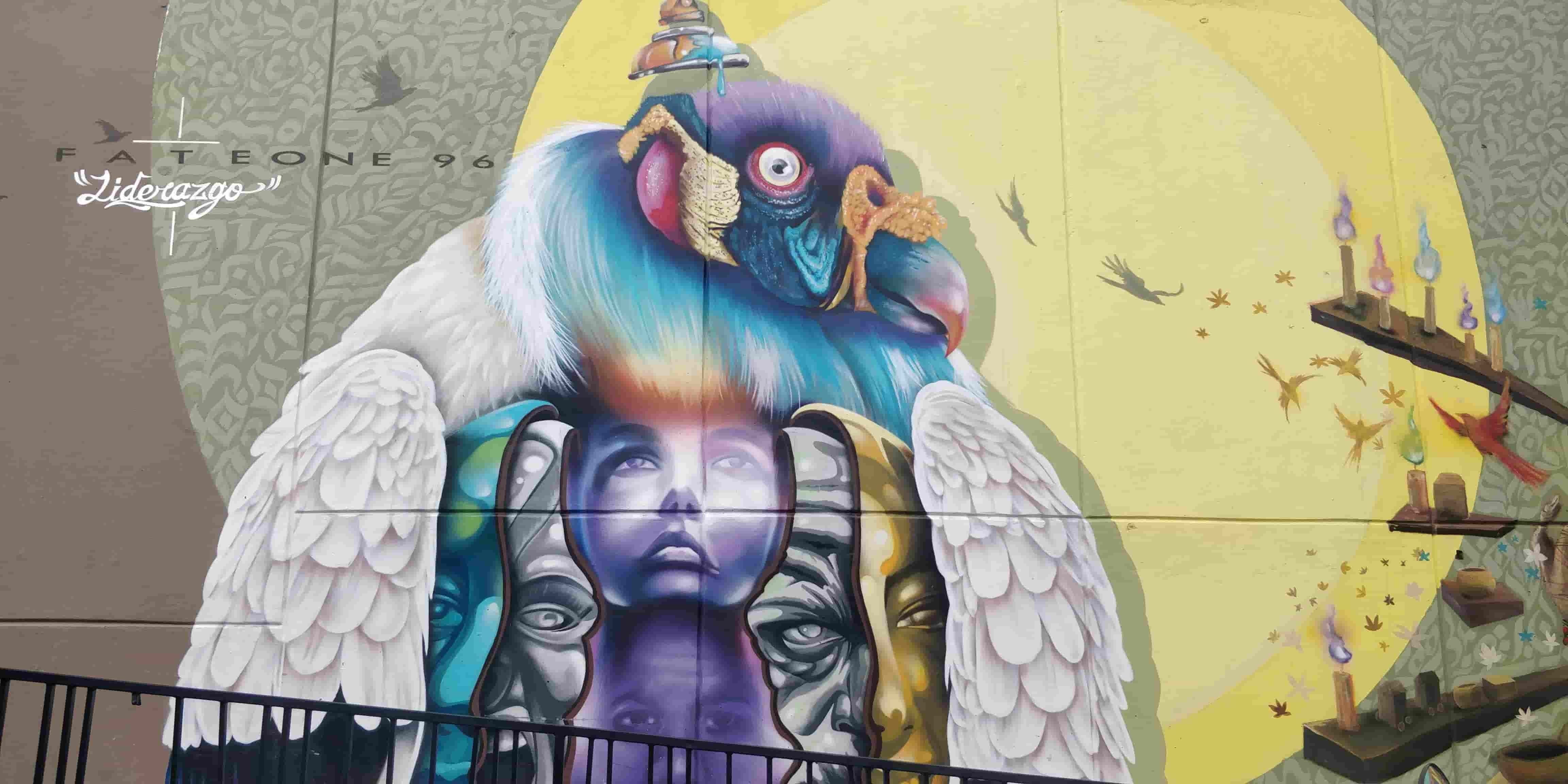 One of many works of art on the comuna 13 graffiti tour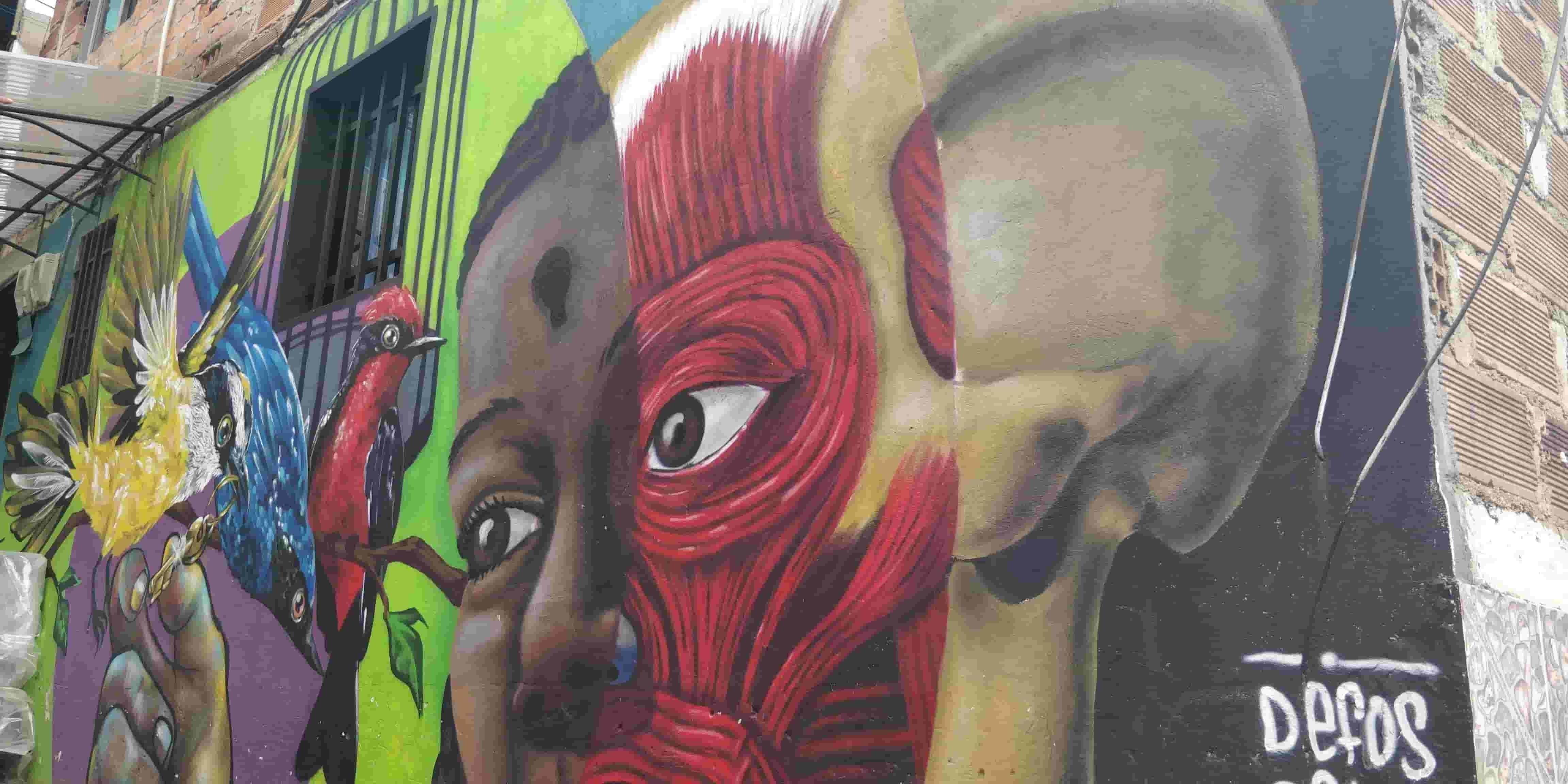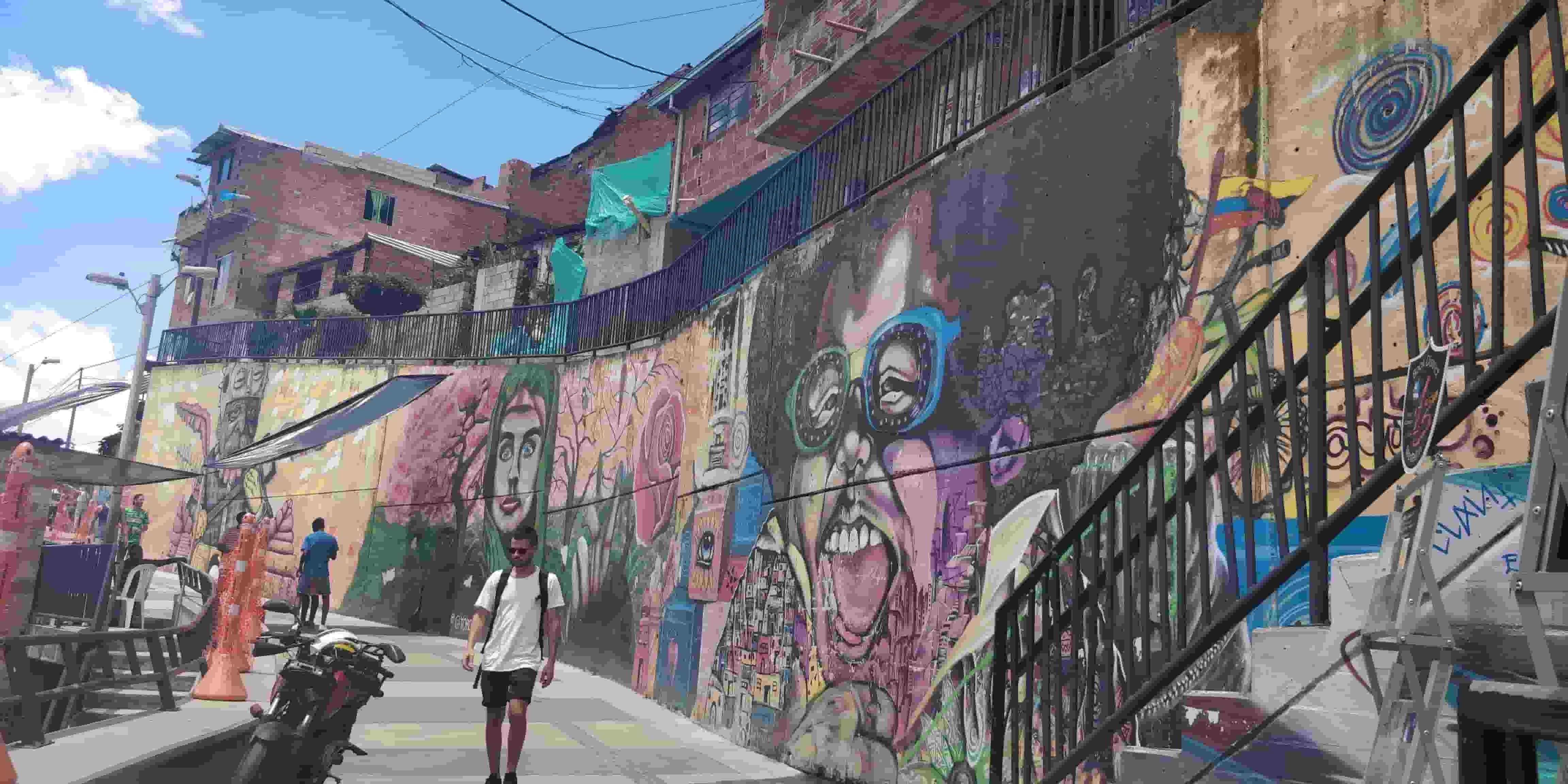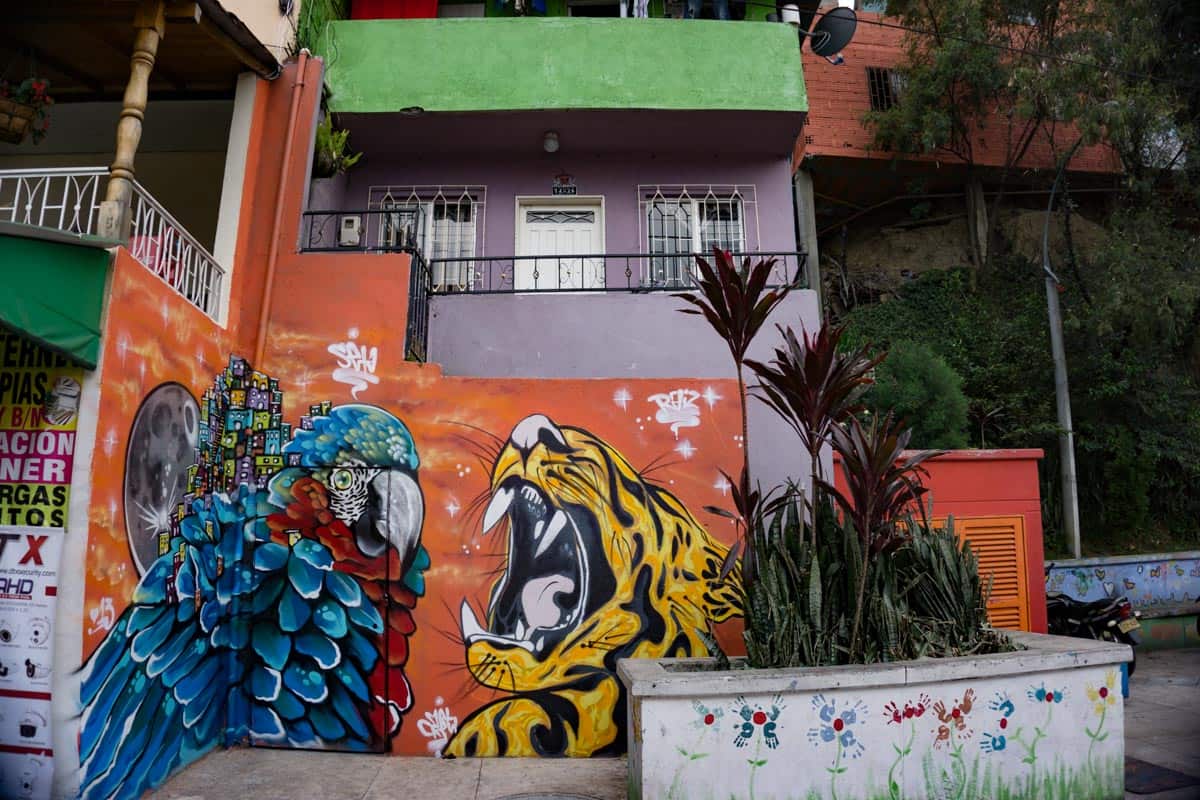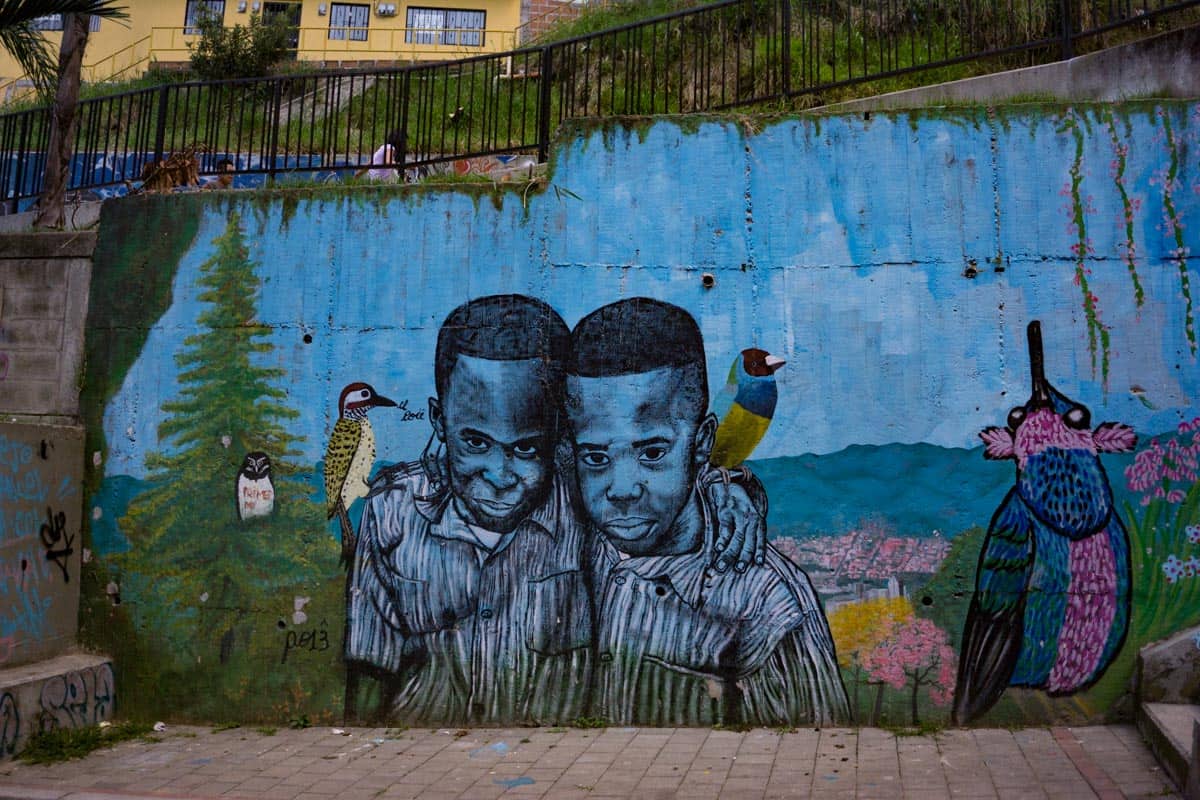 The Héroes Photo Project
This is a photo project below is from the NGO Project called MasHéroes (@masheroes) by Felipe Mesa. This project endorses positive role models in communities and as a tribute to those who are making a huge efforts to improve the lives of others. Thus, children can identify and look up to better role models where they live. This man, Marlon Vargas, a DJ, consistently works on social and cultural projects in Comuna 13. Unfortunately, someone defaced this photo, and then others enhanced it with graffiti to make it a more powerful image in the comuna.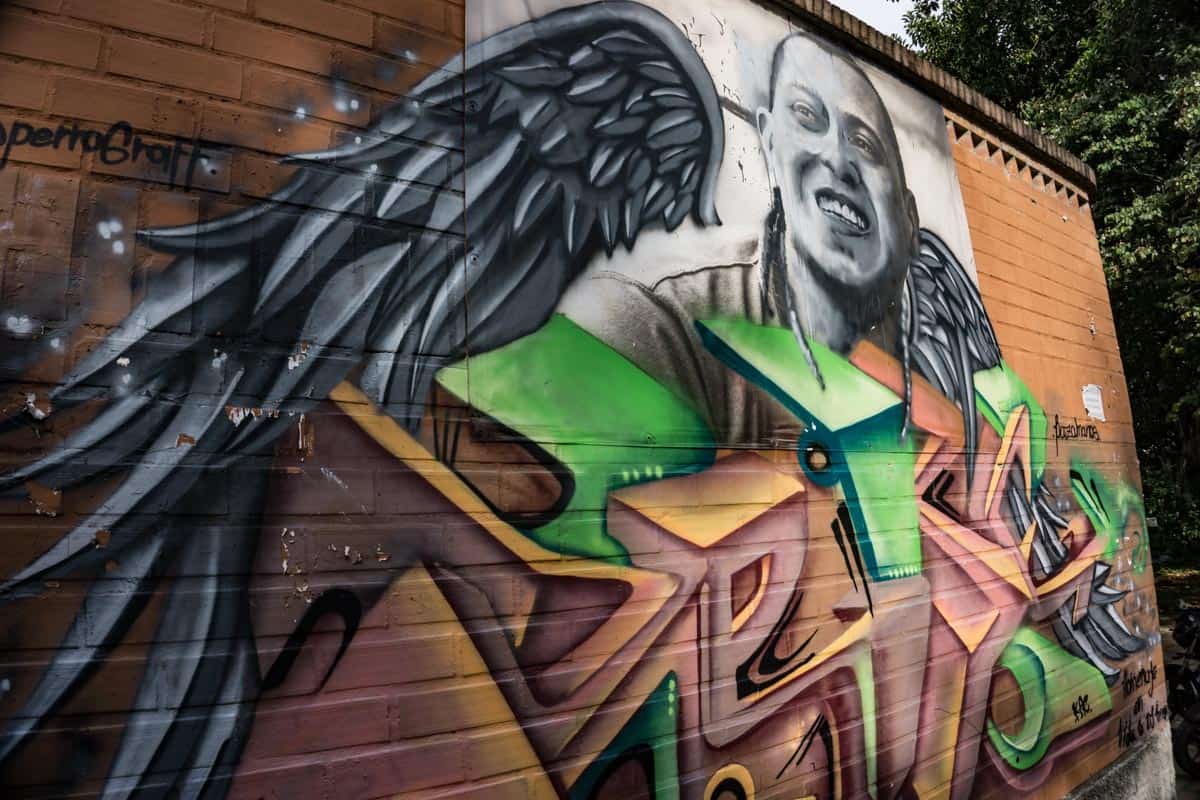 Hip-hop music continues to be an important method of expression, particularly as a way to educate and provide children with an alternative outlet instead of violence. Our resident guide in Comuna 13 Medellin shared his craft during our visit.
Accessibility
Forward-thinking mayors have initiated numerous city projects over the years with very successful results in improving quality and way of life. One such project was the metro cable car system, which opened in 1996 as an extension of the already important metro line. It helped Comuna 13 by providing inhabitants from all socio-economic backgrounds with easy access to the rest of the city, enhancing relationships with residents and the local government.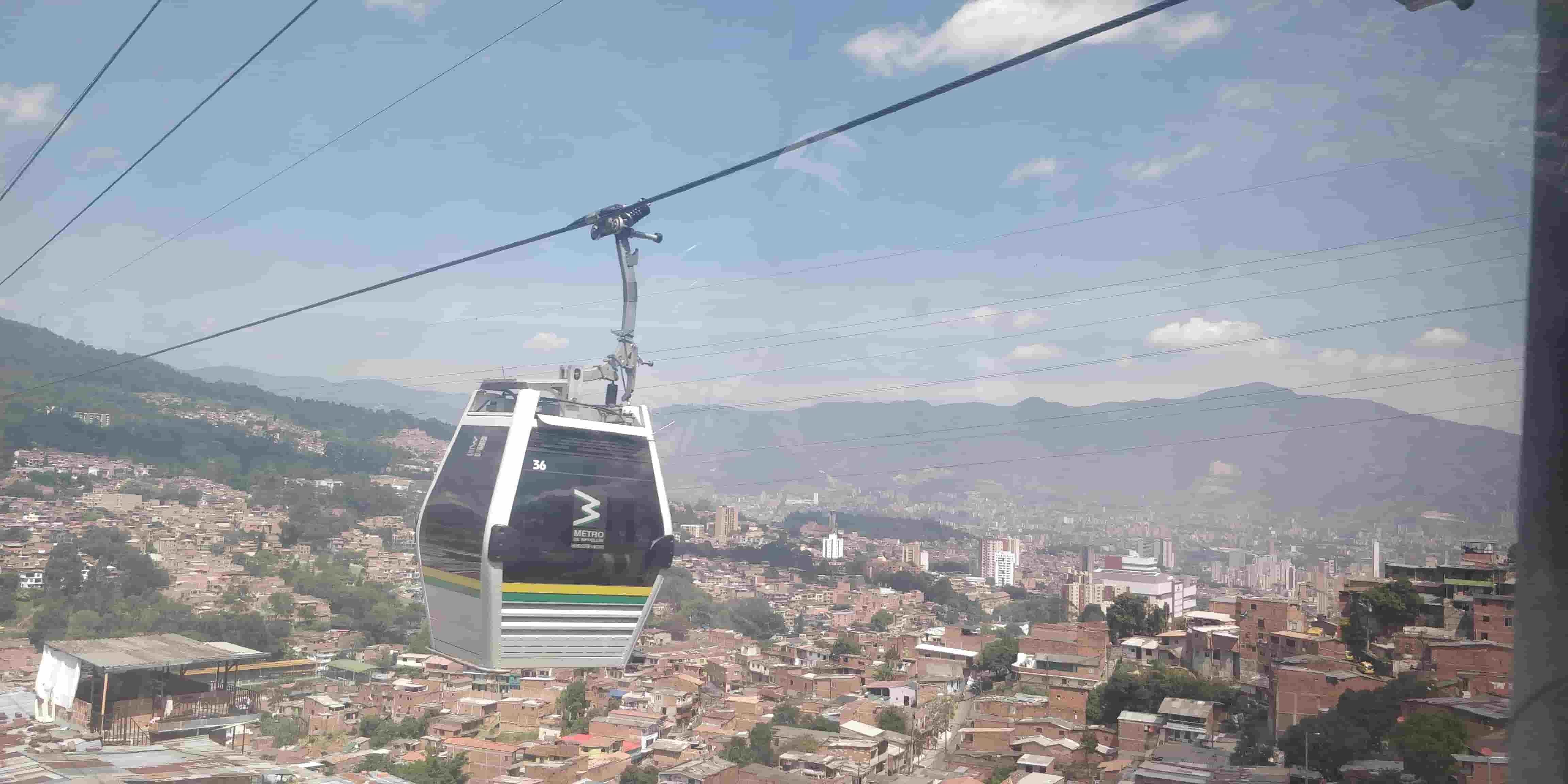 View from the Metrocable on the way up!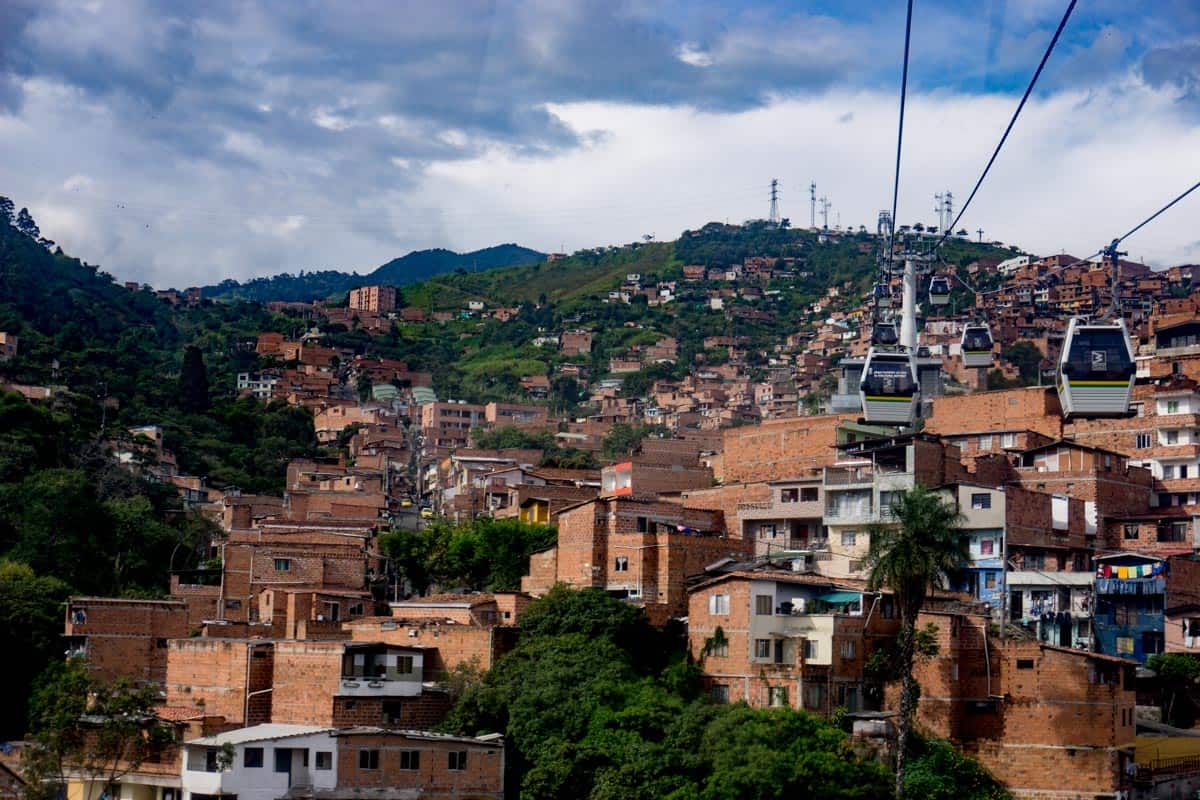 Metro Cable Car in Medellín
The most perplexing project (to a visitor) is the enormous 384m orange-roofed outdoor escalator, uniting Comuna 13 (located high on the hillside) to the rest of Medellín. A journey that once took residents a strenuous 35-minute hike up the hill has now been transformed into a six-minute trip. The escalator, completed in 2011, is divided into six sections allowing people living on different levels of the hillside to access at different points. It has improved life in Comuna 13 where people now feel more connected to the rest of the city. However, our guide noted that many residents question the $5 million price tag for something that only serves only a small part of Comuna 13's large population.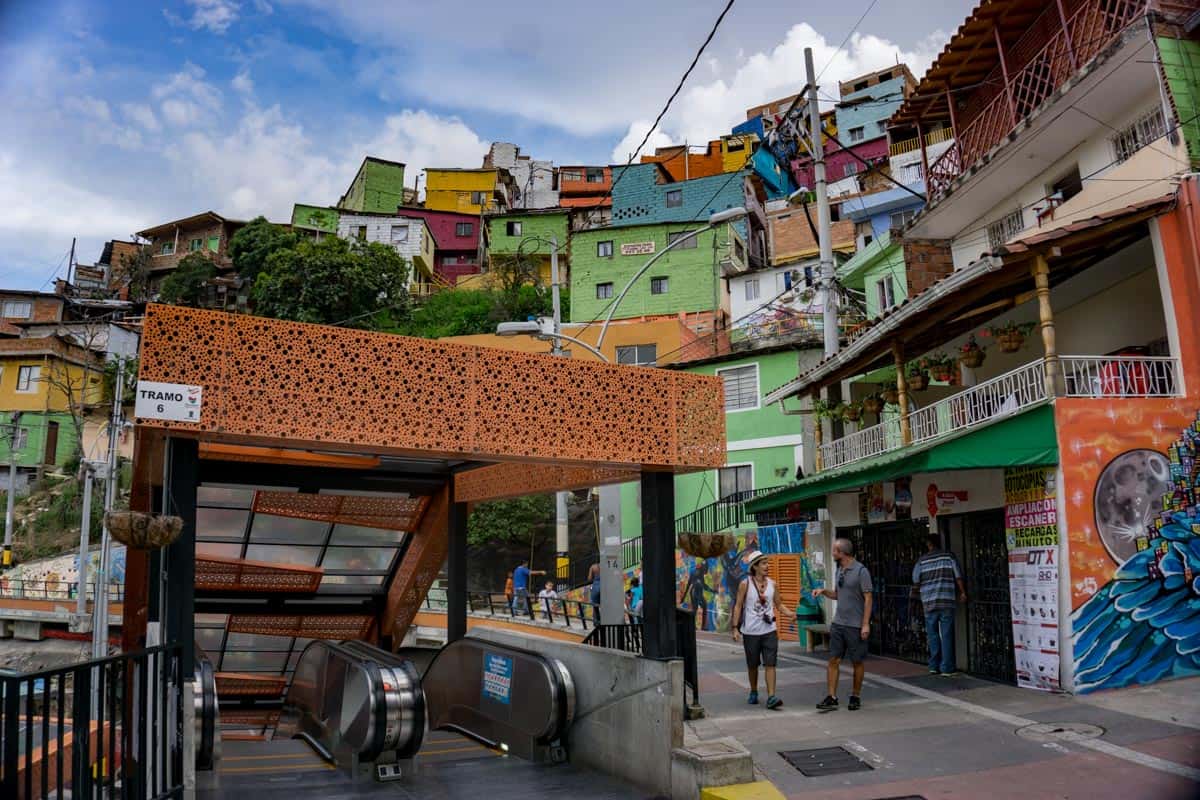 Escalator #6 in Comuna 13
Community
With community support, the local government built important educational hubs accessible to the residents of San Javier. The Parque Biblioteca (Library Park) provides low-income children with access to computers and workshops to learn new skills. They are also able to play together in the library's green space, equipped with recreational facilities such as soccer fields and basketball courts. Community centers and programs have been established like Cada Vida, which helps women become more financially and emotionally independent.
Of all of our experiences around the world, this place gave us the most hope for meaningful change.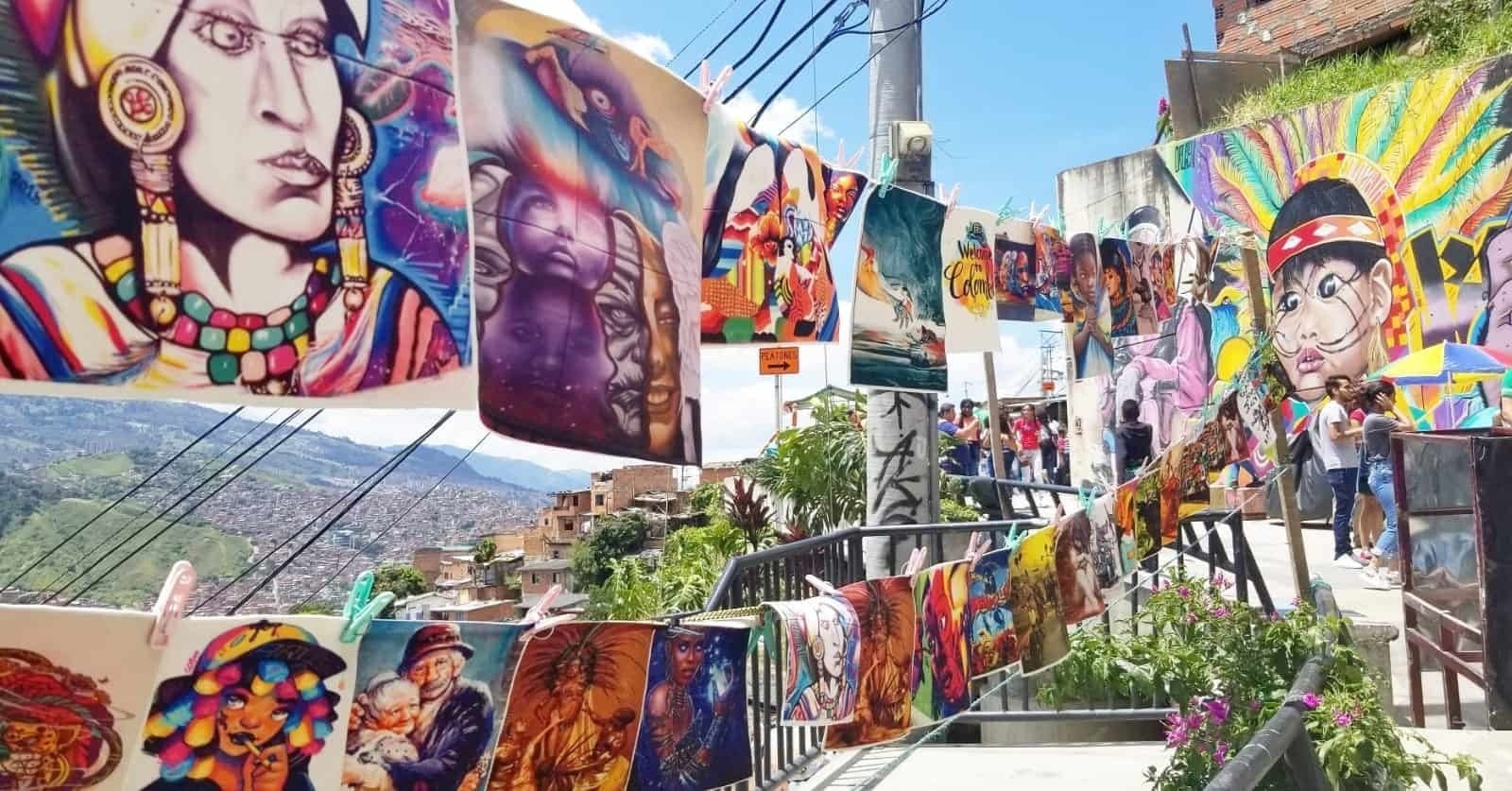 Look at the color! This tour is worth it!
How to book your visit to Comuna 13:
Because of the crowds, your quality of tour depends on the quality of the guides and how they share their stories. There are a number of different tours to Comuna 13 Medellin- and you do need a guide to appreciate this entire perspective. Check out the best selling tour below
Medellin's Best Selling Graffiti Experience– Click here for details and latest pricing
Looking for more things to do in Medellin? Check this out
Need a place to stay in Medellin? Our favorite neighborhoods are Laureles and Envigado. Check out these deals below.
Enjoy your tour, it's not to miss!
For more tours and posts about Colombia's transformation you can find them here.
Turf Wars to Reform – Bogota Tours That Change Lives – with Impulse Travel
Colombian Hot Chocolate- Displacement of Farmers Who Now Make Chocolate! – Palenque Tours
Signs of Peace – Transformation in Colombia – Expedition Colombia
Protecting the Rivers of Colombia – Foundation Yumana
Read this post later or save on Pinterest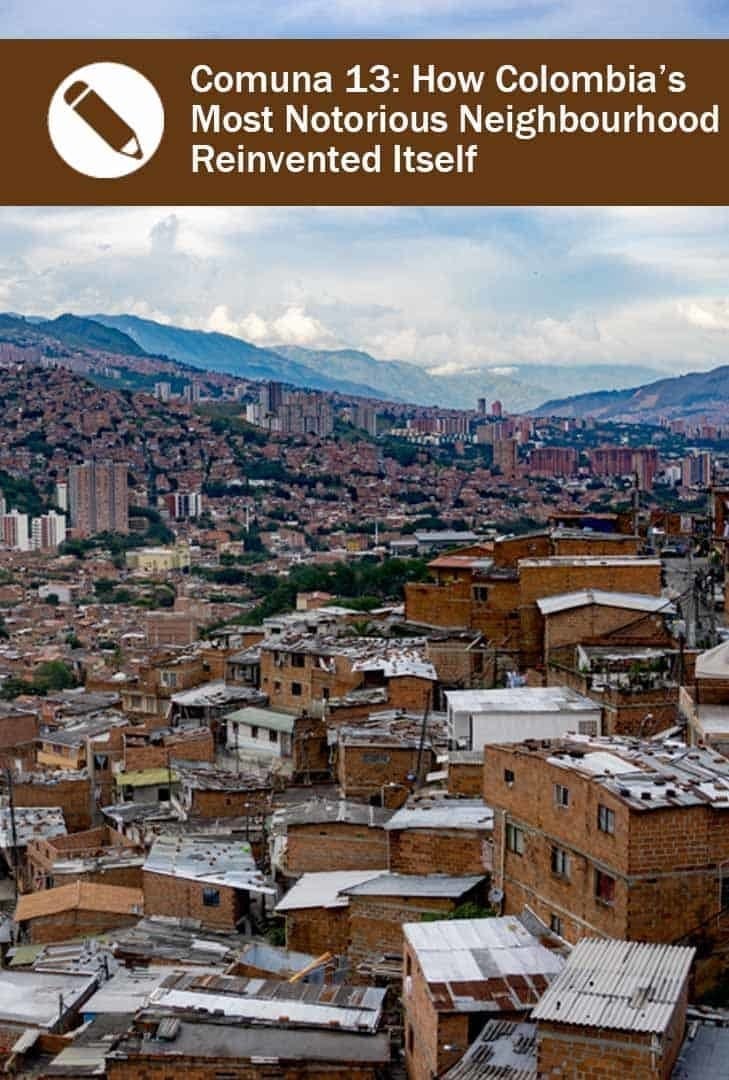 Things to do in Medellín and area:
Hiking and Watching Sports:
Day Trips
Traveling around Colombia? Check out our detailed itineraries to help you plan your travel:
For more posts and information about Colombia, you can find them here.
This page includes affiliate links. By using the links on this page (at no extra cost to you) it will generate a small commission from any sales. This helps us keep providing quality content, tips for you. Thanks for your support and we hope you enjoy these recommendations!