Top 13 Surprising Things About Nepal
Planning a trip to Nepal for the first time? Finally, after years of delaying our next trip to Asia, we no longer wanted to leave Nepal unchecked on our travel list. We spent two months during winter in Nepal to see it with our own eyes. There were things about Nepal that truly stood out for us and changed our perceptions of it, and some of which even downright surprised us.
Here are a few of our observations, things you should know about Nepal, and how you can travel meaningfully during your visit.
1. Nepal is still rebuilding from the 2015 earthquake and it needs your tourism dollars badly.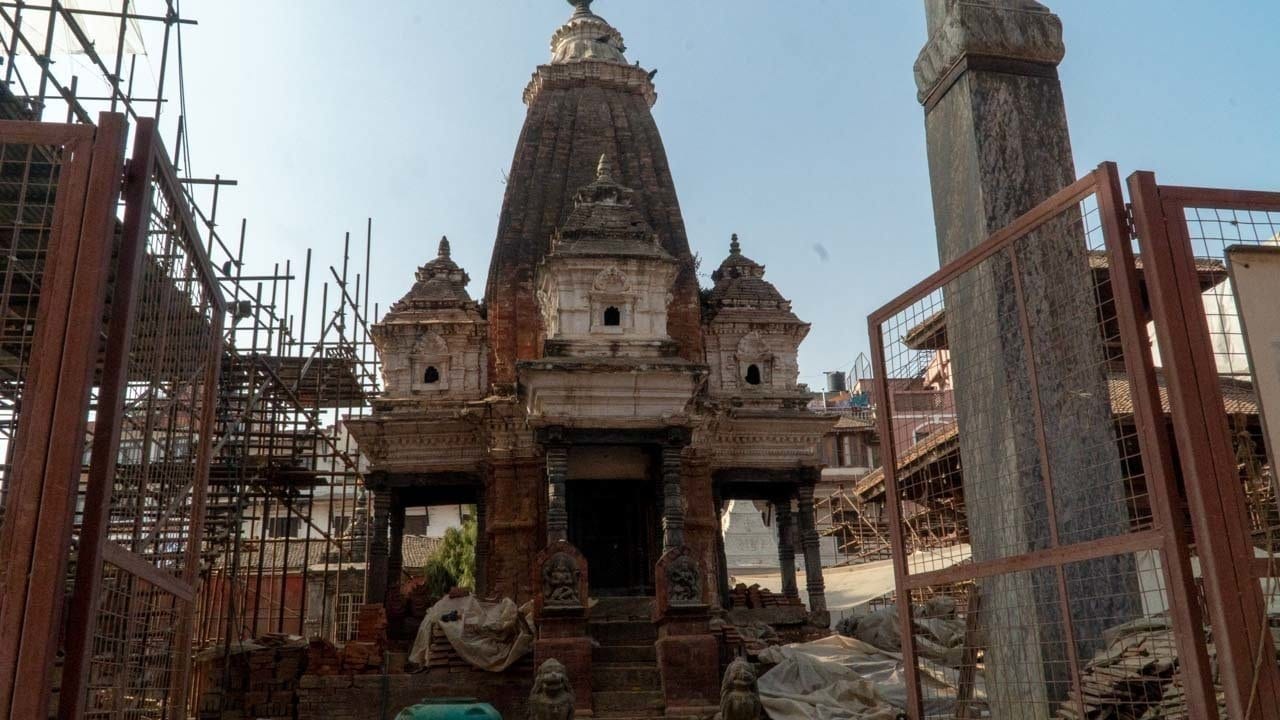 The temple repairs continue yet there is still plenty to see as a tourist.
It took a year and a half after the April 25th earthquake for tourism to come back, thankfully, because it's the largest job industry in the country. Almost four years later, the temples continue to be rebuilt in Kathmandu, Patan, and Bhaktapur. The funds come mostly from China and Japan and International support. Your entrance fees to these historic centers also continue to pay for the repairs. Rest assured, there are many temples you can still visit and enjoy.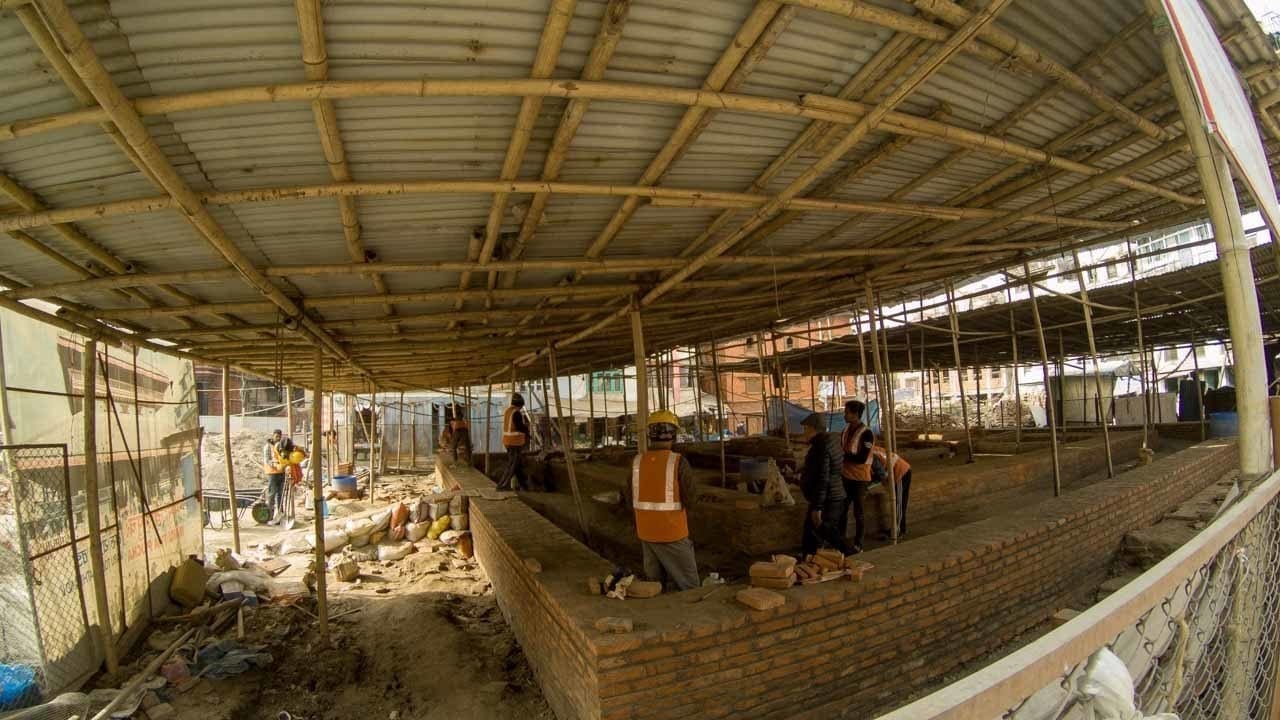 Repairs to one of the most damaged temples in Durbar Square- Kathmandu.
The progress for the many homes and local businesses however, are still in desperate need of repair. The government-promised payments are barely enough to fund the repairs which are complicated and effect the integrity of the neighboring homes This is where your tourism dollars can help the local business and communities in a big way. Many families are living in temporary sheet metal structures, while others live in homes supported by wood beams, (like below) holding their homes up, in hopes that they can earn enough to repair the damage.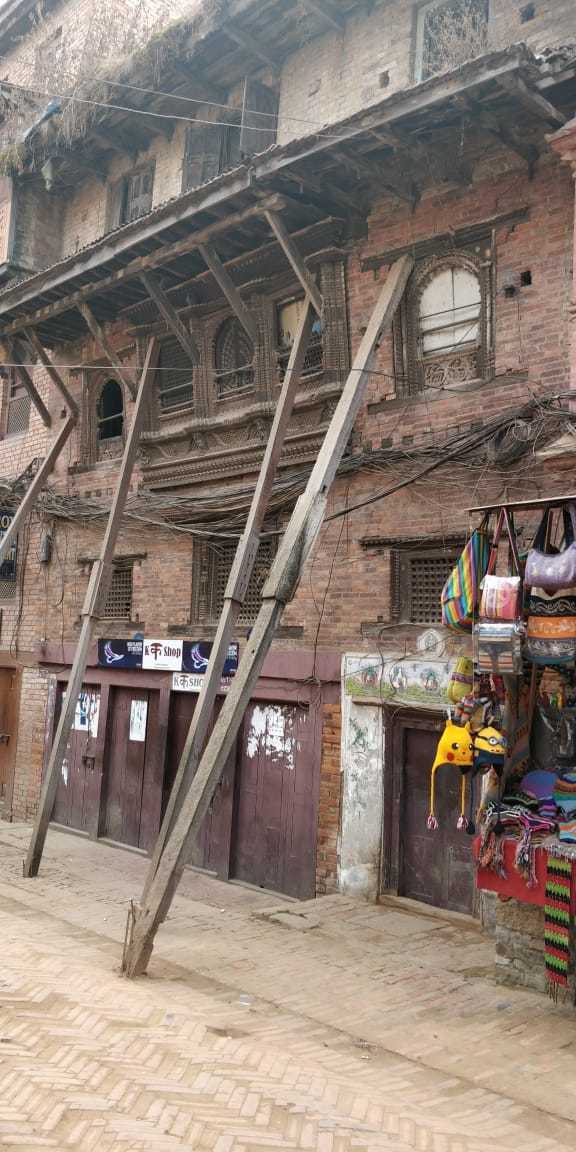 Wood beams holding up many homes and businesses. I asked about strength and was assured they were strong.
How you can travel meaningfully – Stay in local homestays and guesthouses, eat at local restaurants, hire a Nepali guide and ask how your tourism dollars can best help the communities. Your dollars will go far here and for a good cause!
2. Resilience. Imagine living through a major earthquake. What would be your reaction?
The April 25th earthquake and the May 12,2015 aftershocks killed over 8,500 people and destroyed 600,000 homes. We couldn't help but asked Nepalis about it, and the people we spoke to said consistently, "It could have been worse, we have our family and good health." That fateful day wasn't a workday or school day. It was a day when Nepalis were outside their homes, schools and offices, so it could have been worse. Many Nepali's lost everything but still managed to pick up, start again and thank Buddha and Mother earth for what they still have. Our Nepali hiking guides shared their challenge of not having any work at all for over a year and a half, as tourism literally stopped after the quake. Kathmandu tourism was the hardest hit. We admire their resilience and gratitude despite the disaster they experienced. What an amazing display of resilience.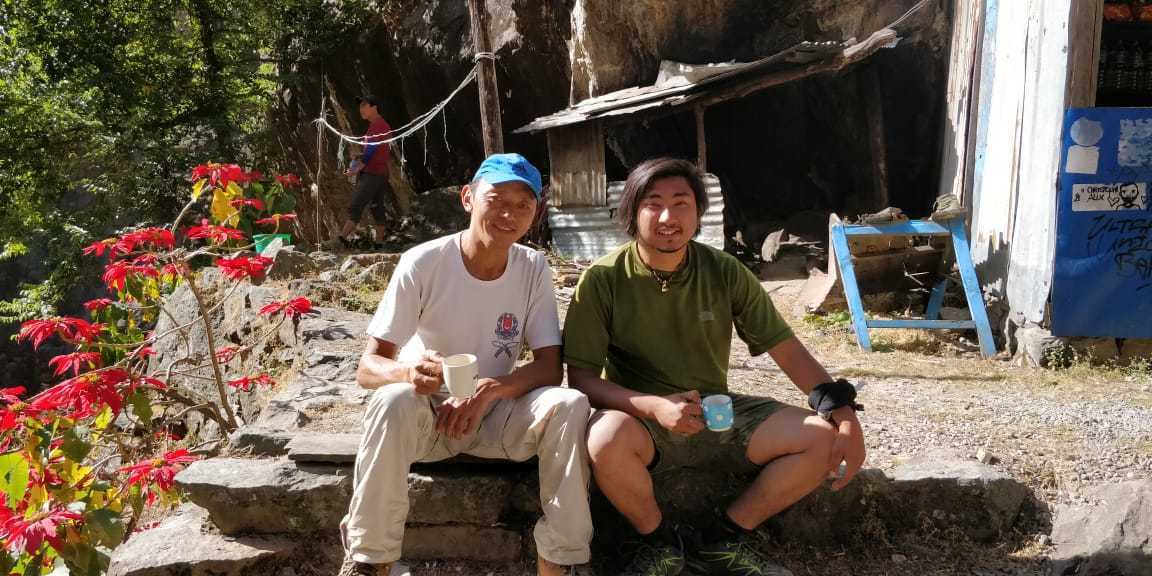 Sharing stories of resilience after the Earthquake with our Nepal tour guide and assistant hiking guide.
How you can to travel meaningfully: Start a conversation with a Nepali about the earthquake, learn about what happened, and how it affected their lives. They are willing to talk about it and share their heartfelt stories. Maybe you will be humbled like we were, by listening to their stories.
3. Seriously-Nepalis are probably the friendliest, most warm and approachable people in the world.
Of course there are many friendly cultures in many countries, but Nepalis set themselves apart from many. They often approached us just to find out where we were visiting and how they could help us with our travel plans. I am always cautious with a greeting from a stranger, but I quickly discovered that often they didn't want to sell something nor ask for anything in return. P.S. Colombians, we still think you are friendly people too.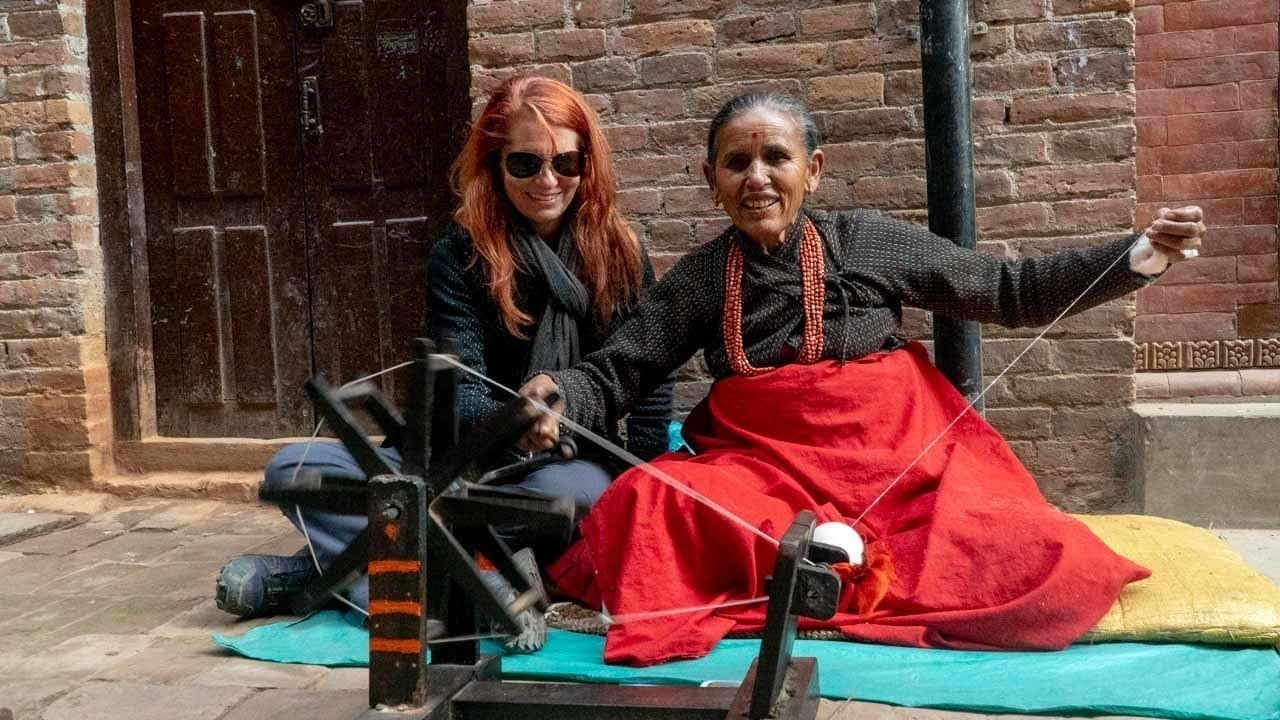 How to travel meaningfully: Be open when approached. Of course, still remain cautious and street smart. We think you'll enjoy the conversations!
4. Namaste – the most respectful and warmest "Hello."
Nepali's consistently greet everyone by saying "Namaste" with the hands clasped in a prayer-like position and a slight head bow. Namaste in Sanskrit, literally means 'I bow to the divine in you', talk about making someone feel incredibly special with this kind of greeting! We learned that it is also effective for expressing gratitude and goodbye. It was amazing how quickly Nepalis responded warmly to initiating this greeting and how I felt that I had shortchanged someone if my hands were full carrying bags and I couldn't return the full, proper gesture. It is a beautiful way to open up to any human being.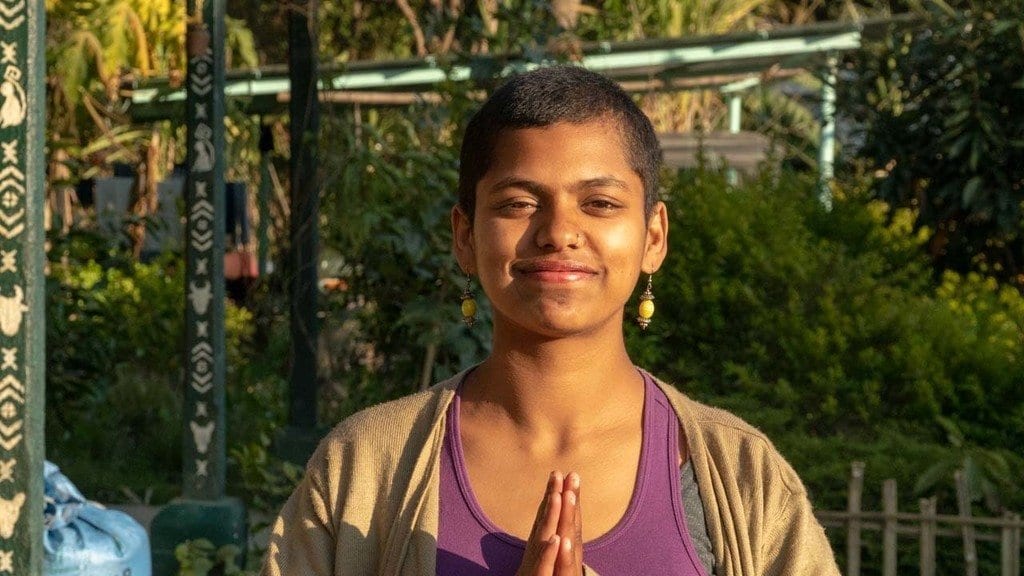 Our friend Raveena from India demonstrating the gesture – Namaste is common in Nepal and India
How you can travel meaningfully: Initiate your own 'Namaste' and find out what kind of reaction you receive. It's a simple yet meaningful thing. Perhaps you will feel the same warmth and intimacy that we experienced.
5. Nepal is an excellent example to the world of tolerance of other cultures.
Nepal is a kaleidoscope of over 60 different castes, cultures, and religions, which surprisingly all coexist in harmony. When asking a Nepali what the critical traits of a Nepali are, they are quick to respond with the answer of tolerance and respect for other cultures. In their view, Nepali's live together relatively peacefully. Wow. Nepal is a fantastic example for the rest of the world especially in these times, and which reflects the character of their people.
It's not uncommon to see signs of Hindu, Buddhist and Tibetan cultures living harmoniously in one place, like in this town photos below.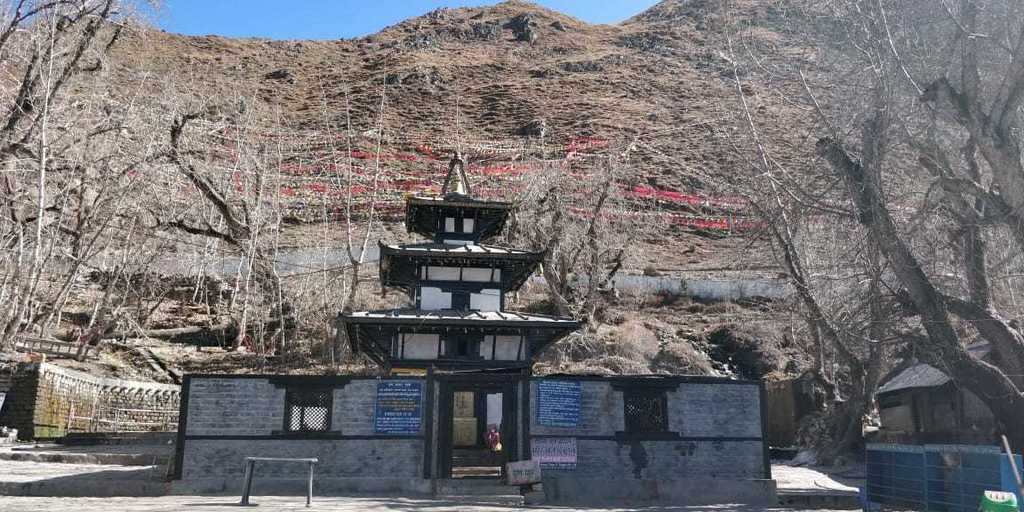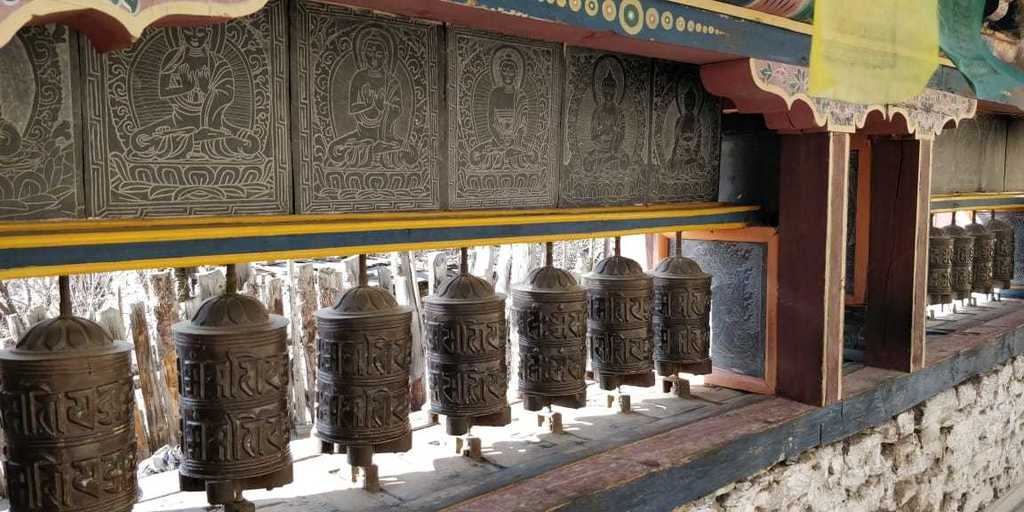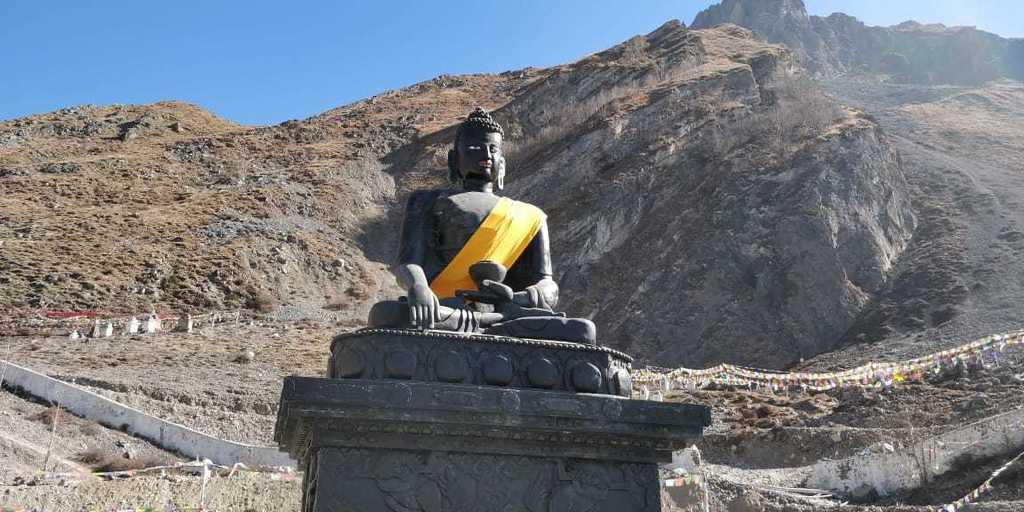 How you can travel meaningfully: With all the hatred and marginalized people in our world today, Nepal is a breath of fresh air. Perhaps traveling in Nepal will inspire you to witness this and appreciate it, as we did.
6. You learn quickly about being conscious of limited resources and challenged infrastructure.
Electricity and water supply are very limited resources in Nepal. Looking up at the power lines in Kathmandu and most other towns and cities, will give you a pretty good idea that the power grid is challenged, although locals assured us it used to be much worse. Now, there are a few hours of blackout each day instead of 16 hours of interruptions before the earthquake. Water is carefully managed daily with water tanks on top of the roofs everywhere in the country. Learning to brush your teeth with limited water or taking a quick shower is a great skill in overall conservation. Oh, and the roads! You can take a bus anywhere, just expect to be a long, and bumpy journey on poorly maintained roads. Despite all of these, we learned to manage through this, and appreciated what we are accustomed to in other countries. (Oh despite the issues, you can buy one of the best and inexpensive pay as you go cell phone plans. Staying connected is easy)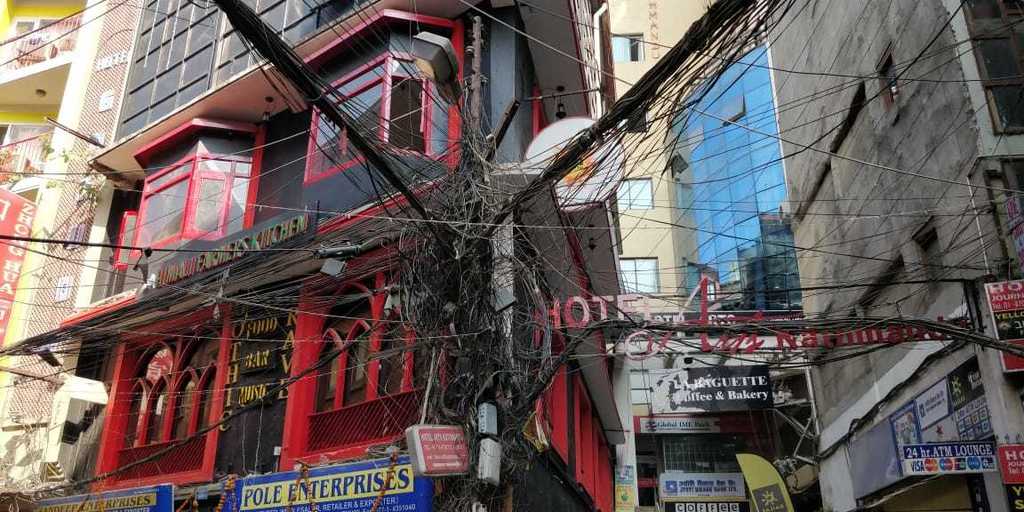 An example of the power grid in Kathmandu
How you can travel meaningfully: What a lesson in appreciating what you have in your own home. Be keenly aware of this when you arrive. Patience will be your virtue, and so will an appreciation for the ease of resources that you have back home.
7. Nepal is NOT India, and a Nepali is not an Indian. Let's be clear about that.
India and Nepal are neighbors, and many similarities in these cultures exist ,but make no mistake, you will be quickly corrected by a Nepali if you make comparisons to India. They are their own country. They do have similar customs mostly shared by the Hindu religion. Some of our local friends shared that they are often compared to both India and Tibet given the multi-cultural Hindu, Buddhist and Tibetan populations in parts of the country. I can appreciate this. After all, these comments land the same reaction of calling a Kiwi an Australian, or a Canadian an American. Nepalis are proud and quietly confident.
How you can travel meaningfully: It's easy to make comparisons. I do it too. There are places we have traveled that remind us of other countries. It will go a long way with Nepali's to give them their own spotlight.
8. Plastic waste is a huge problem, but there have been some positive steps.
One of the biggest culprits of waste is the plastic bottle usage because of the need for clean drinking water. What good is it doing to the environment if you buy plastic bottles all the way up a hike in the Himalayas, when there is no clear solution for recycling or waste management? Fortunately, on some of the larger hiking trails, there are designated safe water drinking stations– like on the popular Annapurna trail. These stations sell filtered, potable water. You can refill your water bottles for a small price of a few rupees per liter.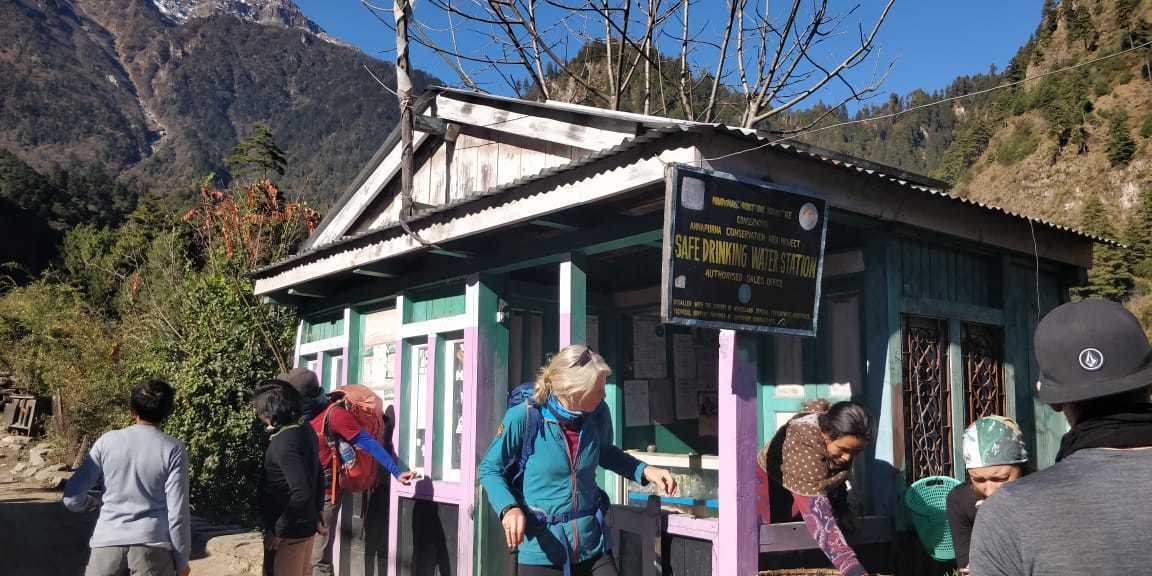 Safe water drinking water stations on some of the hiking trails reduces plastic waste.
How you can travel meaningfully: When traveling in cities, say NO to plastic. Businesses have a sizeable 50L water jug supply for their own water. Ask to fill your reusable bottle there. It surprised us how many places would immediately hand a plastic bottle when you ask for water, even though the refill alternative was available. When refills are not available, try chlorine tablets, drops or Lifestraw products. We had no issue drinking water this way throughout Nepal. As for plastic, carry a reusable bag and say no to plastic bags no matter how funny the shop merchants look at you for declining one.
9. You can visit Nepal and not go trekking, but you are definitely missing out.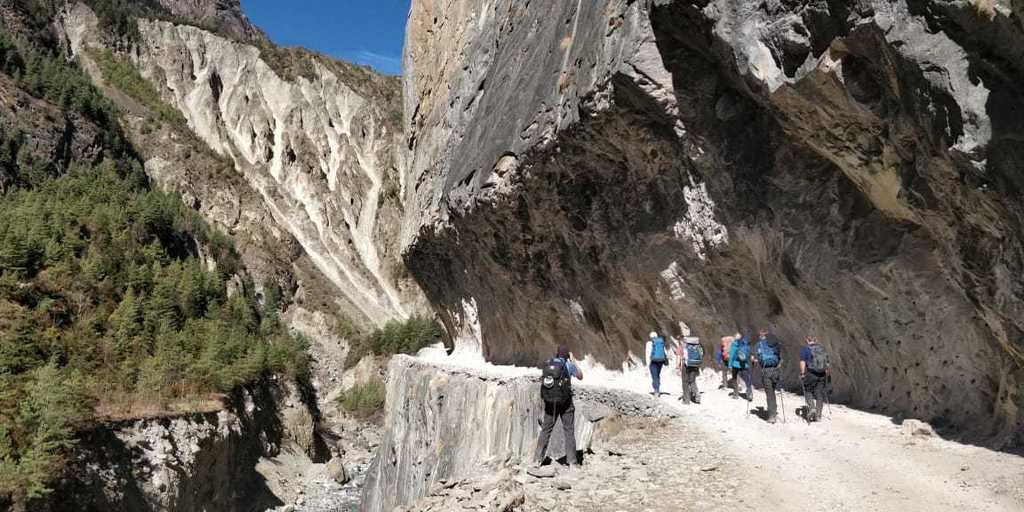 Nepal is beautiful with an exciting and lively culture with interesting festivals, stunning temples and vibrant cities and towns. Sure there are many Nepal tourist attractions but you will miss out if you don't hike at all. After all of the hiking we have enjoyed around the world, in our view, there is nothing that compares to hiking in the Himalayas in Nepal.
How you can travel meaningfully:You need to go hiking in Nepal. There are so many varieties of hikes and tours that partially travel by jeep to reduce the trekking time. You can't miss it! We recommend a Nepal tour like the Annapurna Circuit with Intrepid Travel – check out their tours and prices here.
10. Nepal is still very traditional and it's awesome.
It is no surprise that Nepal is influenced by Western culture, driven by its significant tourism industry. However, many traditions still exist in Nepali family life, food, traditional dress, prayer and rituals. Also factor in the many ethnic groups, languages, and cultures who can express their traditions openly.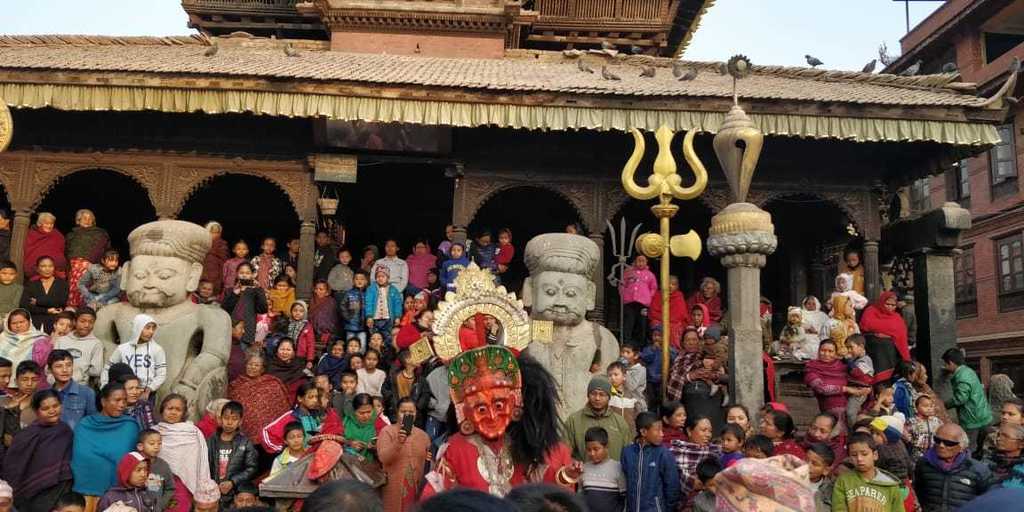 One of many interesting Hindu Festivals in Bhaktapur
The Pokhara Street Festival – oh the food and music!
How you can travel meaningfully: Take in the many festivals in this country. Check out the Nepal festivals and catch one of many during the year. Maybe you might even partake in song and dance?
11. Kathmandu is in trouble.
I had this image in my mind of what Kathmandu city and valley would be like – a place of expansive green valleys with idyllic mountain views, spectacular temples, and nature. Kathmandu isn't like that. The city is crowded, dusty, littered with garbage, strewn with crumbling homes with inadequate infrastructure and unavoidable traffic in constant gridlock. Sadly, it is one of the most polluted cities in the world.Don't get me wrong, there are interesting places to visit in Kathmandu and you should visit, we enjoyed the temples in Kathmandu immensely, and the excellent neighborhood of Thamel for shoppping and restaurants, but the state of this city is a big concern. We stayed in neighboring Patan and Bhaktapur cities which can gave us a reprieve from the congestion and traffic. I attempted to be a good example by picking up garbage when it was on the sidewalk, and kept it until I could throw it into a garbage bin. With an international airport opening in Pokhara, it may divert trekking travelers away from Kathmandu entirely. Perhaps this may be necessary change for Kathmandu to reinvent itself.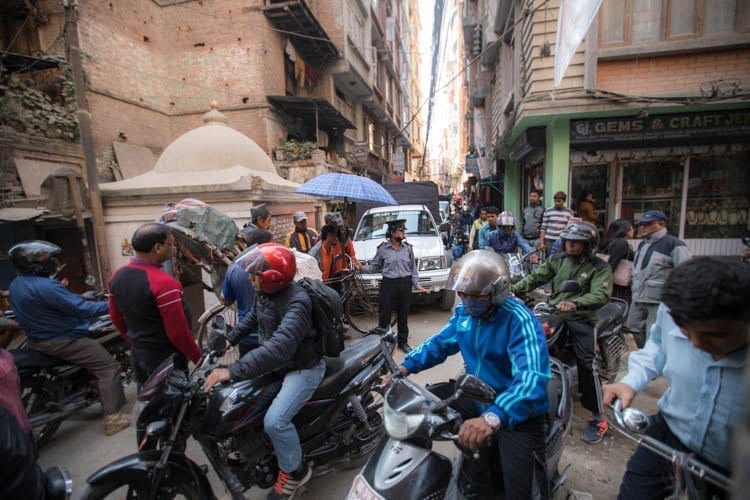 Kathmandu traffic photo credit: Flickr sunrise odyssey
How you can travel meaningfully: Patience, deep breaths, and try to look beyond what's wrong and see what is interesting about Kathmandu. There are many reasons to visit. Set a good example with your conduct and be keenly aware of your impact.
12. Wow! The Coffee!
Imagine arriving to a foreign country and getting a barista-served, espresso machine-made coffee with quality beans like the one from your favorite café back home? The quality of the coffee here is exceptional, and there are many cafés everywhere. Who knew? It was nothing short of a surprise and delight to drink Himalayan coffee. I also heard from some of our international readers who completed their barista training and certification in Nepal. Check out Himalayan Java Coffee it is worth a visit. If coffee is not your fancy, there are also many quality products like Himalayan herb teas, salts, and other organic Nepali-made delicacies. Nepal is a great 'drinking' experience.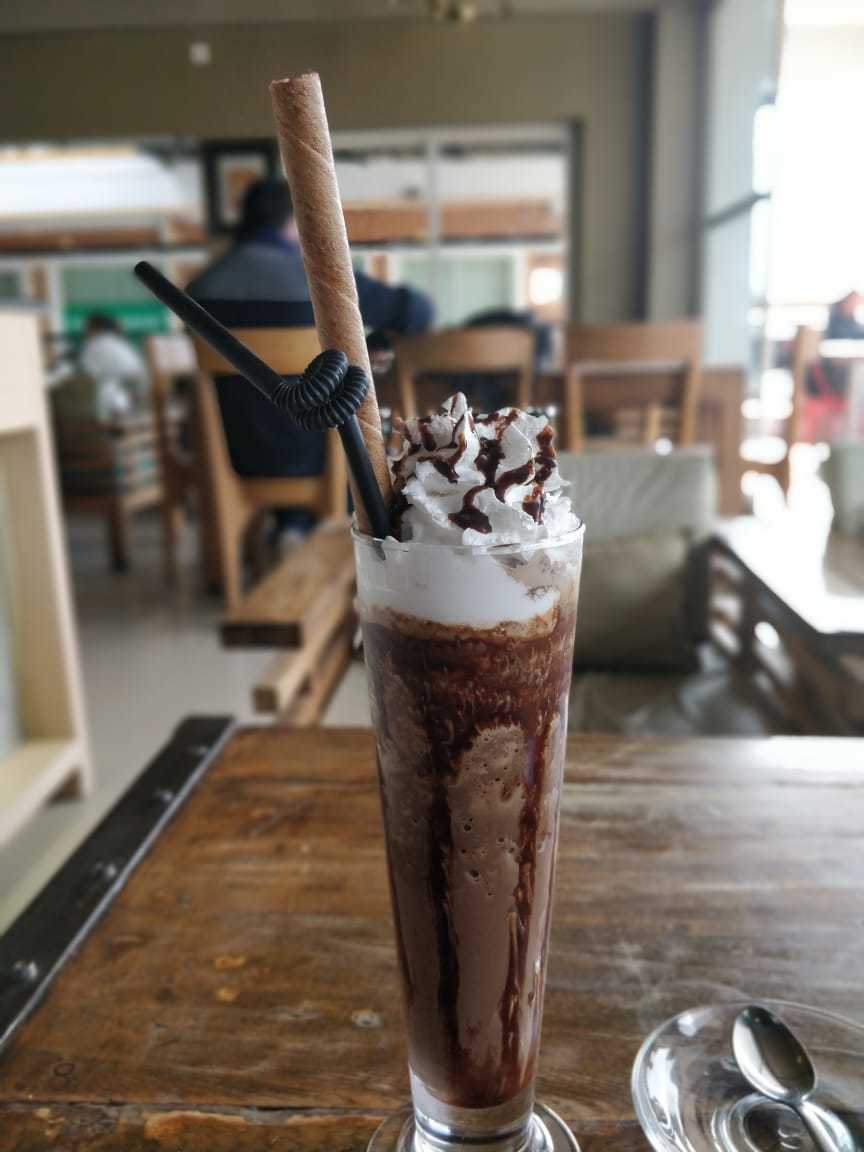 How you can travel meaningfully Savor this coffee or tea moment and take a load off and enjoy the wonderful Nepali coffee industry.
13. Shepas are not the men that carry your bags up a mountain – well sort of.
Any traveler who hikes and climbs long treks have learned the word 'Sherpa' means the men who bring all your supplies up a mountain hike. Sure, you can technically call them that in the Everest region, however, Sherpas, are in fact, an ethnic group in the eastern region of Nepal around Mount Everest. Given their location and lifestyle near the mountains, many work in Nepal's thriving tourism trekking industry in some capacity but they are not necessarily porters. Sherpa is also a common surname and a mountaineering clothing brand.
If you haven't decided to go to the Nepal yet, maybe this post has piqued your curiosity. Well, we think you definitely need to go! Stay tuned for our future post on Nepal destinations we loved, and what to do in Nepal and where to go.
Here is some great resources to get you started.
Lonely Planet books Nepal:
Intrepid Travel – Nepal Trips
​
Pin this post to read it later!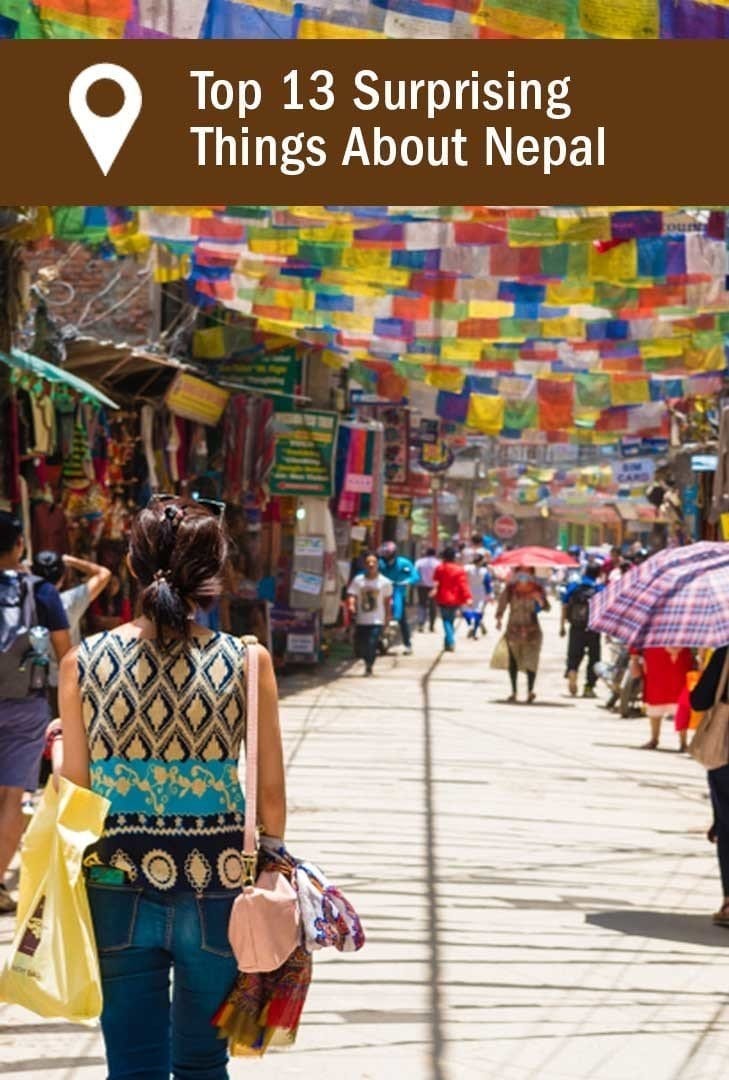 This page includes affiliate links. By using the links on this page (at no extra cost to you) it will generate a small commission from any sales. This helps us keep providing quality content, tips for you. Thanks for your support and we hope you enjoy these recommendations.