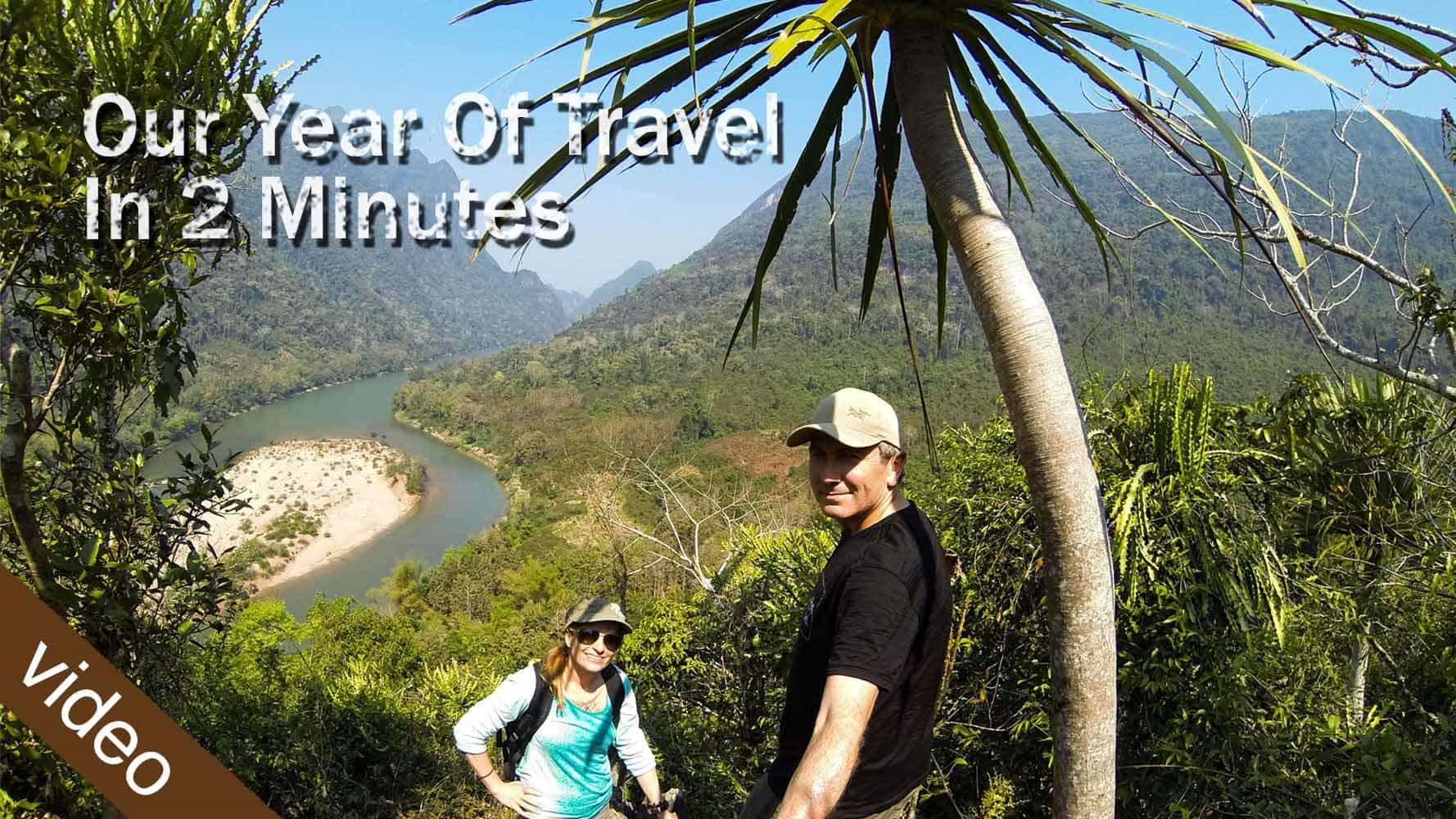 Our Year of Travel In 2 Minutes
Our year of travel in a 2-minute video
Can you capture the essence of an entire year in a short video? It was tough, but we did it. This is our year of travel in 2 minutes.
It started in January 2015, we left our careers, sold our home to embark on a new lifestyle full of travel. To mark the year, we created a short video looking back on our first year of full –time travel in just 2 minutes.
Where we Traveled in 2015
Our video includes scenes from our year of travel to:  Thailand, Laos, Myanmar, Indonesia, Australia, Portland, Oregon, U.S.A. Nicaragua, Costa Rica, Panama, and Colombia.
2015 was a year of change for us. It was a complete transformation in the way we live our lives. We no longer owned a home, left our established careers after 20 years, and crammed our few remaining possessions into two backpacks each. Our word of the year was change, a word that symbolized our new approach to living. We learned how to live more simply, more economically, and develop many new skills to inspire us with new careers. We learned about our own limits, our fears and most importantly we learned more about each other than the last 9 years of marriage.
Areas of interest captured in the videos, and links to some of the full-length videos:
Leaving our home in Toronto, Canada for the last time
Temple visiting in Ko Samui, Thailand
Boating to the Pak Ou Caves, Luang Prabang
Touring The Great Ocean Drive, NSW, Australia
Watching street performers Melbourne Night Market, Melbourne, NSW, Australia
Watching howler monkeys in Ometepe, Nicaragua
Hiking in Boquete, Panama
Visiting farms in San Francisco, Colombia
Weekend getaway to old town in Cartagena, Colombia
Thanks for watching! Have you traveled for an extended period of time? We'd like to hear your story.
Like it? Pin it!