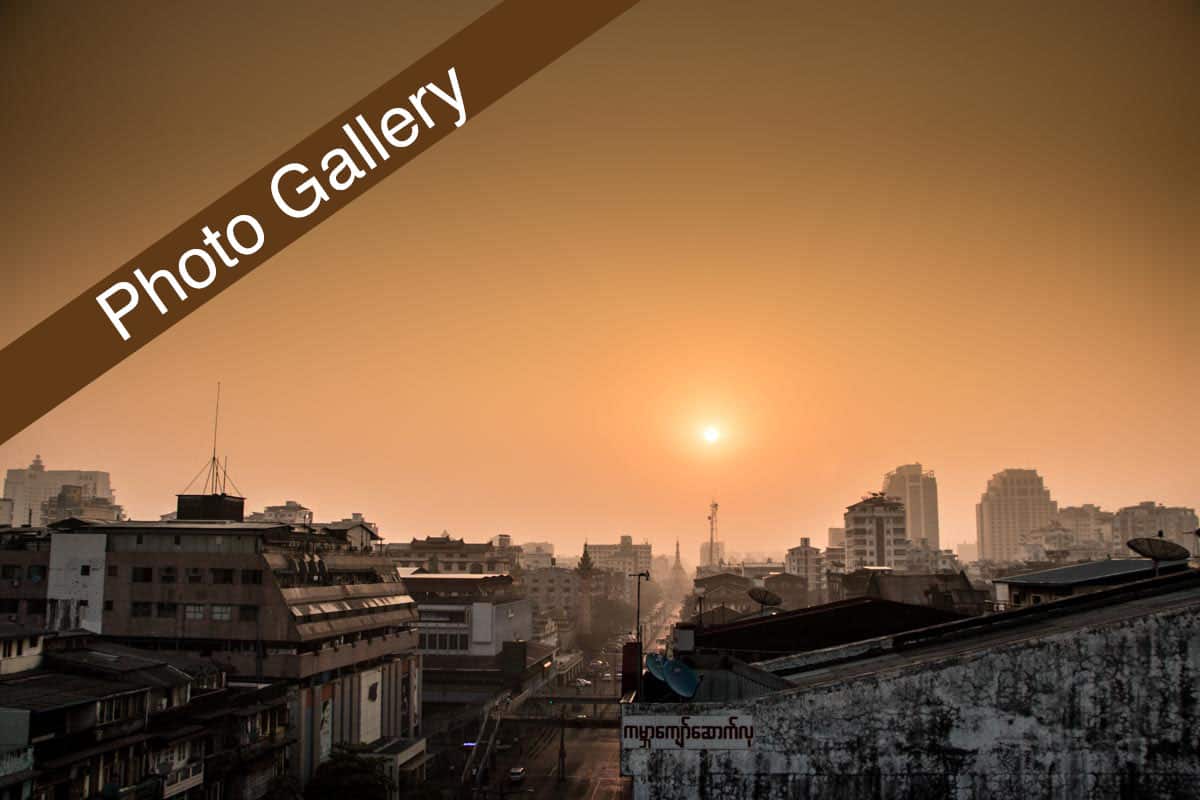 Yangon is best in photos, it is a captivating city that tickled our senses in so many ways. It was just one of the reasons why Myanmar (formerly Burma) was so special for us, and why it became our favourite country in S.E. Asia. Check out our  Yangon photos in the gallery below. Our photo gallery centers around life on the streets, the people and way of life made us rather curious.
Yangon Photos
Yangon is a big city, but it has so much to offer. Underneath the heat, noise and traffic is a fascinating city of culture, timeless traditions and modernism catching up with the rest of the world. Check out Yangon, Myanmar in video here.
Our best experiences were walking in markets, wandering the streets, and being present and engaged with the friendly, smiling people in front of us. We felt so welcome, as we passed by; people said hello, happy to get a smile from us in return.
Whether it was wandering through the food carts on 19th street or chatting with people enjoying morning coffee at makeshift seats in the alleyways, Yangon has an active food culture. The community meets on the streets. Those streets surrounded by 1920's British colonial architecture, are sometimes painstakingly restored while other buildings are curiously left in decay.
The Shwedagon Pagoda is the most spiritual place in Yangon. Locals and monks from all over Myanmar come here to worship their Buddha and tourists like us just stood awe-inspired viewing the significant glistening gold structure.
Don't miss the Circle Line Train around Yangon. Not only do you get a good view of the city but also you get a great perspective of a day in the life of locals. From heading to work, selling food at the markets or children riding home from school.
We looked past the big, noisy metropolis and found such a warm, inviting culture. Give it a try; it's surprisingly more welcoming than you may have initially thought.
The best time to visit Yangon is during the shoulder season between October to November and March to April. Tourist traffic isn't as busy, and the heat in Myanmar is more bearable than in May- June when the heat is stifling!
Where to stay in Yangon:
We stayed at the Hotel Grand United Chinatown– Interestingly there are two of them, our stay was at the link attached. Great breakfast, good location near the markets and night market, and comfortable very air-conditioned rooms.
Places to visit featured in the Yangon Photos:
-Yangon Chinatown
-19th Street Chinatown Yangon
-Shwedagon Pagoda
-Sule Pagoda
-Free Yangon Walking Tours – to see the colonial, British architecture and learn about Myanmar customs
-The Yangon Circle Train – A ride around the city, people watching makes it the most fun.
Thinking to add Myanmar to your travels? Why you need to go now! 
Like it? Pin It!