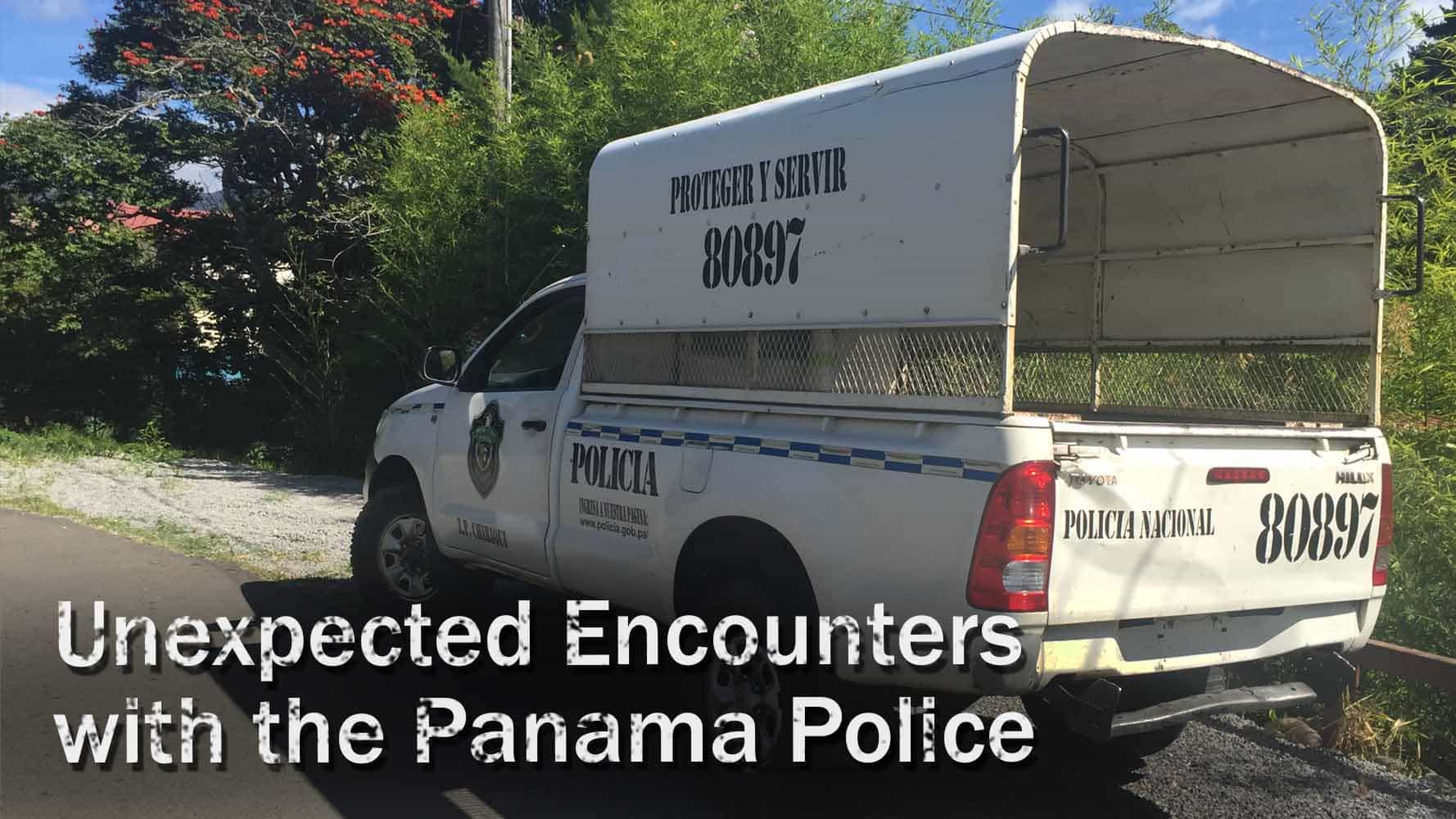 Unexpected Encounters with the Panama Police
After spending a month in Panama City, Troy and I yearned for an old-fashioned multi-stop road trip to explore the rainforests, highland towns, and calming ocean views of Panama. We both liked Panama City, but we needed a touch of nature to make us feel alive. Instead of our usual mode of transport, by bus, we splurged and rented a car.
Little did we know our car rental excursion would result in a day-long encounter with the Panama Police
We spent our time on the countryside hiking and enjoying the highland town of Boquete. We stayed at the Refugio del Rio, a comfortable hostel in town, and a perfect spot to relax by the river after a day of hiking and white-knuckle drive through highway construction.
Early on Day 5, with energy and enthusiasm, we were set to explore the surrounding villages of Volcan, Guadalupe, and Cerro Punta. As I approached the car, I realized something wasn't right. There was a big piece jutting out of the dashboard. I moved to the side of the car and "crap!" I muttered. The car had been broken into. The small back passenger window was forced out with glass shards strewn throughout the backseat; the stereo was neatly unscrewed from the dash and stolen from the car.
"Shit," I thought. Our day of travel is now on hold, and we'd have to deal with all kinds of hassle to resolve this with insurance. Although, at the same time, I was incredibly relieved we had the common sense to take all of our belongings out of the car every night. I hurried back to the room to tell Troy.
He had absolutely no reaction. A few minutes and a few more sips of coffee later he said, "You weren't joking?"
The staff at the hostel reception desk was so surprised by the robbery—it was an uncommon occurrence for this serene little town, let alone the hostel where a night watchman guarded the property.
We knew we needed to call the Police, but we were also not naïve. In some foreign countries, police dealings can be complicated.
It was Mother's day—an important national holiday in Panama and most offices were closed. We waited two hours before the paddy wagon-style National Panama Police truck finally arrived. One officer sported army fatigues while the other was in more formal navy blue attire. Three more plainclothes officers soon followed. Each of them asked various questions and took versions of our stories. Thankfully, their questions were translated from Spanish by the receptionist from our hostel.
A crime that would be a seemingly small crime in Canada was taken very seriously here.
We soon discovered we were required to report a crime within 24 hours of the incident to waive our liability and meet the requirements for the rental company claim. Due to this issue, one of the policemen went completely out of his way to call the government official on his day off in order to get our paperwork processed. We waited in front of the municipal building, and when he still didn't arrive 45 minutes later, the police officer went to the government officer's home and drove him to the town office! Unbelievable!
 Who would find time to do this on their holiday?
The police in Boquete, Panama made sure it happened.
The municipal government officer was a big, burly old guy with gray hair and deep frown lines on his brow—he wasn't too pleased about getting called on his day off. After asking the same questions to our hostel employee and translator, we sat for another two hours filling out government forms and gave our fingerprints to fill out our Bill of Rights as a victim of a crime.
The government officer continued to hold a stern, serious face then asked us in Spanish if it was our first time in Boquete. When we both said yes, he proceeded to say, "Qué un mal impresión." We knew instantly what he had said: "What a bad impression you have of our town." Finally, he seemed more humane.
4 p.m. rolled around and still there were more steps to complete. Now we had to drive to David—the main city in the north end of Panama—to the 'Edificio de la Criminalistica' (crime scene investigation office) to get the car inspected. Will this ever end?
Ok, this is getting interesting, we are heading to the CSI of northern Panama.
We rushed out of the office with our stack of paperwork and jumped into the car blasting down the highway. The rain started to come down, spraying through the broken window, but we just ignored it and  laughed about the entire day.
Once in David, and after driving back and forth along the main road, we finally found the Edificio de la Criminalistica (thanks to the help of a McDonald's security guard).
The officers standing in front of the building looked perplexed about the two gringos approaching them. One of them came over to the car, motioned us to park, and asked in broken English, "Where are you from?"
He introduced himself as Officer Arturo, took a look at the car, and questioned why we were there. We shared the handwritten note with the directions and he realized we needed the Edificio Criminalista. Arturo started to explain where the office was, then stopped, adjusted his belt from his dark navy well-pressed uniform, and motioned us to come into the building to wait for him.
The office was full of officers, who each saluted Arturo on his way in. Clearly he was a senior officer. Troy and I looked at each other, completely unsure what was happening next. "I'll be your 'shaffer'… let's go!" He motioned Troy to give him the keys to our rental. It took a second to fully process what he meant—he was going to chauffeur us to the CSI office.
What the hell were we getting into?
Of course, we heard stories about corrupt police officers in Latin America, but neither of us could respond, or make an excuse at this point.
Officer Arturo seemed anxious to help. Looking at each other, we knew neither of us had any idea of what to make of this. It was now dark, as we drove down the main street with our chauffeur quickly maneuvering past cars and through stop signs.
We were slightly relieved that we were, in fact, going to the right place when we saw the Criminalistica sign. While we were waiting for the office to answer the doorbell, Arturo asked us about our travel plans. He laughed and shared about his life, his friend from Canada, and mentioned our trip to Panama City.  "Oh, Panama City! It's expensive, Mi madre had heart surgery there, and it cost mucho."
I got agitated with this information, and why he was offering up this story. What is this drive to the office going to cost us? When will he be asking us for money for his help?
Officer Arturo got restless and called the office again to answer the door. We discovered it had recently moved down the street, and we were once again, dodging through the night traffic for two more blocks.
We finally arrived and were greeted by three men who had been expecting us. One man came out with a toolbox, put on rubber gloves, and started dusting the car for fingerprints.
Another thought came into my head: I had moved the broken window and the frame for the radio on the dashboard, would I have to explain in Spanish why my fingerprints were there?
I explained this in my simple Spanish to Officer Arturo who just said, "It's okay, don't worry about it." I was relieved; I certainly wouldn't want to be accused of tampering with evidence. A few minutes later, the team was done checking out the car, and there was no fingerprints or evidence to report.
As we left the office, we stopped at a store across the street, since it had started to rain and Officer Arturo explained we needed something to cover the window. He and Troy covered the broken window with plastic bags and sealed it with tape. I couldn't help but laugh the whole time. I was just surprised to see a senior officer being so helpful. We were really fortunate.
Five minutes later we arrived back at the station, happy we made it back unscathed. Arturo stopped the car, motioned to where the highway was back to Boquete, and without any hesitation, he shook our hands. "Good luck," he waved, as he walked back to the station gates. Troy chuckled as he assumed the driver's seat,
"Can you believe what just happened tonight?" He laughed. I laughed back, "More like, what about this entire day?"
We laughed the whole drive back to Boquete, recounting every detail of the crazy, archaic reporting process and the surprising kindness of the Panama police in Boquete and David.
When we arrived back at the hostel, we were greeted by the employees and guests, anxious to hear what happened. We drank some cold beers and loved the opportunity to retell the story before settling in for a good night's sleep (after we checked the car was okay before we turned in). The next morning we headed back on the road leaving Boquete, and were surprised by the generous offer from the hostel owner, who gave us our room free of charge.
Despite our experience and its challenges, we never expected to see such wonderful acts of kindness when we least expected it.