Setbacks and challenges
We had a few readers ask about our daily exercise program and our progress. I have to admit, we've had some setbacks with our travel workouts…which is why I've been avoiding sending this update. Our last update shared the benefit of stretching.
We were having a great run since we started out on the road 114 days ago. We gained solid momentum on our healthy living and fitness. However, our environment changed drastically with our recent trip to Myanmar, presenting some difficult challenges. And with that change, came the loss of momentum.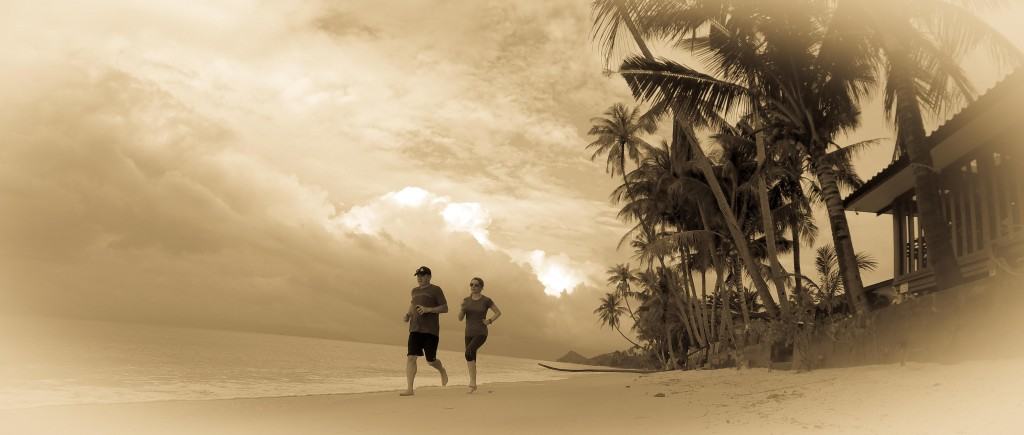 In Myanmar, we fought the effects of long cross-country night bus rides, 10-hour boat trips, intense 40°C+ temperatures, stomach flu, vertigo, small living spaces, and new locations every day. Staying in small guesthouses made it tough to find even a little space for a push-up. Outdoor workouts were unbearable. The morning heat blasted us like a hot blow dryer — needless to say what the afternoon heat was like! Myanmar didn't exactly provide ideal running temperatures.
Some days our travel fitness was walking or hiking instead of  exercises, but it still wasn't enough to get a solid, sustainable cardio workout. We felt the difference immediately. Mentally, we were guilty of neglecting our goal. Physically, we were less energetic and more tired throughout the day. Did the lack of exercise play into our low energy and illness? Perhaps.
Getting back to a schedule required us to take what we learned, move on, and propel forward.
What we learned …
New locations take time for us to adjust.

During our trip, we moved home base more frequently than ever. It took

time

to adjust to the new environment and get comfortable doing the workout. Maybe these are excuses, but little changes threw off our focus.

Routine is crucial.

When we had a schedule where we'd dedicate a set amount of time to exercise, our workouts became non-negotiable. Once it felt automatic or subconscious, it incited action within us. So why was it so much harder to stay committed to a workout when we had a routine back in our old, pre-traveling life? Our days were more structured and planned, but distractions got in the way!

Distractions:

It doesn't matter whether we are long-term travelers or career-city people — distractions get in the way of good fitness habits. The goal is to place high importance on working out, to ensure that it's non-negotiable in the calendar.

Accountability:

We missed the accountability our readers give us and Mike, our fitness

coach

when we were offline traveling in Myanmar. Our lack of "checking in" online was an easy excuse not to complete our exercises. Fortunately, Mike gave us a pep talk later that any amount of activity is better than no workout at all. I've been living that advice ever since, and it's keeping me focused on the goal instead of self-sabotaging with regrets.
Moving on…
We are back in a daily routine now, living in our new home base in Bali. The consequences of losing momentum last month still weigh on us, but we've been prudent to schedule exercise every day. We know this new healthy habit is a process, and there will always be some give and take.
Below, we've shared our last routine, Workout #5. This one is my favorite so far. It's challenging and rewarding at the same time!
If you are new to our programs from The Wellness Bucket, our first workout is here.
Workout #5 includes two sets:
Set #1 is aerobic, and Set #2 is strength training. Each day, alternate between Set #1 and Set #2. One day a week do both! The day following is then a full rest and recovery day.
(Check the links on each exercise for a demonstration of the exercise on video)
Set #1: High-Intensity Aerobic Training (HIAT)
Bundle #1
Jumping Jacks (1 min)
Burpees (1 min)
Low Laterals (1 min)
Bundle #2
Low Laterals (1 min)
Squat Jab Punch (R side – 1 min)
Bundle #3
Low Laterals (1 min)
Squat Jab Punch (L side – 1 min)
Bundle #4
Hill Climbers (1 min)
Alternating Knee To Elbow Plank (1 min)
Plank (1 min)
Set #2: Strength Training (ST)
Bundle #1
Walking Lunges (30 reps)
Single Arm Tricep Press (10 reps, each side)
Push Ups (15 reps)
Bundle #2
Single Arm Tricep Press (10 reps, each side)
Push Ups (15 reps)
Jump Squats (20 reps)
Bundle #3
Push Ups (15 reps)
Jump Squats (20 reps)
Walking Lunges (30 reps)
Bundle #4
Crunches with Knees Bent (20 reps)
Leg Raises (15 reps)
Knee Tucks (15 reps)
Looking for an added challenge? Once per week, we complete the ENTIRE workout:
High-Intensity Aerobic Training Bundle #1
Strength Training Bundle #1
HIAT Bundle #2
ST Bundle #2
HIAT Bundle #3
ST Bundle #3
HIAT Bundle #4
ST Bundle #4
The day after is a much-needed rest day.
Ok, we know what you're thinking. This workout looks hard, but try it a few times. It gets easier while remaining a significant challenge.
Happy exercising!