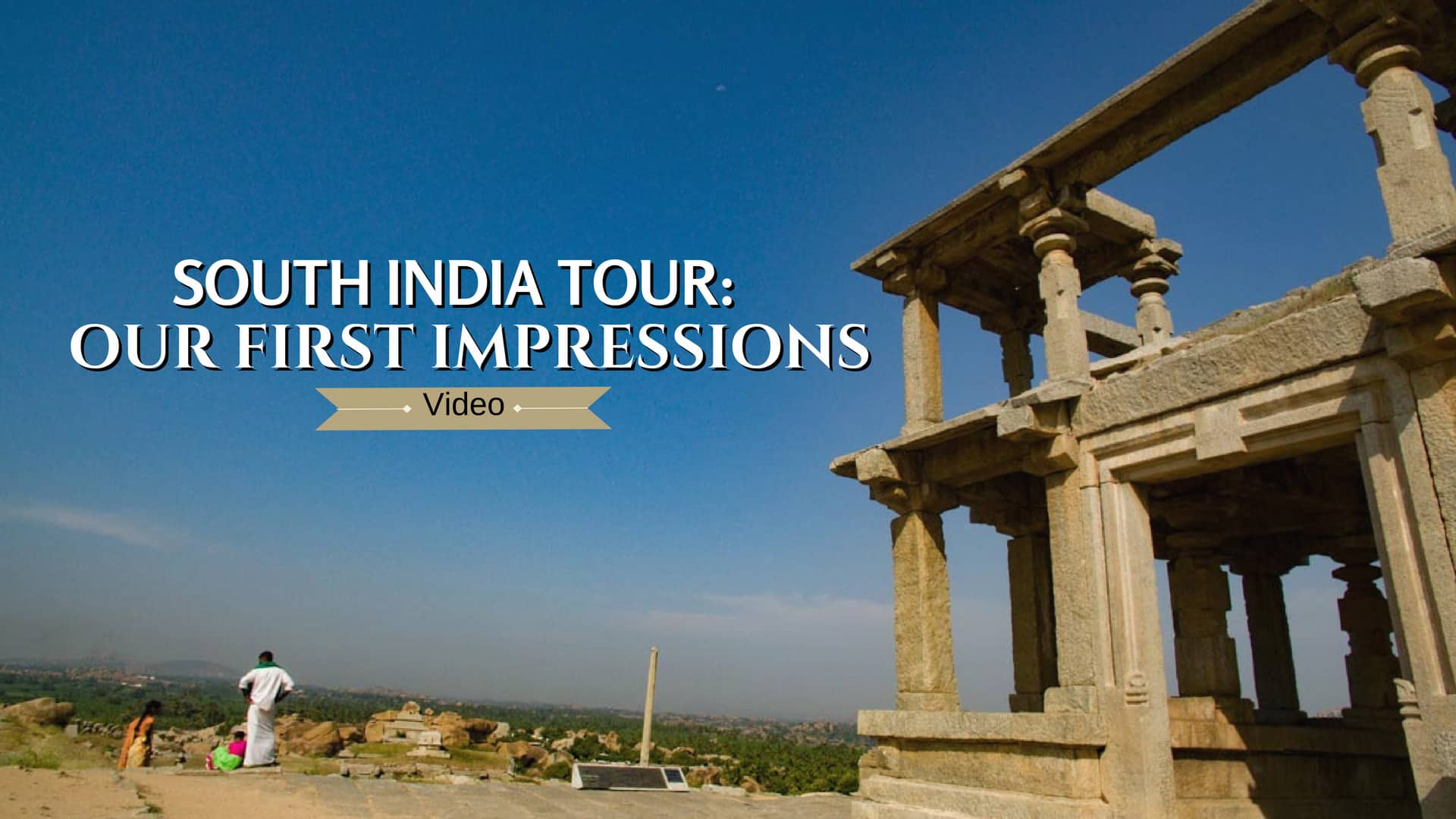 South India Tour: Our First Impressions (Video)

This is our first time to India and our first month on a South India tour.  We plan to be here for 3 months, perhaps longer. We wanted to share our first impressions during our  travels and the places we've explored thus far.
South India Tour: Our First Impressions
First of all – We were always told that India is an attack of the senses and it definitely is. The sights, sounds and smells are heightened – probably more than everywhere else in the world.
We are in awe – because no matter where you go, it's different than place you were at before.
We put off travel here for years – Questioning whether we were ready for it yet, would our stomachs handle it? and would the noise, crowds and smells be too much for us?
We are loving the experience here because of the positive attitude we are taking with it. If we think it will be too loud, too dirty, too hot or too exhausting— it will be. Its not like our 'traditional home" And I think we've probably laughed more here, than we have in other destinations we've traveled.
Where We've Been So Far
So far our stops on our South India tour were:
Mumbai – The big Cosmopolitan and home to Bollywood in India's Southwest
Goa- Beach area with Portuguese influence with focus on Palolem Beach
And to Hampi, Karnataka, the Unesco World Heritage Site.
We are traveling slowly, spending several days in each place – for part exploring, part working and part relaxing.
South India Tour: Where Next? 
To the state of Kerala – on the southern coast until Mid November. We plan to stroll fishing villages, beaches, and boat down the infamous Backwaters.
Then we are working on an interesting opportunity, more on that later.
TIP: The way you can fight the weariness that India tends to bring on — Is travel slowly, if you can stay longer somewhere that you really like – stay longer.  That is the benefit of independent travel.
Looking for more from us on our South India tour?  Stay tuned, so much more to come. Have you considered traveling longer term for a few months or more? Here is our detailed check list on how to prepare for it.
Like it? Pin It!