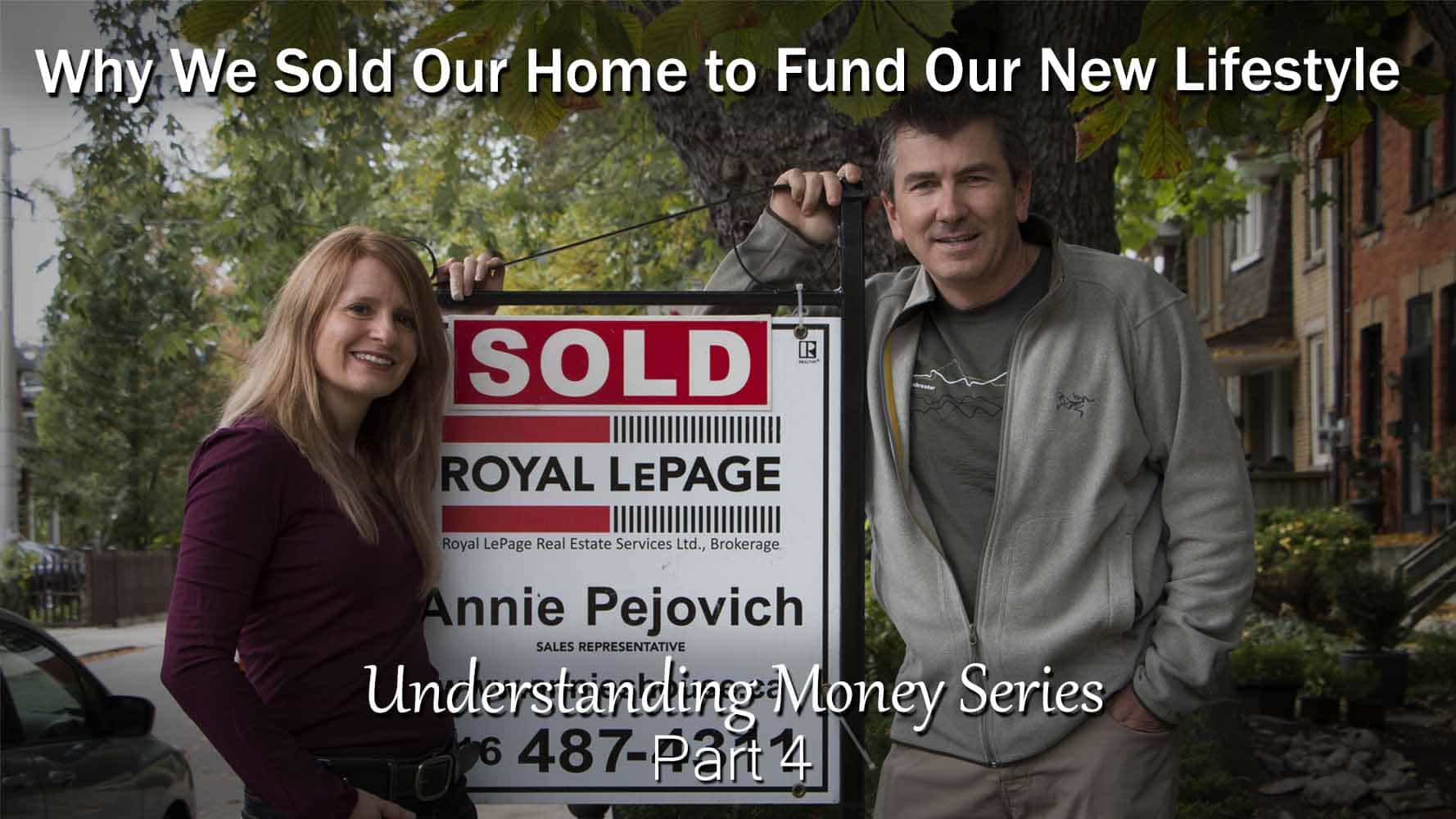 Why We Sold Our Home to Fund Our New Lifestyle |Understanding Money Part 4
This is part four of our five-part series about understanding money. We looked at our biggest expense and our greatest asset—our home to fund our new lifestyle. We've collaborated with our financial advisor, Matthew Lekushoff, to discuss why chose to sell our home and invest our resources. This topic and the other elements in this series led to our money management plan to live and work anywhere in the world.
 When Troy and I first got excited about the idea of creating a new lifestyle, there was little deliberation about the future of our home—we were adamant that we would rent it for a year while we traveled.
We bought our home ten years earlier in a once undesirable neighborhood that quickly gentrified into a trendy area with vintage charm, excellent restaurants, cafés, and bars—all within walking distance to downtown Toronto. Throughout the years, we replaced the furnace, windows, re-insulated the walls, rebuilt the rooftop deck, added a bathroom, and renovated the other bathroom. It was a labor of love, but also a significant,costly commitment.
During the planning phase for our new lifestyle (from January 2014 to January 2015), we added "rent the house" to our detailed to-do list. It was at that time we met a friend for coffee, and she asked us a very pointed question,
Hmmm. We hadn't thought of our home as something we might not need. This one question, along with the work on our values and goals, became the catalyst to re-examining our views on selling.
When we met with Matthew Lekushoff, the topic of our home was a big piece of the discussion. After evaluating all our options, and gaining insight into Matthew's perspective, we changed our minds. We decided to sell our home and invest the proceeds of the sale, after paying off our mortgage and other debt. We would use these funds as an enabler for our new lifestyle. (We discuss this investment approach in detail in Part 5 of this series.)
It may seem downright crazy that we sold our home in a city and a neighborhood in a thriving real estate market, rather than wait another ten years or more. We didn't take this decision lightly.
Not every housing market in the world is considered a good market these days, so we appreciate your real estate and financial situation may be different from ours, but here is why we sold our home to fund our new lifestyle.
1. Freedom—We didn't want to remain slaves to our home
Owning a home was no longer consistent with the new values and goals Troy and I established. Freedom was our ultimate aim. Freedom from house and utility payments, freedom from unforeseen, surprise home expenses. Take, for instance, expenses such as basement flooding repairs, roof repairs, appliance breakdowns—we wanted to stop the house outlay insanity! We wanted independence, to go where new job opportunities were, to travel more often, instead of feeling stagnant in the same place. Above all, we craved a different, more flexible, lifestyle.
2. We took the emotion out of the decision
Of course, we needed shelter, but did the idea of "home" need to be the same version of the houses we'd had before? From a young age, we were both programmed into thinking that buying a home was an aspirational goal in life, a symbol of success. Although home ownership had some joys, it definitely had more frustrations.
Rationally, we asked ourselves: "Will we come back to this home and live in it to enjoy it or will we become absentee owners for a rental property?" We had no family in Toronto, and neither of us wanted to retire in this home.
We realized we were holding onto the house for sentimental reasons, not practical. We feared setting ourselves free of the responsibility and security of owning a home, in case our new lifestyle didn't work out. It was for comfort. It was an emotional response.
3. Becoming absentee landlords didn't appeal to us
Plenty could have gone wrong in our home while we were away and we didn't think we would have the patience or time to deal with them remotely. We would have to deal with tasks such as:
Hiring a good property manager to manage the day-to-day for our house.
The property manager would need to find suitable tenants to live in our house on a consistent basis (without our input, or approval).
We would need emergency funds available for home issues (we knew we had some aging appliances and a 125-year-old house—ANYTHING could go wrong).
We decided to reject this approach, to free ourselves from this headache.
 4. Getting out of the housing market allowed for more diversified investments
After talking to Matthew, we liked the idea of putting our money in flexible, diversified investments because:
Owning a home is the least liquid of investments

—if you need money, you can't take it out. In fact, you will likely require more money to spend on repairs, a down payment, and taxes, etc.
We were fortunate that our house had appreciated in the ten years of owning it. However, that hadn't been the case for our previous homes years earlier where we barely made our investments back.

To buy a home, you may need to borrow money for a down payment

, meaning you create a deficit situation with no guarantee you will make money once you sell it. Not to mention other big costs including mortgage interest, property taxes, and land transfer taxes. Before you know it, you could spend much more than you planned! Although this didn't apply to us at this time, it's another good reason to reconsider buying.
 5. We've since discovered housing alternatives; some that even allow us to free our money and invest consistent with our goals
Renting-

 Other than a damage deposit, there are no taxes, no mortgage interest, no maintenance fees, no unplanned spending. Some people would debate these costs are factored into the rent, but from our experience, landlords typically cover their utilities and mortgage costs, making this option more economical. If you are wise with saving, you can free up these funds and invest them into a dream fund. Finding rental properties is easy with several online postings.
Pet sitting/Housesitting: We saved six months of rent and payments by leveraging the sharing economy. Instead of a homeowner putting their pet in a kennel, we cared for homes and pets while the owners were away. This option doesn't just apply to short-term vacation periods—this can include several weeks, months, or years, depending on the homeowner's situation. We've used Trusted Housesitters and Housecarers as a service to save thousands of dollars on rental costs.
Renting your home or a bedroom as an Airbnb– This is a hybrid model to rent out a room in your owned or rental home to offset the cost of your mortgage, your utilities, and expenses. Not only is this a great way to recoup funds, but also you meet some great people around the world.
Based on all these rational reasons above, this solidified our decision to sell. In fact, it led us to question why we would ever buy again. Here's why. 
1. Uncertain Interest Rates
If and when interest rates rise from these historic low rates, buying and keeping a mortgaged home could be problematic, forcing anyone to spend more than they originally intended. However, if you aren't a big saver, a mortgage can be a forced savings mechanism where you have no option but to pay for the house.
2. Unrecouped home repair costs
We also realized that when selling our home, some of the improvements we made didn't pay off. We had a Victorian Rowhouse with two neighbors attached on each side. An old character home meant old methods of drywall and insulation, thus creating a poor sound barrier. After spending thousands of dollars to fix the sound problem, it did nothing to increase the value of our home. Home repairs are not always planned, nor do they always create positive gains on your future home price.
3. Home ownership can perpetuate the accumulation of stuff
Home ownership can create a cycle of unnecessary spending and overwhelming clutter. When it's your home, you want to decorate it nicely and live comfortably with things you like—until you no longer use them and they end up in the basement or cupboards. Of course, this is true if you rent your home, but when it's yours, there is a heightened sense of accumulating. We have been down this path of unnecessary spending and clutter, and we do not want to go there again. This system slowly devours your paycheck, where you could have spent that money investing in something that scientifically creates more happiness.
What are your views on selling your home or considering alternatives to home ownership? What decisions would you make to create your new lifestyle? 
Coming next week: Part 5 of our Understanding Money Series – How we afford to travel long-term
 Like It? Pin It!