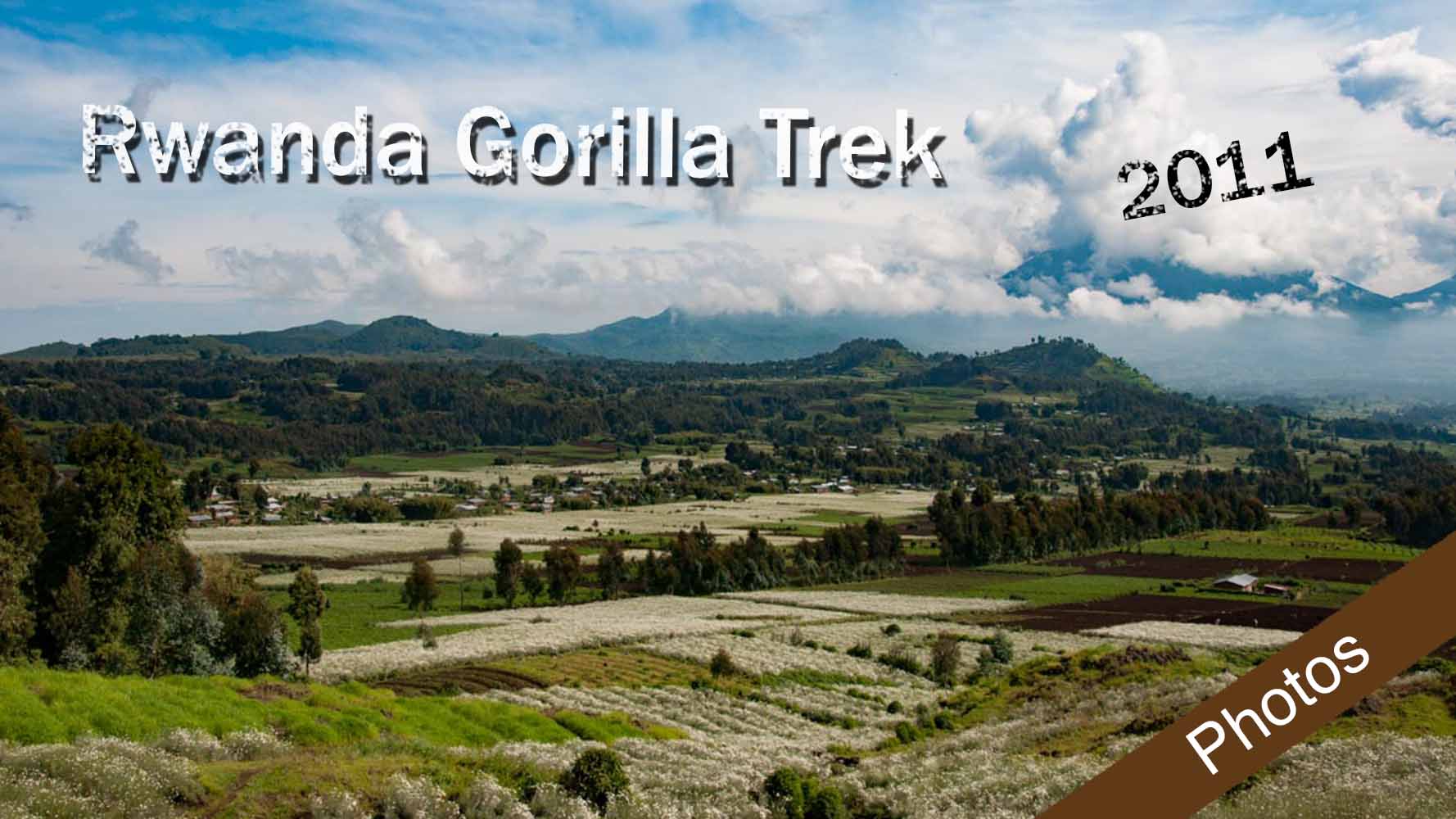 Rwanda Gorilla Trekking Picture Gallery
Why do the Rwanda Gorilla Trekking Trip
The Rwanda Gorilla Trek was one of the most unforgettable experiences of our lives. Five years ago this week, we made the time to experience a significant event on our bucket list.
We did an organized trip with Intrepid Travel to explore overland parts of Kenya, Uganda and Rwanda.
Where can you do Rwanda Gorilla Trekking?
When we arrived in Rwanda, we headed to Ruhengeri and into the Parc National des Volcans, or Volcano National Park.
This vast 13,000-hectare park is diverse with a bamboo forest, grasslands, and marshlands, in the carefully protected home to ten different gorilla families. Despite the numerous conservation projects, the Mountain Gorilla is still faced with the danger of losing its habitat and to poaching. Although, it's believed their numbers are slowly increasing.
The trekking day started early with a hike up the bamboo forest for a couple of hours with a guide and a security guard (for protection against any animals, or poachers). The hike was steep, muddy and wet in areas and challenging walking at times on the pressed bamboo sections. The guide communicated with a tracker on his team. This is a person that is responsible for following the gorilla families each night, to ensure the groups will see a gorilla family for one single precious hour.
Once we arrived close to the area, we were told to drop our walking sticks, as gorillas can't distinguish them between a stick and a gun. They remember and fear poachers, so any similar object could scare and irritate them.
Soon we saw one of the young gorillas swinging from a tree and we couldn't believe our eyes. A family no more than 3 meters away from us, watched us with curiosity as we stared at them. Our guide quietly grunted to them, a way to settle them down if they got a little anxious by our visit. It's almost eerie to watch their moves that are a mirror image of our own human movements.
This tour is an experience not to be missed, at the time it was a mere $500 USD to hike up and see a family of gorillas. They only allow one group to view the gorillas for only one hour each day. It was worth every penny.
How to get there:
This trip requires you to book with a tour company and agent, there are lots of options, and we especially like the travel style at Intrepid Travel. Search for the Mountain Gorilla trek trip, there are also all kinds of options to explore other parts of Rwanda.
For more photo galleries of our travels you can find them all here.
Note: By using the links on this page (at no extra cost to you) it will generate a small commission from any sales. We recommend Intrepid Travel because we have been on many of their trips and we think they give you a real taste for meaningful travel experiences.  This helps us keep providing quality content and tips for you. Thanks for your support and enjoy this great service!