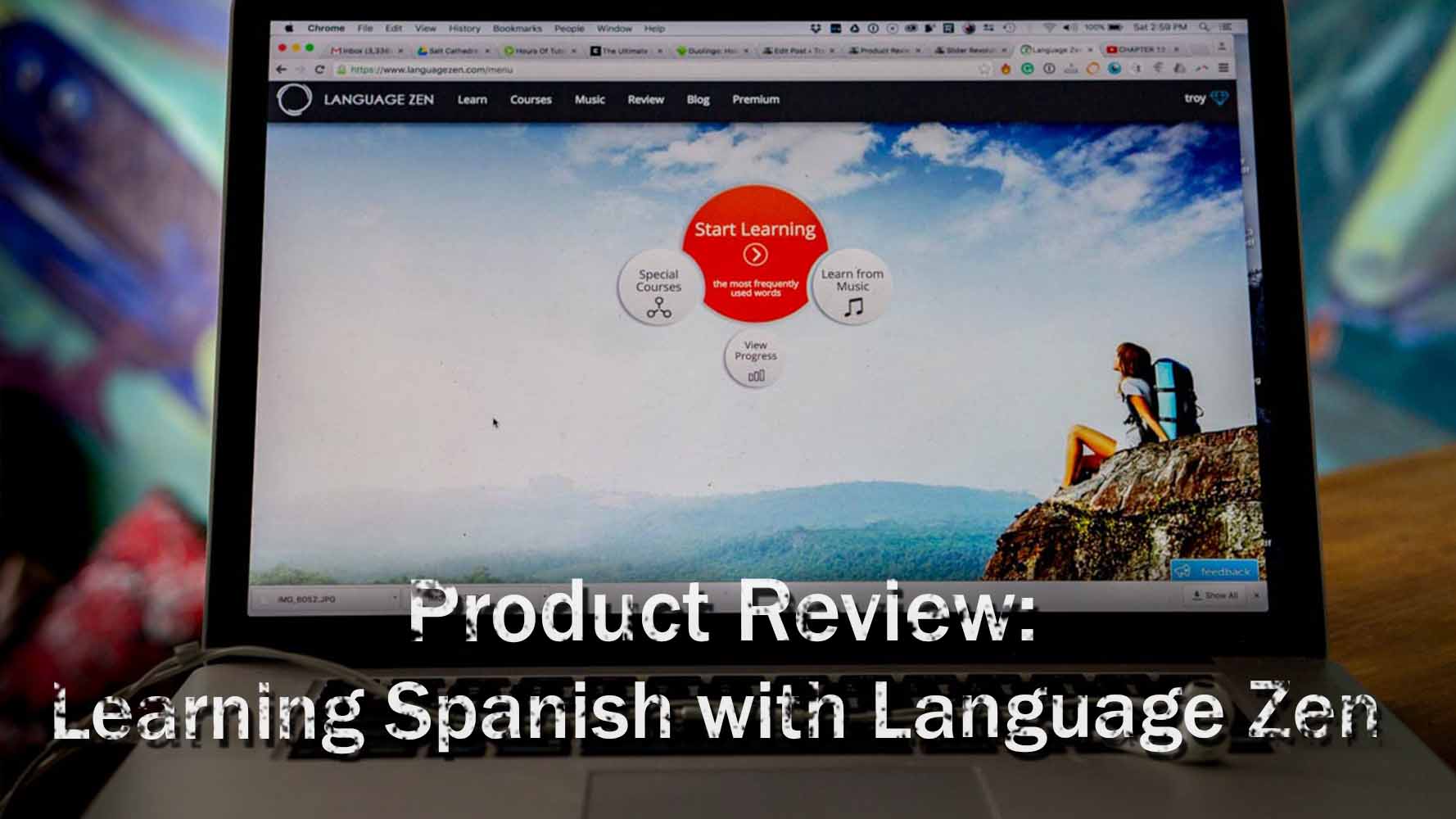 Product Review: Learning Spanish with Language Zen
We've been in Latin America for close to eight months, and we've had our ups and downs with our ongoing relationship with the Spanish language. We started with our homestay and private classes in Nicaragua, then worked on our speech as we traveled down to Costa Rica and Panama. We discovered early on, each country has its own set of words, phrases, accents, and speed. Now, we are living in Colombia for a few months, and we've completed a month of group classes at Colombia Immersion.
Formal Spanish classes were a good foundation for us when it comes to grammar, but they were not an instant solution in becoming conversationally adept. It takes plenty of practice and confidence to achieve that. And so, we continued to search out help in this area.
 Our discoveries with learning Spanish are:
 1) Troy and I learn completely differently. I enjoy a class setting, especially a small group environment; it encourages me to learn, and to be measured but I never speak often enough. Troy hates the class setting (his words), and it reminded him of being back in grade school. He was never a good student and being back in a classroom brought back a lot of frustrating memories.
2) We come from a society where being wrong isn't a good thing. We put a lot of pressure on ourselves to speak correctly and to be understood. As a result, it took the fun out of learning. At times, it's often stressful! Although this feeling is subsiding for me, that the feeling remains within me every now and then. Thanks for the advice from our readers, I continue to speak in the present tense, but now I need to move on.
3) Confidence. Having the confidence to speak is crucially important. We both keep thinking about learning French back in grade school in Canada. It was mandatory and we learned it in a challenging 30+ student classroom setting. This kind of learning is not a friendly, supportive, or fun environment.
We found a tool to develop our Spanish learning.
The name itself is a good indication that it can take the stress out of learning a new language. We both agree that this program does exactly that.
 Language Zen features:
It customizes your own learning to your needs and requirements at your own pace by:
1) Different courses and topics – There are different short courses on various topics wherein we get to explore "real world" scenarios with words most commonly used – for example, ordering in a restaurant, or how to get around.
2) Learn using music – Learn lyrics of Spanish songs, as an aid in memory, association, and fun.
3) Resource tools as you go – There are explanations for each word you choose (or don't choose) as you move along the course.
4) It works with your own needs – The sessions move at your own speed, based on your particular needs. In addition, it allows you to skip materials that you already know. The courses include writing, speaking and listening skills.
 What I like about Language Zen (Dorene)
 1) Wrong isn't wrong – Just because I've made a mistake, it doesn't mean the whole phrase is incorrect. I may miss an accent or a letter, but it didn't matter. As a learning process, it points out what my issues are so I can correct it. It's a confidence boost, and it helps me learn from my mistakes more efficiently.
2) Built in Spanish Dictionary/resources – When I don't fully understand a concept, I can click on the particular word to know what it means and why it's correct, without referring to a separate dictionary or to Google Translate. It's efficient to use. Duolingo doesn't give you this feature and often I am left guessing why a particular phrase is incorrect.
3) Progress – I like the progress bar after each section that shows how I'm doing against the sessions and the work done. I also really like that I can skip words and parts I already know. The program still includes reviews, especially when I haven't used the program for a while.
What I like about Language Zen (Troy)
1) Real world practicality – I know I will never use the phrase: "Mis pantalones son de color rojos" (My pants are red). I can learn phrases that I can really use! This is a disadvantage we find using Rosetta Stone.
2) Learning independently – I do hate the classroom setting and I work best with one-on-one tutorials. I like to work on lessons at my own time, in my private space. (These are signs of a true introvert.)
3) Music – I love learning music lyrics. It brings fun back into learning. Plus, it shows me how many of the words I have learned already, or those that I can apply to the other courses. Another confidence boost for me is to find out that I often know more Spanish words than I think I do. Neither Duolingo or Rosetta Stone have this feature and I enjoy it.
Notes:
– We recommend using a good set of headphones with a microphone (not just your speaker computer and ear buds) and complete  your practice in a quiet room. Often background noise limits  the program from picking up your responses.
– There isn't an app for Language Zen but we can access it online from our phone. When we are offline traveling we don't have an opportunity to use it.
Membership cost: Language Zen is free initially and limits your usage by time. You can get full, unlimited access at $7.95/month(USD). Memberships are also available for schools or groups.
Languages: Currently, Spanish is available only for English speakers. Although they have plans to launch Spanish tutorials for other languages, they are also open to feedback and suggestions as to what to offer.
 You can try out Language Zen for free at: Language Zen 
We always like to hear about your experiences learning a new language. Please let us know your views 
Like it? Pin it!  
 
 We received a complimentary premium account to evaluate this product. We recommend Language Zen because we use this program ourselves, and we are benefitting from its courses.