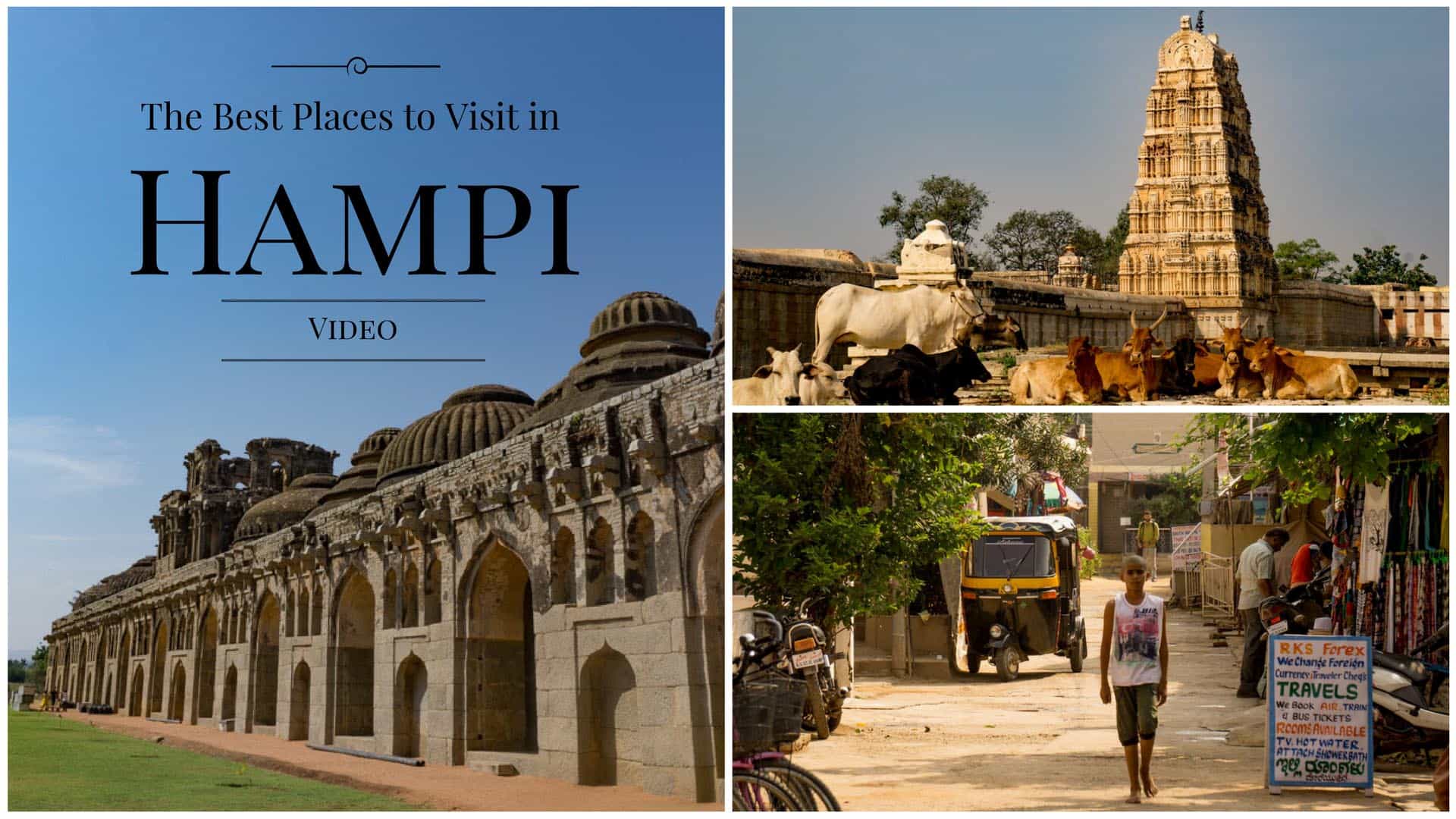 The Best Places to Visit in Hampi

To some travelers, Hampi is the place for a historical walk through time, as it is one of 35 UNESCO World Heritage Sites in India.  It is located in the state of Karnataka southern India, was once the capital of a grand empire called Vijayanagar, not just a Hindu society but a multi-faith society. Thus, it boasts different temples, ruins, and ancient palaces. For other travelers, Hampi is a hippie hangout that is teeming with yoga and meditation places.  Regardless if these activities are your thing or not, here is our view of the best places to visit in Hampi and why it's worth a stop on any South India tour.
Hampi offered us something different; stretching our plans from two nights to almost a week.  We fully expected the heat, the pace, and the crowds, everywhere in India would suck the energy out of us. But not in Hampi.  It is a laid-back reprieve from the hectic nature of this country.
Troy and I aren't yogis, temple trotters, or hippies – the type of people that Hampi has a reputation of catering to. Instead, we are just a mid-life couple that wants to explore India at our own pace, in our own way.  We loved Hampi as it allowed us to wander through history, enjoy some natural scenery, spend our afternoons relaxing and working (when the power and internet would cooperate), and, of course, enjoying great Indian food.
Hampi is a strange curiosity. Initially, you may feel like you've arrived on the film set of the Flintstones or Jurassic Park. The landscape consists of immense boulders clustered in areas with 13th- 14th century stone temples scattered within the rock sections, and dotted with palm trees,banana plantations and rice fields. This is why there are many places to visit in Hampi that make it a fascinating stop in your travels.
But to enjoy Hampi, we highly recommend you choose your location to stay wisely.
One choice is the Hampi Bazaar. It is a disorganized, makeshift town of endless shacks made of concrete, straw, and plastic, separated by rows of  guesthouses, restaurants,clothing and jewelry shops. And all this, built one on top of another.  It does have its own eclectic vibe with its non-stop sounds of jewelry hawkers, chai tea merchants looking for their next buyer, and rickshaws offering tours to the temples. Hampi Bazaar is an interesting spot for an afternoon visit, but it is probably the worst part about Hampi, and we wouldn't recommend lingering there. A short visit will do just fine.
For a laid back, slower pace with a small village ambiance, your best bet is Virapuhar Gaddi, across the river from the Hampi Bazaar.
Virupapur Gaddi can be reached by a short boat trip across the water (locals call it a ferry, but it's just a small motor boat.) After a few quick steps up to the top of a hill, the area opens to a view of rice fields complemented with sections of boulders and palm trees.  To the left is a narrow road lined with shops, restaurants, and guesthouses, serving the majority of the guests staying in the area. Sure, you will be approached to rent a motorbike, take a ride to the Monkey Temple at sunset or to buy a tour of the temples – but the action on this side of the river is quite tame.
Our favorite places to visit in Hampi – Virupapur Gaddi
Interestingly, most of these restaurants and establishments are suited for meditation! They have low tables and cushions where you can kneel, sit cross-legged or lounge lazily with your legs straight-out (you may as well be in your own home) while enjoying the views of the river or the rice fields. We had some of the best and consistently good food in this part of India. Most restaurants also double as guesthouses with well-priced rooms and cottages. In hindsight, we would have picked our choice in this area after we arrived as there are so many guesthouse options that need to be seen to suit your needs.
Laughing Buddha – They have great views overlooking the river. Plus, this place has incredible curries.  Our favorites were the Pineapple Cashew Curry and the Spicy Potato Curry. We recommend you also try their Pineapple Lassie's.
They advertise their focus on the cleanliness of their restaurant and food, and we never had issues there.
Service is slow, but the view and comfort make it worth the wait.
They have some guestrooms available here, too.
Nargila Guesthouse & Restaurant – They have excellent food, great atmosphere, and friendly staff. Reasonably priced cabins are also available here.  The Veg Thali was the best I've had in India. Attractive cabins are available here.
Gopi Island Guesthouse & Restaurant – It's probably, the friendliest spot on this side of the water.  They have excellent filtered coffees and breakfasts, lunch and dinner. Here we discovered the Veg Bullets (vegetarian sausages in a spicy sauce – excellent appetizer big enough with Naan, for a meal.) Reasonably priced cabins are also for rent here.
Gouthami German Bakery/Restaurant – This place has inexpensive breakfast and excellent espresso machine-made coffee. (Good espresso and filtered coffee, which is not already doused with sugar and milk, is not easy to find in India.)
We stayed at Shanthi Guesthouse in one of their standard cabins with a garden view.  For a more comfortable, cleaner experience, we highly recommend you book one of the  more expensive cabins looking over the rice patties.
Our Favorite Things to do in Hampi
(other than laying in a hammock at our guesthouse and relaxing):
Temple Tour by Rickshaw
(By our own design) – We enjoyed exploring the temples at our own pace. We hired a rickshaw driver to take us to his favorite spots and wandered through the ruins on our own.  Highlights are definitely the Elephant Stables, the Vijaya Vittala temple, and the underground Shiva temple.
Visit the Hanuman Temple (Monkey Temple) at sunset
At 5 pm, we hired a rickshaw to take us to this place, and then we walked up the 575 steps to the temple at the top, turned left and hiked up the rocks to the ideal sunset spot. There we also enjoyed some of the most incredible views of Hampi. This walk is not only sweaty, but it's also a great dose of exercise. On the way up, we encountered hundreds of mischievous monkeys climbing the rocks and watching your every move, just in case you brought them bananas.
The Future of Hampi
If you read in the Lonely Planet guidebook, the original Hampi Bazaar was taken down and bulldozed in 2012. Since the tenants were evicted and moved, businesses were rebuilt further away. The businesses in the new Hampi Bazaar, and now Virupapur Gaddi are at risk of being removed from where they currently stand.  By UNESCO World Heritage standards, they want these businesses to move further away from the temples. Thus, these business owners have been tied up in court for years with the government. Perhaps these plans will unfold, and if so, Hampi will transform. It's difficult to say whether this will be good, or bad for the people of Hampi.
How to Get There:
 From the train station, it is about a 20-minute rickshaw drive to the water's edge.
Walk down to the steps of the river to line up for the small boat (a.k.a. "ferry") for 10Rupee, or 20Rupee if you are carrying luggage. The boats start at 8 am and end at 5:30 pm. Initially, I thought we would be 'landlocked' in the evenings, and we'd miss out on the nightlife and restaurants in Hampi Bazaar, but that was not at all the case.
How to make travel to Hampi more meaningful: 
Don't rush Hampi, spend a few nights here; the dry heat will run you ragged, best to take it slowly, at your own pace.
If you travel here, we would love to hear more about your recommendations for your favorite places to visit in Hampi, please let us know.
Looking for more videos of ancient temples and Unesco heritage sites  here is one of our most popular videos.
Like it? Pin It!