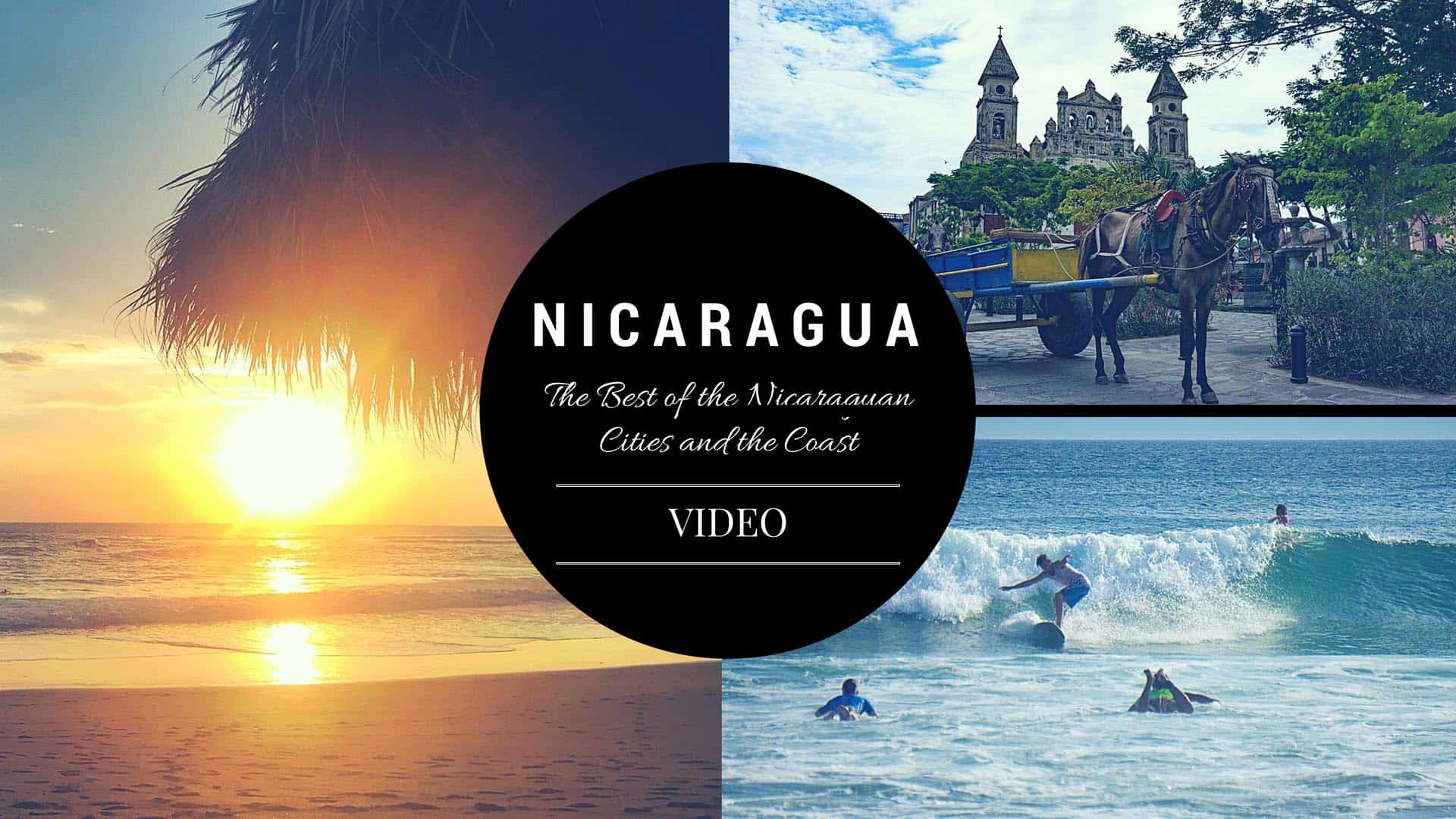 The Best of the Nicaraguan Cities and the Coast

Recently, we visited Nicaragua for our second time, and interestingly, it was this time that we fell in love with it.  Perhaps our change of perspective was due to our new itinerary. Our plan was to visit familiar spots and some Nicaraguan cities we haven't visited, and to take in the Pacific coast.
Our Itinerary: Nicaraguan cities and the Pacific coast
Our trip started in Granada, reminiscing of our time when we visited last year. Back then we walked the colonial streets, drank cold beers at the Calzada, took  Spanish classes and staying with a family, and wandered through the vibrant food market.  This week  we stayed at the lovely  Casa Silas B&B – a two room, colonial house equipped with dip pool and the best breakfast frittata included in your nights stay.
Next up was a three night stay in León. We took a local bus there our first trip seeing this city, the second largest of the Nicaraguan cities. (Managua is the largest ) León is much rawer than Granada, its not entirely colonial like Grenada, and exudes a bit of an industrial feel. Most of our city exploring included wandering around the whitewashed cathedrals, watching holiday parades and Catholic festivities. We also discovered that León, hands down, has the best restaurants of all the Nicaraguan Cities.
Las Peñitas
A short 20 minute bus trip took us to the coastal town of Las Peñitas. An area known for  surfing sunbathing and relaxing. It certainly delivers on all of this. Despite its well-known reputation, Las Peñitas is surprisingly underdeveloped with comfortable spots for food, drink, and lodging. It has a  touristy yet local approach. Best time to visit is Sundays; it's teeming with families and León tourists ready to surf and enjoy the day. We stayed on the beach at the simple, and comfortable Simple Beach House.
Salinas Grandes
Further south past Las Peñitas is Salinas Grandes, or "Big Salt." We spent two nights here, and wished we spent more. This area is an entirely different vibe. Rugged roads get you into the Salt Flats – where salt processing plants harvest huge mounds of salt. About 20minutes later by 4×4 (ideally as in rainy season the roads can be washed out) you reach the beach area of Salinas and view some of the most secluded, quiet beach areas we have ever seen. There are incredible surf waves right at your doorstep and miles of beach where virtually no one is around. We kicked back at this stunning and affordable ocean front villa (owned by a friend and marketing client of Dorene's) for a few nights. We definitely need to get back there again very soon!
We missed out on visiting Ometepe Island this time around, although we have lots of great tips after spending  2 months living there last year. You can find our posts on Ometepe Island and Nicaragua here.
Like it? Pin it!!