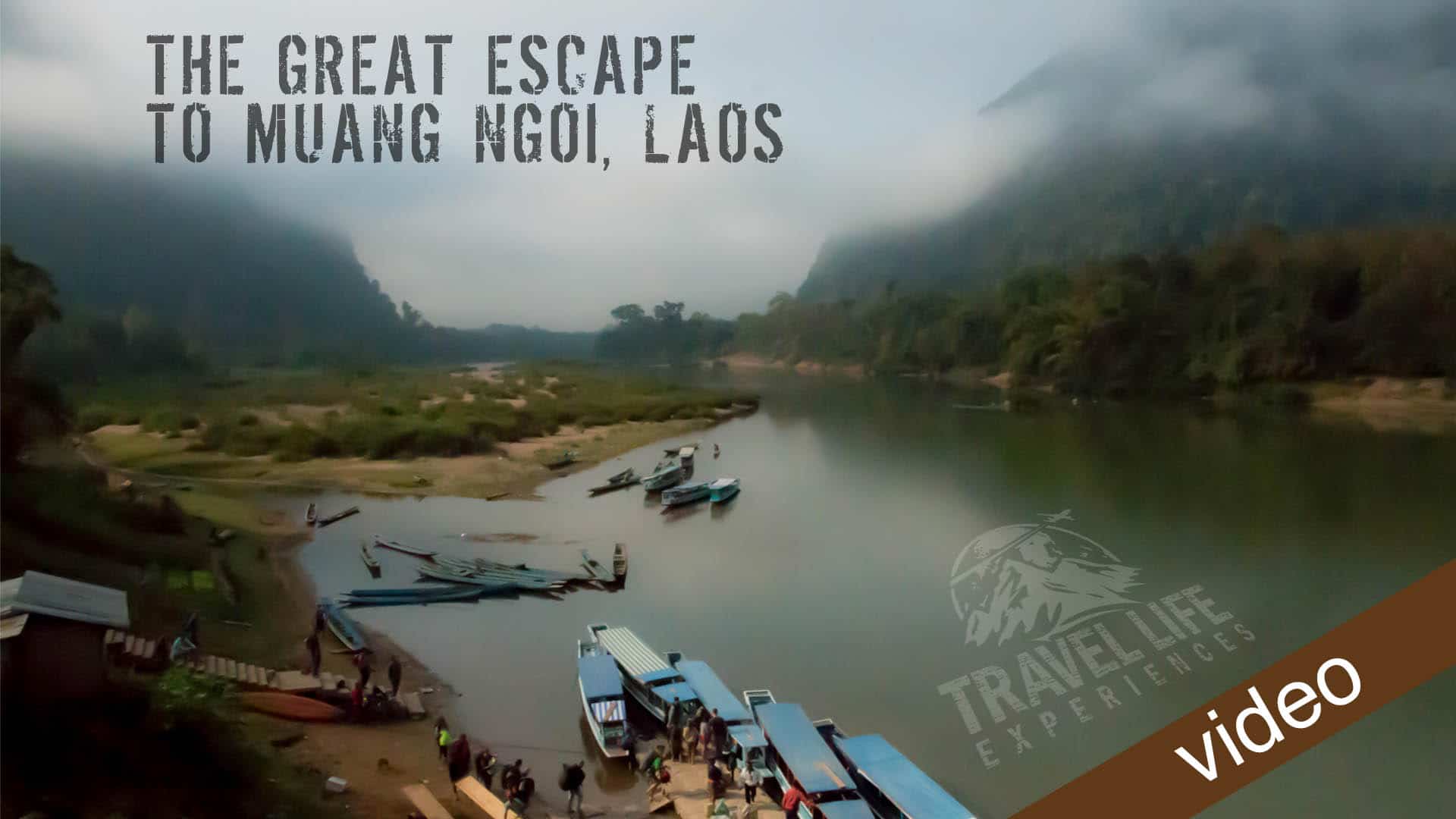 The Great Escape To Muang Ngoi, Laos
There is nothing like a getaway for a few days, to recharge, regroup and enjoy the surroundings. Even though we are traveling full-time, we still crave this! It's even better when we are unavailable to the rest of the world. That place for us was Muang Ngoi Neua, a quiet town in the North of Laos – Only accessible by boat.
Small villages are a perfect place to watch and experience a culture on a small scale.
The best way to get there is an approximate 4 hour mini-bus ride from Luang Prabang to Nong Khiaw, get a quick taxi down to the harbour and buy a ticket for the incredibly scenic 1.5-hour boat ride by long-tail wood boat.
The only way to get there is by boat, which means everything comes on the boat, even large appliances bought by families in town! Of all our boat trips so far, this one by far is the most memorable. Stunning views, lots of life along the water as we sailed past the limestone karst mountains enjoying the cooling breeze.
We took our speed and pace down a big notch in Muang Ngoi. It's such a welcoming, comfortable little village. There is no shortage of travelers and guesthouses to accommodate them, but somehow we felt on our own most of the trip.
Trekking in Muang Ngoi is excellent. It can be done as a day trip. It is easy to go off on your own and  starts with a village walk to neighboring farms, then climbing up to a lookout high above the town and river. Spend the afternoon exploring caves to cool off from the hot sun.
There is one Buddhist temple in Muang Ngoi. It's a small temple, and the morning wouldn't be complete without an alms giving ceremony by the monks even on a small scale. Six monks chant and sing to the homes and businesses on the main street.
We could have stayed another day and travel upstream to see some other villages. There was only one boat back to Nong Khiew. If we missed the 9 a.m. boat back, we would need to stay another night. We wished we had another night there.
The ride back was equally enjoyable; especially the running start to make the boat get back upstream! Unfortunately, we felt our stay here was too short. The next morning, we were back on the water and back to Luang Prabang where we sadly say goodbye to Laos. For now.
Like it? Pin It!!