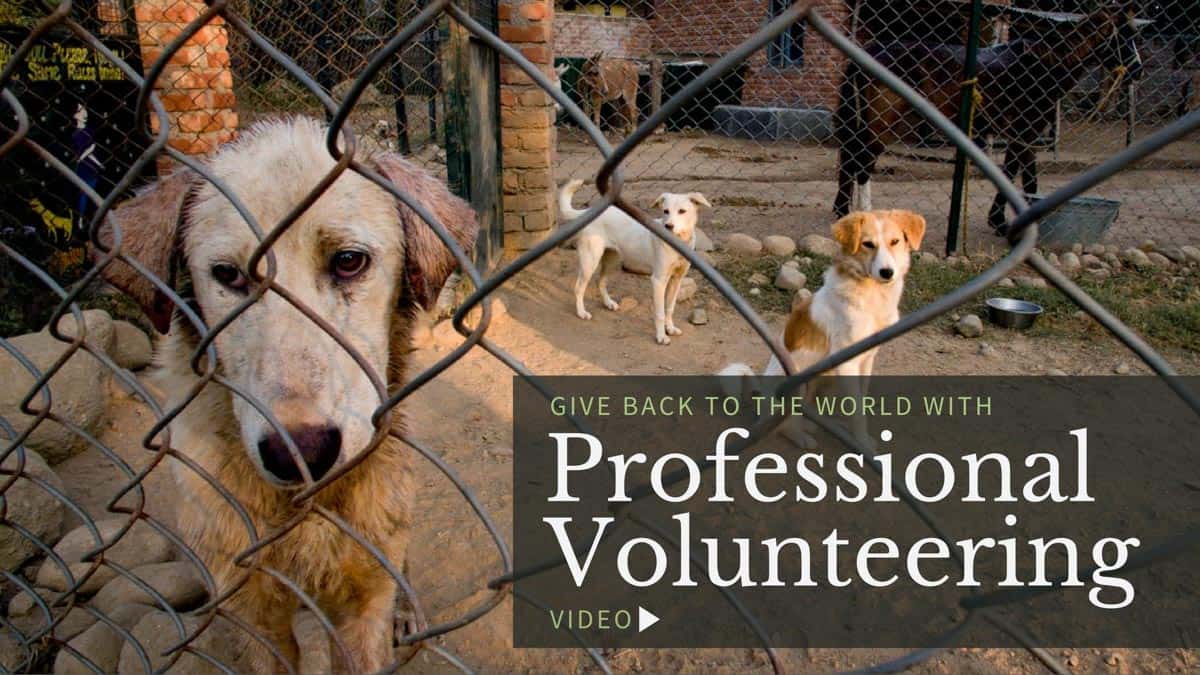 Give Back to the World with Professional Volunteering (VIDEO)

How can you give back to the world, even if you're a professional? Skill- based experience and volunteering. That is Experteering. Part of our three incredible months traveling in India, included a 3-week volunteer project in the North,  at a place call Peepal Farm.Peepal Farm is a stray animal recovery center and organic farm, located In the foothills of the Himalayas in the village of Dhanotu, Near Dharamsala northern, India.
We found this project on Moving Worlds, a great resource to find projects where we can give back by volunteering our professional skills to work for a social cause and non-profit anywhere in the world.
WE love animals, and when we saw this project, we jumped at the opportunity to work on videos about their organization.
Peepal Farm rescue, & alleviate the pain of stray animals, they also practice a lifestyle of sustainability & responsible consumption. So for three weeks we got to be part of this by living on the farm and being up close and personal with a lifestyle we admire that is different from our own.
Why did we want to give back by supporting this social impact project? 
To be honest, coming into this project we had no idea what we were getting ourselves into, we knew little about animal welfare, especially the stray cow problem in India. We're not vegan; we're not even vegetarian but that was okay, we just decided to approach this project with an open mind and open heart.
What Made this a worthwhile experience was shifting mindset coming in.
How we tackled problems in our own country, and our own career experience is entirely different here.
After spending time listening and questioning to understand what is happening here, we created video stories that were a collaboration with Peepal farm.
It's this process that made the work stronger, made it better.
How we collaborated to create meaningful work
We started brainstorming when we arrived with Joellen and Robin– the co-founders.  We brainstormed ideas, fine-tuned their brand strategy and worked on telling video stories about their vision and purpose. So, we started capturing as many stories and footage around the farm and out in the field, and we quickly realized how special Peepal farm is. This isn't just a non-profit, it's rooted in purpose, and it is Joellen's and Robin's way of life.
The good and bad of working with a stray animal recovery center
Watching helpless, injured animals were often difficult to witness. Sadly, their injuries are often caused by human carelessness and cruelty.
A stray dog named Ponchi, was brought in after he bit into an explosive hidden in food; a practice commonly used to kill wild pigs on farms. Fortunately, he survived the surgery he received at Dharamsala Animal Rescue, and he is recovery well, he's eating and drinking, and often looking for some affection. Regrettably,  we witnessed other animals that didn't survive their wounds.
What did we learn by volunteering our time to this social cause?
We learned to be more compassionate towards animals. I love animals, but often I don't realize the impact my food choices have on animals, especially when it comes to cruelty. Am I ready to become a vegan or vegetarian? Probably not yet but I will definitely be cutting back on my meat and dairy.
My faith was restored that One project CAN make a difference in the world.We're fortunate to give back by working with a team that is so dedicated to their vision of what the world can be, and how their choices– can impact the world positively. There was no better example of making a difference than seeing animals getting better, and getting released and the videos we created with  Peepal Farm received thousands of views and shares from not only from  India but from all over the world.
I feel honored to be part of that change.
What is your experience with volunteering in another country? We'd like your views. 
To find more posts about our travels in India, you can find them here. 
Like it? Pin It!!
Note: By using one of the links on this page (at no extra cost to you) it will generate a discount for us and you on your membership for Moving Worlds. We recommend MovingWorlds because we use this service ourselves for any of our experteering projects. This link helps us keep providing quality content and tips to you. Thanks for your support and enjoy this great service!