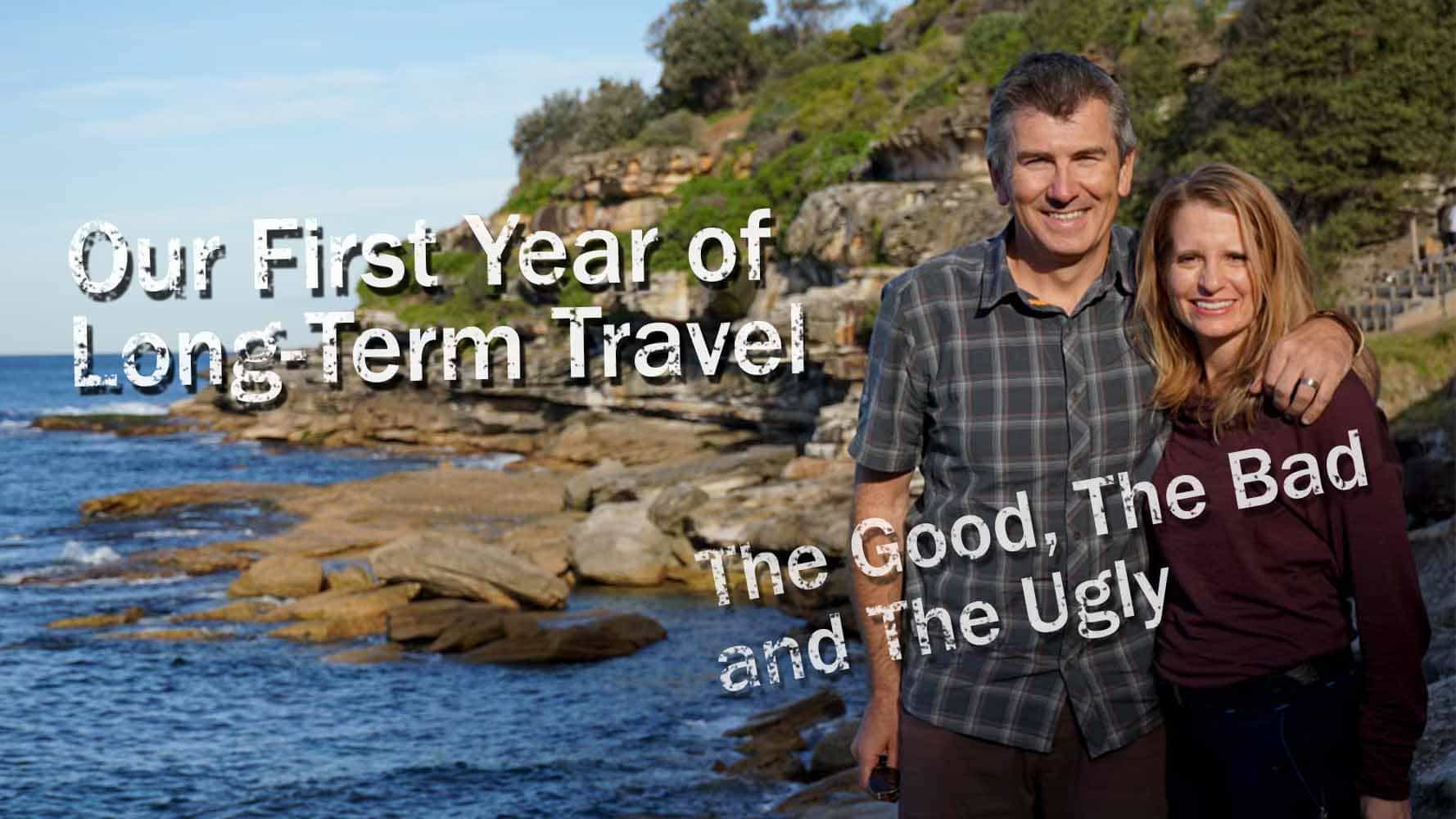 Our First Year of Long-Term Travel – The Good, The Bad and The Ugly
Ok, enough of our exciting travel stories and video montages from our year of travel in 2015. It may sound like a fairy tale dream but, in reality, long-term travel isn't all that.
Change is hard, damn hard.
If change were easy, we wouldn't have waited ten years to pursue our new life of location independence and long-term travel.
But along with the challenges, we have realized a lot of things while on the road.
We want to share with you what we learned as we explored the world, opening up spaces in our minds to learn, appreciate and challenge ourselves.
We wrote about this topic in detail in our post: first 60 days in The Good, the Bad, and the Ugly. Ten months later, we are now one year into our journey. Of course, we've seen and learned about the world, but mostly we learned a lot about ourselves, and an update is definitely in order.
It's still hard to describe how making the massive change in our lives feels. A year ago, we were exhilarated, frightened and everything in between. Now it's different; we're different.
We feel lighter, comfortable and more open to change. Change has become the new normal–a life of constant change, with plenty of problem-solving opportunities and incredible experiences.
What's Good, Bad, and the Ugly now after living without a home and moving to a life of long-term travel? 
The Good
1. We are better at coping with change – We are more open-minded and can go with the flow, more than we used to. We dealt with so many unfamiliar situations and places that we just learned how to cope. Living in an apartment for a longer period, or moving from one hostel to another each week, or negotiating in different currencies and languages, or attempting to explain to a taxi driver where we were going in intense gridlock — all these changes yielded frustration and stress. Once we experienced them once, we were able to handle similar situations with a little more ease. Often, we simply laughed at some of the outcomes of these transactions.
2. We budget and plan together – As sad as it sounds, we treated our money very passively in the past. We owned separate bank accounts. We split up the bills we needed to pay each month, with limited discussions about financial goals for the future. Now, our money is OUR money. It's a solid partnership. If we don't plan together how well to use our money, our new lifestyle won't endure. And so, we collaborated on how to spend our funds and prioritized our expenses accordingly. Whether it's finding accommodation for the right price, eating in a restaurant where we can save a few dollars, or buying software or technology for our business, all our financial decisions were made in partnership. We feel that we are both moving in the same direction now. Prior to our travel, finding a way to budget effectively made a significant difference in our plans.
3. The little things matter again – We've simplified our life immensely. We now own very few possessions – most of it is packed in two large bags and two smaller backpacks that we carry. We have also slowed down our pace to find time to watch and explore what is around us. We're busy, but we no longer live in the insane corporate life chained to a desk. Our lifestyle has opened us up to see life's little things that are in front of us and present for us. We find meaning in small details, and we appreciate them more deeply. We love the things that we used to take for granted, like the smell of a freshly washed T-shirt from a washing machine. What a difference it makes after cleaning clothes in the sink for months! We now get excited about watching kids playing soccer in a park, or enjoying a fruit salad at a café, because we couldn't remember tasting pineapple and papaya that good! Small things that we undervalued in our past lives are now part of our daily enjoyment.
4. We have learned more this year than the last five+ years than in our past careers – Every day we face a new set of challenges. Our brains fire up every single day. Whether it is building and maintaining our website, or writing a business proposal for potential sponsors, or finding new social mediums to engage with our readers, we are mobilized to solve problems, and we see them as growing opportunities! Troy and I can both attest to feeling stagnant and narrowly focused in our past careers, but now we are forced to learn. Learning drives progress to improve OUR business.
The Bad
1. Unplanned costs – Despite all our budgeting and planning and more efficient spending, we faced some significant unplanned costs last year. Just because we no longer own a home or pay some household bills, didn't mean that we no longer faced surprise expenses. Currency fluctuations were a big component, especially with the Canadian dollar in steep decline just two months into our travels, surging up our living and travel costs. Also, we needed to replace a camera and pay bills for a new  website hosting service in order to run our website effectively. Costs had escalated before we knew it, but we found ways to shift our funds and made decisions to solve them.
2. Change breeds inconsistency – We love the flexibility and excitement of travel, but it also means we are staying in accommodations with varying degrees of space, amenities, and cleanliness. Sometimes this played havoc on our diet and fitness regimen. On occasion, we stayed in rooms that were so small that it constricted us to exercise, while the outdoors was not conducive for running. Sometimes we ended up working intense hours online for days because internet speed ran at a snail's pace. In some cases, we encountered difficulty finding good, healthy food options, not to mention not having access to a kitchen. Throughout this process, we have discovered that staying for at least three weeks in a particular location helped us build a routine and a manageable schedule to work, live and stay healthy. It took us some time to arrive at this realization! So by staying three weeks in one location, we have no excuse but to continue our travel and fitness regime.
The Ugly
1. It was a year of heartbreaks – Our friend and mentor Scott was killed in an accident while doing what he loved. A good friend from back home had a heart attack, and another suffered cancer. Fortunately, both are on the road to recovery. Now, my cousin is facing cancer for the 4th time, and we are not nearby to support him. Distance makes us feel more hopeless and guilty for not being physically present. However, we now realize that regret is complete nonsense. Both of us haven't lived near our families for over 15 years, and just because we live farther away doesn't mean we don't care or we can't to supportive. Connecting with people remotely has never been easier the presence of video calls, internet calls, and social media. Our friends have commented how easy and how connected they feel to us despite our distance. Interestingly, we make more effort to communicate and stay linked to our important relationships now more than ever.
 2. We are still figuring out how to work, live and be a married couple with long-term travel – No one ever said living and working with your spouse was easy. We see each other during every grumpy moment, hunger pain, flu symptom and stressful moment, like when we are hopelessly lost in a new city. We see each other at our worst. Getting exposed to all these emotions, we have figured out each other's limits, strengths, and weaknesses, which were not too apparent during our past lives.
It can get ugly, but we've learned to cope by knowledge about each other: 
A) Fine-tuning our communication with one another, such as how to respond and how to give feedback effectively.
B) Knowing when we need to find time to spend apart to focus on our own and to work in our respective 'virtual offices.'
C) Encourage one another to find balance between work, living and fun. Often, we get too preoccupied with work and sorting out travel plans that we neglect finding time to savor our travel experiences and have a married relationship. We discovered we are happiest when we have a balance of doing work, daily living and exploring our surroundings.
It may seem like we are living a dream life every day, as you can see we are not.
Like you, we face similar challenges with money, time, daily-living, relationships, pain and joy.
If you find space in your life to create change, stretch your boundaries towards a life you want to live, no obstacle is too great to overcome. Your change doesn't have to be long-term travel.