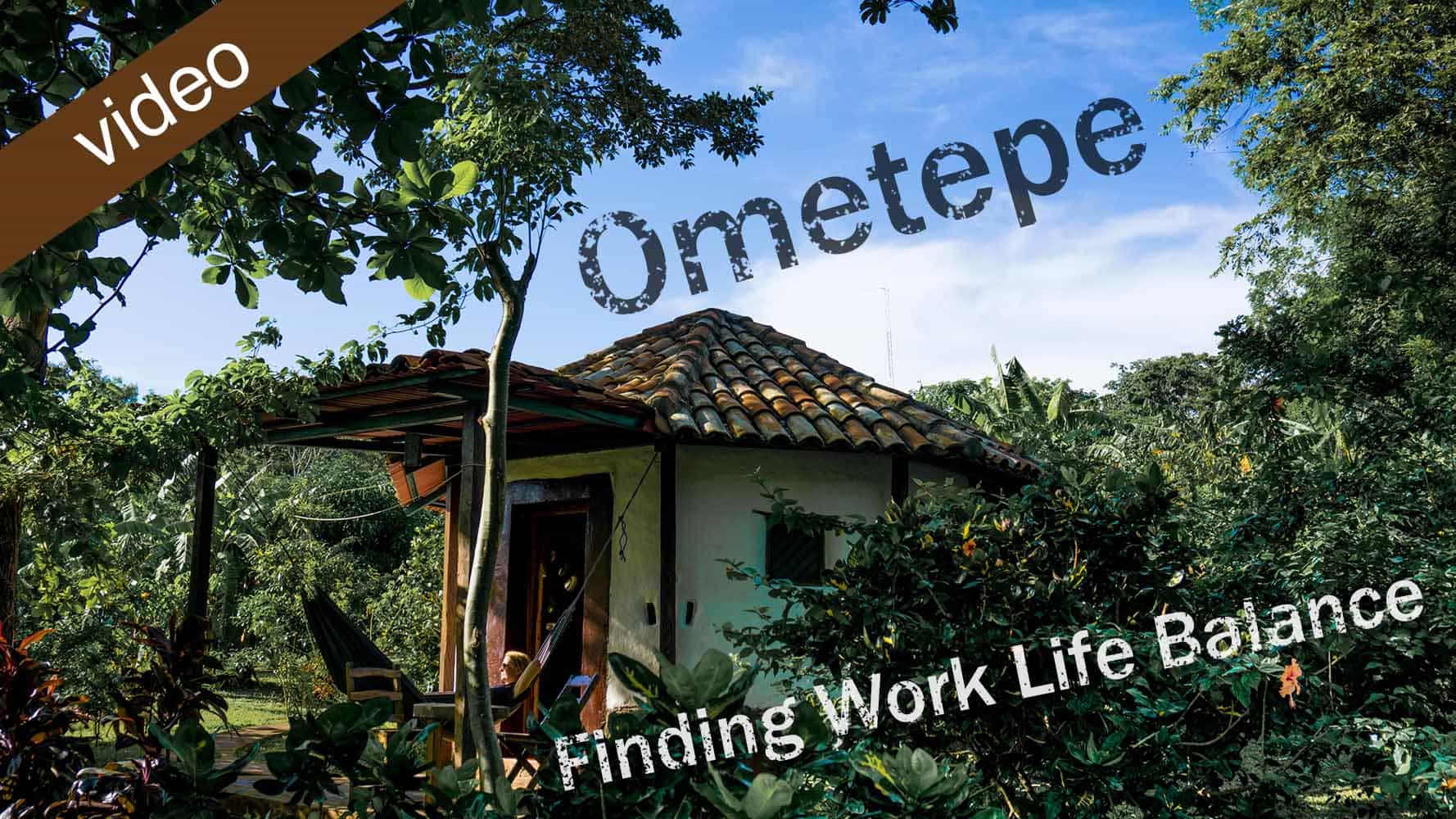 Finding Work Life Balance in Ometepe, Nicaragua

This is a great place to stay for our new travel life in Ometepe, Nicaragua. To relax, work, live healthy living and to enjoy incredible, natural surroundings.
Some would laugh at our travel woes, especially from the outside. We look like we are living a dream life. Just because we are traveling doesn't mean it's easy to find the right place to live, work, stay healthy and be a tourist on and off around the sites!
Most of our videos so far, we haven't focused on where we are living. A lot of you have asked to see where we are staying. So here it goes!
For the first time, we found it difficult to find accommodation – Ometepe is a beautiful island – but it's limited in  lower to mid range places that suit our living and working needs.
We found an excellent location – to get work done, have a routine, stay healthy and to live short-term.
This place  is Ometepe Island in Nicaragua.
Ometepe is an incredible island created by two towering volcanoes, emerging from Lake Nicaragua. In our view, this island is paradise. Parts of it are remote and jungle forested, interspersed with local homes eco- farms, guesthouses, and endless hiking trails. There are ample things to do from swimming, kayaking on the lake or neighboring river, climbing the active Concepción or dormant Maderas volcanoes. You can also hike up to the San Ramón waterfall by horse!
We stayed on the island in a more remote area between Merida and San Ramón.
This wonderful lodge/eco farm is Finca Mystica.
What we like about this place:
Our cabin:
– Privacy – The is space between the other cabins, it's so quiet.
– Character – The cabins are designed in a traditional,local way
–  We are surrounded by nature, every morning we wake up to the sounds of birds and howler monkeys.
The Property:
– The food is healthy and delicious. It's an Organic Farm so healthy food is grown there, they make their own bread, roast their own coffee. The rest is all sourced locally, with ample healthy eating options.
– There are countless places to exercise – The Yoga pavilion, running, swimming, hiking trails and climbing volcanoes or the waterfalls.
– There is an attentive, friendly staff and helpful and friendly owners, if you also want to practice your Spanish, the staff would love to help with that!
-The main lodge is a great place to work and leave each other a little more space to work
– Wifi anywhere in Nicaragua isn't great, it's satisfactory in the main lodge, better than most places on the island and even better than what we had in Granada.
– The kind of people that frequent this place is perfect. Some are vacationers but many are seasoned travelers. – We've had some great stories and travel advice to share.
Hopefully, this gives you a little taste of our life over the last couple weeks.
What's next for us? – It's our last night here for now, we are heading to the Pacific coast to spend time with a friend but, we are actually coming back to Ometepe very soon!
We will  fill you in on what that is all about a little later.
Stay tuned for much more about Ometepe!