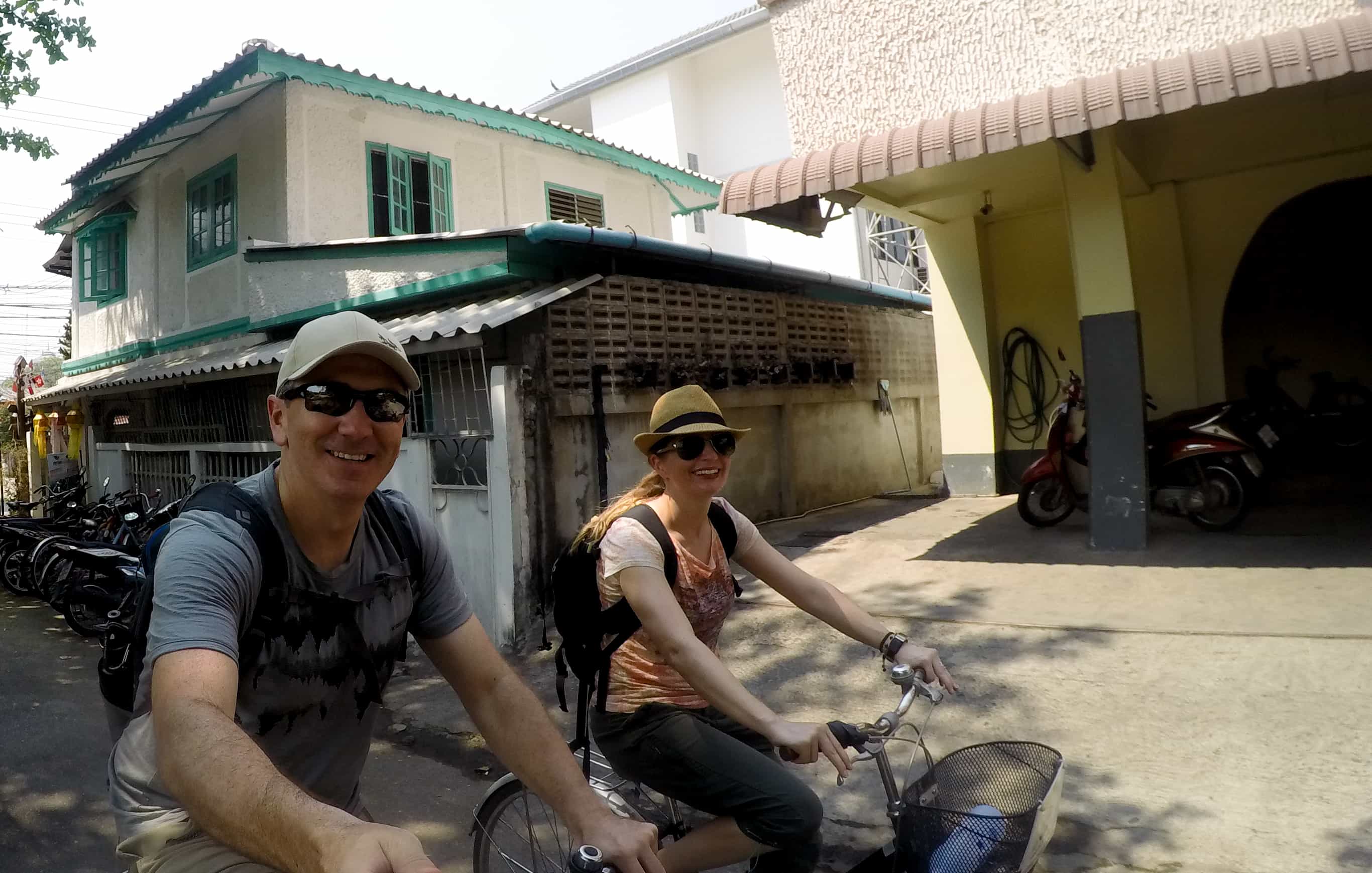 Chiang Mai Bike Tour The Local Way
There are times when promises aren't always delivered when traveling. Many excursions sell the "real" local experience, only to offer a more fabricated experience based on expectation rather than reality. However, a day spent on the Araiwah Chiang Mai bicycle tour did not disappoint. It absolutely provided the "real" Chiang Mai culture, tastes, and sights from a local perspective. We got a lot more out of it too.
It began with a pick-up at our hotel by Nooh, the owner and operator himself, who drove us to his bike shop for our fitting. Then our map of destinations unfolded — a seven-hour casual route that tangled through alleyways, side streets, and major roadways in and around the outskirts of Chiang Mai. No old city excursions. No Alms monk ceremonies, or temple tours. No shopping, and zero of the usual tourist spots. Just places where locals live, work, and shop every day.
First stop: The morning market (Muang Mai), a bustling market of fruits, vegetables, meats, and fish almost entirely attended by locals on motorbikes or foot. Nooh introduced us to an array of ingredients that go into northern cooking, specifically Chiang Mai, as we sauntered through the market. Breakfast consisted of hot radish cakes and an egg concoction, Pad Thai, and chive dumplings served to go and quickly devoured on our laps overlooking the river across the market. We washed it down with some bottled water for the trip, and a crispy fried chicken drumstick sample before moving on. Delicious! A perfect grazing meal to start the day. I still dream about those radish cakes… Check out some video highlights of the market below!
The morning continued across alleyways, shortcuts, and deep into the city to see a day in the life. Nooh assured us that Chiang Mai is a bike-friendly city and, despite all the traffic, drivers will give space to bikes. "Free your mind," was his important philosophy of the day, meaning get out of our heads and don't freak out about the traffic. This was so true. Once we freed our minds, we calmed down, watched, then entered traffic, and miraculously drivers stopped for us. Even us cautious types became comfortable doing this, check out the video below!
Other stops included silversmith shops where the artisans create intricate pieces of Thai and Buddhist folklore and history on aluminum (not currently done in silver due to cost). Another stop led us to the incredible Wat Muen San temple, designed completely by hand by local silversmiths, so original and not the typical temple to visit for tourists.
As the day went on, we stopped for a fantastic lunch of crispy pork and rice or salted cod with morning glory and rice at a local family restaurant deep within the maze of alleys. Alleys likely never to be found again on our own.
A quick coffee pick-me-up had us discovering how delicious iced coffees are when a local helps you order just how you want it!
(Condensed milk gives it enough sweetness, no need to add the extra sugar.)
As the tour progressed, even busy streets and highways seemed easy with a guide like Nooh directing us along the way. A hike up to the Mae Sa Waterfall was a great way to get a little exercise and then cool down, as youngsters played around us in one of their go-to after-school spots.
As if lunch wasn't enough, we stopped for a second afternoon meal at another food market, this time trying roasted pork leg with all the fixings. We ate the food the way it was intended — fresh raw garlic cloves with every bite created an incredible explosion in the mouth! Across the street was the takeout market for hungry workers heading home. We wished we weren't too full to take some more eats for later.
Next up was the flower market. No, this is not the flower stalls in a parking lot near the north gates along the river. This was a garden center compound on steroids, stretching for several large city blocks. It was full of flowers, plants, and trees, (even full-size palm trees, if you're so inclined).
The bonus of the tour was hanging out with honest, transparent people.
That "realness" came from Nooh's approach. He wasn't afraid to express his views on business and life. He stated his tour's intention on his website and then candidly shared it in person: "This tour is only for happy people." So bring a good attitude or it's not for you. Nooh is the kind of guy who enjoys life, setting up his business to live, not live to work. He's passionate about his country and is the perfect guy to hang out with and discuss life in Chiang Mai. His view is the same as ours; life is too short to not do what you love.
Create a meaningful travel experience for yourself and support a local business with someone who is lovin' life! Check out Nooh's tour, and all the details at http://www.araiwah-bicycling.com Bring a good attitude and sturdy shoes (the trail is a steep climb to the falls and not flip-flop friendly). Come hungry and ready to try some different local eats!