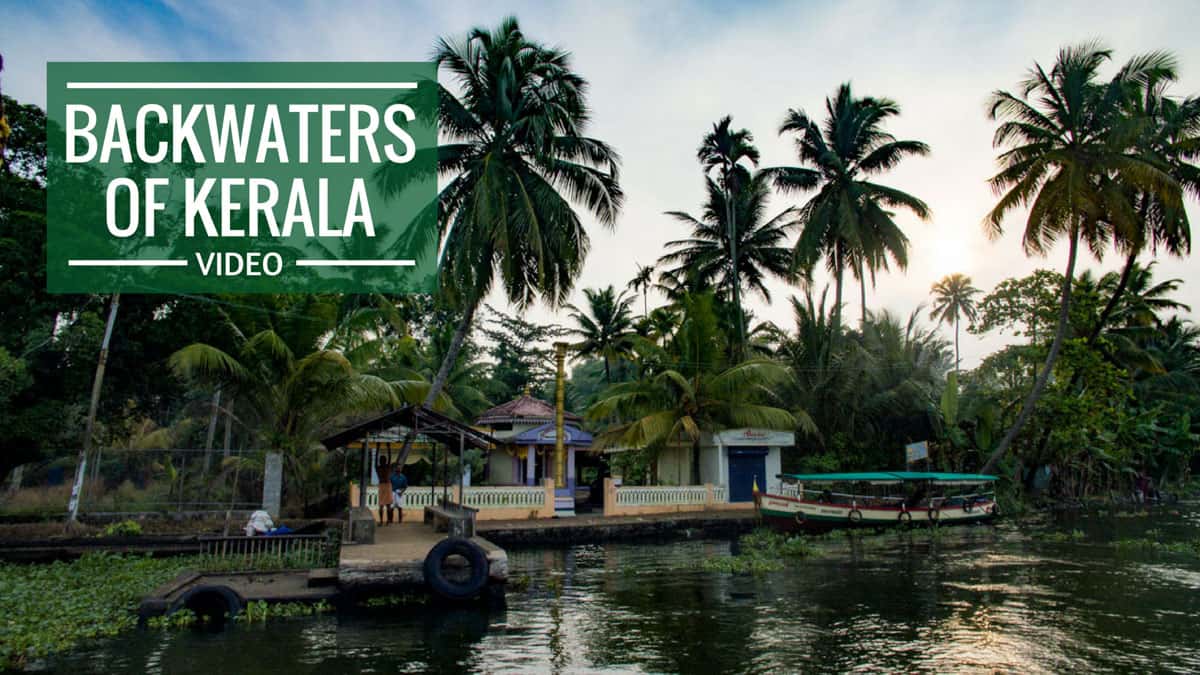 The Backwaters of Kerala Video

We had little knowledge of the Backwaters of Kerala before we decided to visit Southern India. When we heard it was a place of natural beauty; we knew we needed to complement our cultural visit of India with quality time seeing exotic jungles, and river ways. It's no surprise that Kerala is one of the major reasons why India touched our hearts and our minds so deeply.
Kerala is the state on the southern coast along the Arabian Sea.The backwaters, a 900km stretch of canals is the river and main transport system for Keralan's in the area, and its primary source of water. (Clean drinking water is brought in by a government program several times a day)  In between those waterways are many simple homes, and communities interspersed with some of the lushest, Overgrown palm trees, rice paddies and abundant water plants as far as your eye can see.
If you are going to do something relaxing in India, your best bet is to recline on a boat on the Backwaters of Kerala, admire the views and watch the world pass by.
This video shows highlights of our boat trips on a mid-size day boat in Alleppey and a canoe trip along the waterways around Munroe Island outside of Kollam.
There are some options to boat along the Backwaters of Kerala:
Most well-known is the channels beside Alleppey (also known as Alappuzha)
However,  you can also catch boats in less busy (and less expensive) entry points such as:
– Near Kochi – The river system known as Kumbalangi Backwaters
– In Kottayam- a town east of Alleppey
– Near Kollam – in Ashtamudi Lake – around Munroe Island
How to Make Your Trip to the Backwaters of Kerala more meaningful:
1. Go out on the boat just before sunrise.
-There is little traffic along the waterways and the best light for pictures. The villages wake up at that hour, and before long, you see children walking to school and boats heading out for a day of work.
2. Do it as local as possible. Don't take a houseboat.
The money isn't worth it – The views are not as good on these larger Rice Barge boats.
Your best views of the waterways are by smaller boats that can wind around the numerous canals instead of the Houseboats that only can move North-South along the wide main riverway – instead of the narrower channels. Of course this is our personal opinion!
3. Get humble, Observe and Learn.
You will enter sections of many waterways that are the homes of locals. They use the waterways to bathe, brush their teeth, and wash their dishes and teeth and even perform weddings in temples along the water.  (clean drinking water is accessible by government program deliver several times per day.)
The Backwaters of Kerala are a tourist area, so locals are used to foreigners entering their waterways, respect, observe not to judge but to understand a different way other people live in this area of the world. The Keralans do appreciate some smiles and waves, show them warmth and friendship when entering their home.
For more posts and videos about our visit for the first time in India, you can find them here.
Like It? Pin It!!