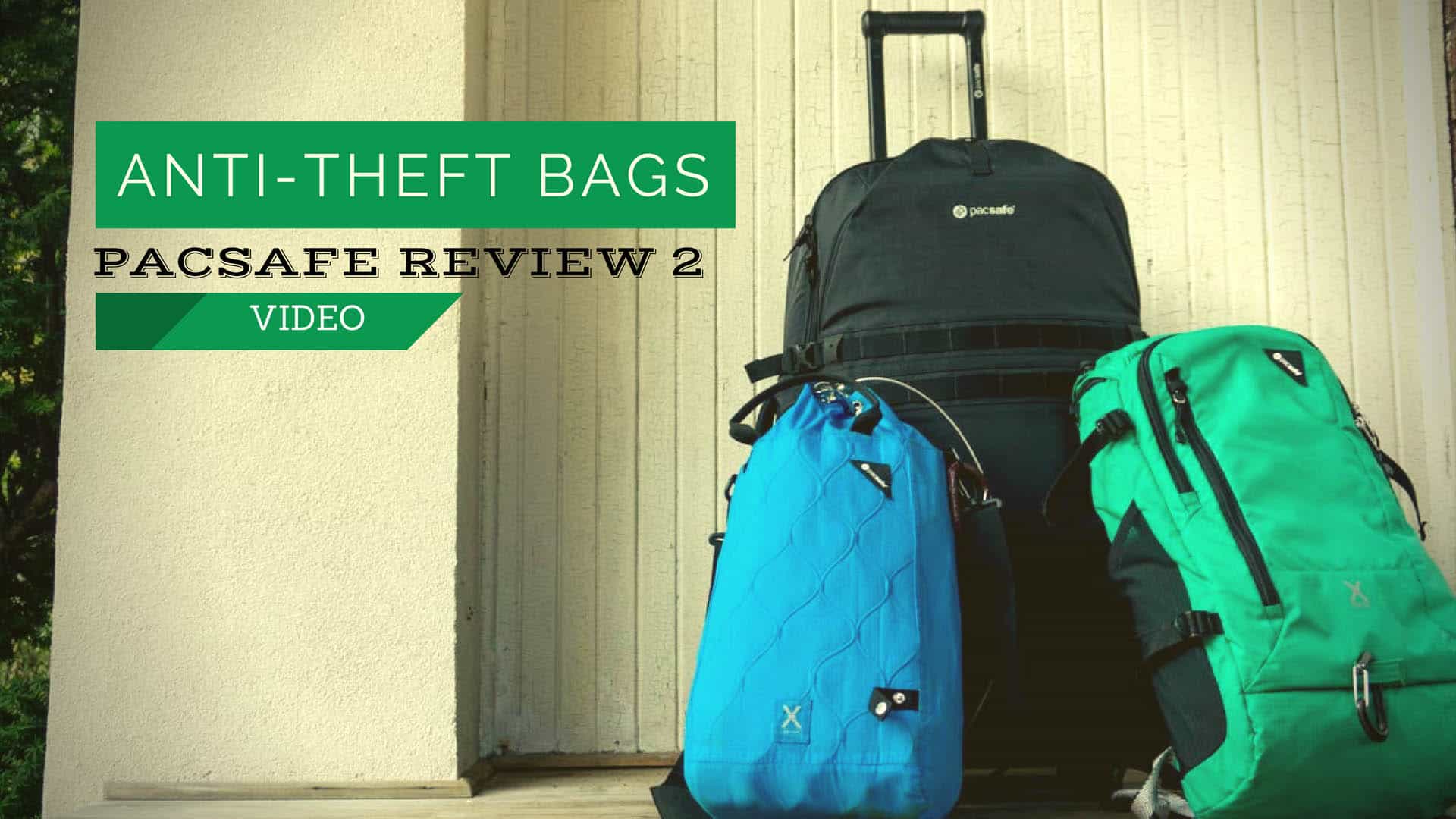 Anti-theft Bags: Pacsafe Review 2

If you saw our past Pacsafe gear review videos you know, safety and functionality are our top priorities. Anti-theft bags is a big need for us, and because we travel full-time, our bags can take a beating,  so durability is essential.
Not every travel experience is the same, and at times we have different needs, so we added a couple of new bags to our gear that we are excited to tell you about.
Our new lineup of Anti-Theft Bags
1) The VenturesafeX30 – Anti-theft Adventure Backpack
I love the Venturesafe 45-litre for traveling, but I felt I was missing a decent backpack for multi-day hikes.
Recently,  PacSafe introduced the Venturesafe X series. This adventure backpack integrates the features of a trekking pack with the safety features PacSafe is known for.
Like the eXomesh webbing around that bag that guards against slashing.
The zippers lock together with discreet security hooks to prevent pickpockets from getting into your bag.
The straps are built with a new hard to cut webbing,
Protect your passport and credit cards with the RFIDsafe  blocking pocket.
It also has a built-in rain cover; an aluminum supported back panel, and a hip belt that folds away. 
The Venturesafe X30 can also hold 15-inch laptop comfortably. 
We spend a lot of time on trains and buses, and I like how the Dual release security buckle allows me to attach my bag to any fixture. If I'm tired and not too alert, I want to deter bag snatchers from running off with my bag.
The Built-In Safe
My favorite feature of all is that this bag fits the Travel Safe X15. Before I carried a larger travel safe, and this only fit into our larger backpacks. Now I can take a smaller trekking bag AND have travel safe for all my valuables.
The Travel Safe X15 is very light and water resistant. It's also built with the slash-proof exomesh, it has removable should straps. The Travelsafe can be locked on its own or for added and more discreet security it can be used with the Venturesafe X30.
2) The TourSafe Anti-theft wheeled gear bag
Another item I added to our bags is the Toursafe EXP29  Anti-theft wheeled gear bag
It would be great to carry everything on my back, but at times we need to travel with heavier equipment which is better suited for a wheeled bag to maneuver through airports and busy streets.
I picked this bag because not only does it have a lot of room, it also has the same durability and security features as my larger Venturesafe backpack.  
The entire bag is protected by the exomesh webbing

The roobar locking system, so you can securely lock your bag to any stable structure, and this flap hides it for added security.

The puncture resistant zippers

Inside the outer compartment are three zippered pockets, including access to the main compartment.
Unlike a standard suitcase, this bag has a durable aluminum handle

High ground clearance and decent wheels with good tread

No doubt luggage gets some abuse during its travels – there are corner bumpers and protective rails to help it last.
3) The Z100 Bifolding wallet
Finally, I recently starting using a new wallet. I was looking for a bi-fold option, and I found one that meets my needs. The Z100 Bifolding wallet.
This Z100 has RFID technology to avoid Credit Card ID theft

Has ample space for my cards, and a zippered pocket for coins, with additional sideway compartments.

I use a chain all the time, to attach to my belt, but it can also be secured inside another bag.
I love my new travel companions for their features; they take away from the stress of worrying about the safety of our gear. If you'd like to see more anti-theft bags, our last video on other Pacsafe items can help you discover more.
What anti-theft bags or gear do you use to avoid problems while traveling? We'd love to hear more.  For more options and details about Pacsafe bags, you can find our previous Pacsafe video here. 
Like it? Pin It! 
We are sponsored by Pacsafe and received complimentary bags for this video and post, however, we recommend only products we use.  We've used Pacsafe products for years and we stand by them. By using the links on this page (at no extra cost to you) it will generate a small commission from any sales. This helps us keep providing quality content and tips for you. Thanks for your support and we hope you also have peace of mind with these great products!