Having a plan for how you will access money when you travel can save you a lot of headaches and extra fees. In our own independent travel and research, we've found a few helpful rules of thumb. Dorene and Troy added a few items to this list from a Canadian perspective.
Tips to Access Money for Traveling
 Find A No-Fee ATM Card
There are a couple different cards like this for Americans. We have the Fidelity Cash Management ATM card which is connected to a Fidelity checking account. It works at any ATM with a Visa, Plus, or Star logo; and it reimburses all ATM fees.
If you don't have access to a no-fee ATM card, find a bank card with a large network that offers reduced ATM fees when you withdraw from one of their own ATMs. Many of these cards will have an online map or listing of their ATM locations so you can look up the best places to withdraw money before your trip.
For Canadians, all the main banks have various plans for no ATM fees (with a monthly fee)  but you have to ensure they also do not charge you fees to use your card when leaving the country. The TD All inclusive plan does that.  To find your best solution you should ask this question to your bank:   "what are my best options to reduce my costs with using my bank card while traveling?"
 Withdraw Foreign Currency Upon Arrival
As soon as we land at the airport in a foreign country, we access money at an ATM to get our foreign currency. Airports pretty much always have ATMs – though the one you want may not be in the most convenient location. For example, in Cancun, the only ATM after you exit customs gives out US dollars only – you have to trek to find an ATM that gives Mexican pesos. Again, check if your card company has an ATM locator so you can see where they'll be in advance.
Are there any circumstances where you should get foreign currency before a trip?
If you've done some research on your destination airport/border crossing, and you have concerns about getting foreign currency from an ATM on the spot – or if you need a large amount immediately after arrival that exceeds the ATM daily withdrawal limit – those are pretty much the only circumstances where I'd want to get foreign currency beforehand.
Where Possible, Use Credit Cards with No Foreign Transaction Fees to Make Purchases
Another question to ask your bank or credit card company is finding a card that waives all foreign transaction fees. (These are the fees a foreign bank charges you for using their bank)
We only use our ATM card for withdrawing cash. For all other purchases in the country, we use that cash or our travel credit cards. You may find that credit cards are not accepted as widely as they are in your home country. On the other hand, certain regions, like Europe, they require credit cards to have an embedded chip. Do a quick Google Search to learn how widely credit cards are used in your destination.
Our preference is strongly weighted to use our credit cards whenever possible because 1) we earn miles and 2) they have zero foreign transaction fees. So if a vendor ever asks if we want the charge in US dollars or their local currency, we always go for the local currency, because you never know how much they're hiking up the exchange rate to convert to your home country currency.
Out of the travel cards with no foreign transaction fees, we use whichever card will get us the most points. Each card rewards different categories of spending. To keep track, we actually put a little strip of a sticky note on each card to remind us how many points we get in different categories for that particular card. If all things are equal, the card we use most is the Chase Sapphire Preferred 
Canadians don't have this wonderful card, but there are great options to finding the best travel card options for both points but also ensuring you limit the fees (and foreign fees you pay). Of course, you can't use a credit card in every country but there will be some large grocery stores, restaurants and flights that could be possible instances to use them.
Bring $100 USD as Back-up and have Another Bank Account
The actual amount of your backup really depends on your comfort level and your typical spending. Access money as an emergency stash in case everything goes wrong. If the ATMs aren't working or your cards get stolen, it's good to have some cash on hand that you can exchange if you really need to. Remember to keep cash on your person when you travel – don't put it in checked baggage. Also try to keep it separate from your other payment methods so that if a wallet gets lost or stolen, you haven't lost absolutely everything. USD is ideal because you can exchange this currency virtually anywhere.
If you plan to travel for a longer period of time, Dorene and Troy recommend opening another bank account. If your card doesn't work, most likely your backup card will. Here are additional tips for money and general planning if you plan to travel long term. 
Inform Your Card Company Before You Travel
Whether it's calling in or submitting a travel notice on your online account, it's important to inform your card issuer of where you'll be. Both ATM and credit card companies monitor your account for fraudulent charges, and charges made in unfamiliar places can be one of those red flags. If you forget to do this, you may find your account frozen. Usually, you'll just need to call in and verify that the charge you made was indeed legitimate, but it can be a big pain if you're in the middle of a necessary purchase.  TD Bank in Canada mentions you no longer have to call them to inform of your travel plans, however, we have had our cards frozen in countries. Make sure you have their number ready if you run into this issue.
Use Apps on Multiple Currency Trips
If you're going to multiple countries with different currencies, it can get confusing to remember how much things cost. XE Currency app which allows you to make an easy calculation of different currencies even when offline. It's perfect for shopping and exchanging money and understanding rates quickly. To track whether using multiple currencies or not we like using TrailWallet.

Keep Your Money Safe
To keep our cash and cards safe, we travel with a diversion safe – this can be any hollow object that doesn't look valuable. Ours looks like a shaving cream can and the bottom unscrews so we can put bills inside.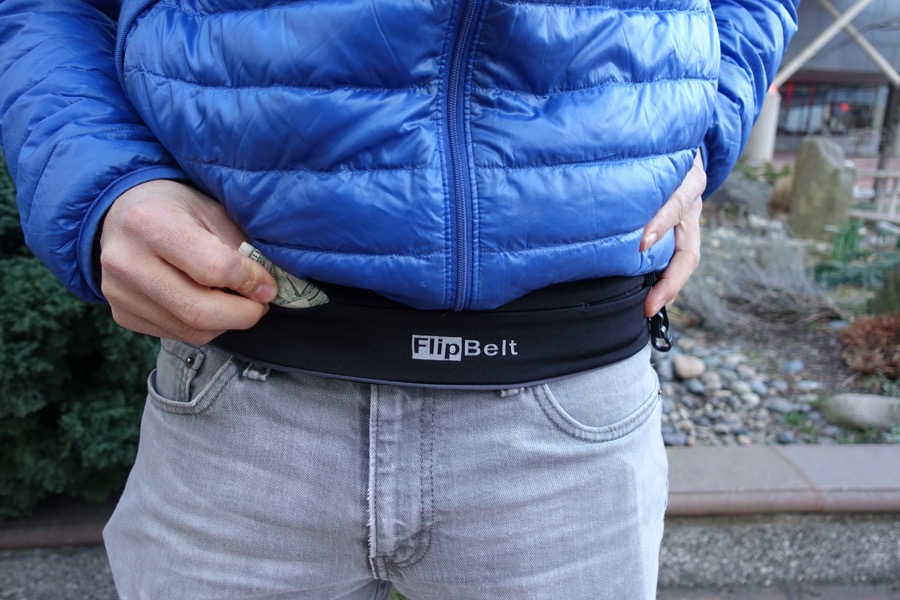 For day-to-day stuff, we've given up on the traditional money belt and instead use Flipbelt and sneaky hidden pockets inside our clothes (see our reviews on these products here). It's also a good idea to keep credit cards in a sleeve that protects info from being scanned without your knowledge. The other trick we use in case of theft is keeping money and cards in more than one place. That way, if a wallet gets stolen or a pocket gets picked, at least we still have backup somewhere else.
Have an Exit Strategy
As mentioned before, currency exchanges are not a good deal, so it pays (literally) to strategize a bit with your spending in your last few days abroad. We try to estimate how much cash we'll need for daily meals and to get ourselves back to the airport. That way, we can plan to withdraw roughly the right amount and not have too much spare foreign change that will go to waste. We try especially hard to get rid of coins toward the end. Any leftover coins after you leave are pretty worthless (except as souvenirs!)
Those are our tried and tested tips to access money while you travel. What tips have you used to manage your money on the road? We'd love to hear from you! 
Like it? Pin it!